Welcome to our gallery featuring Yellow River granite countertops kitchen design ideas.
Golden Sparkle: This stone has many minerals in color and they all mixed with no order. All this combination makes Yellow River granite is a very unique stone the way it appears. 
For cabinets ideas, it is very popular with white cabinet applications rather than the dark color ones. This is one of those colors out there which you can go either direction while you are picking the cabinet colors. There is no doubt that this stone has all the color combinations which can be suitable for every color most people like it. My favorite is to go with darker cabinets but I saw many applications with white cabinets as well. I picked some nice pictures that can inspire you by looking.
For backsplash ideas, any cream color combinations would be perfect either dark cabinets or white cabinets. It is always picked the same color combination that granite has itself which means usually natural stone products. For flooring ideas, light color natural stone products very popular now and it works with both cabinet colors. It is mostly cream and beige tiles natural or porcelain preferred.
How to take care of the Yellow River granite counters? Since this stone has light(cream) bedrock when it gets stained it might show that's why it is better to seal it once a year and be very careful after you use the countertop. Sealing is a very basic process anybody can to it by themself.
Finally, the cost of the Yellow River granite for 3cm thickness is about $50 per square foot for residential installations.
Yellow River Granite Countertop Kitchen Design Ideas in Pictures: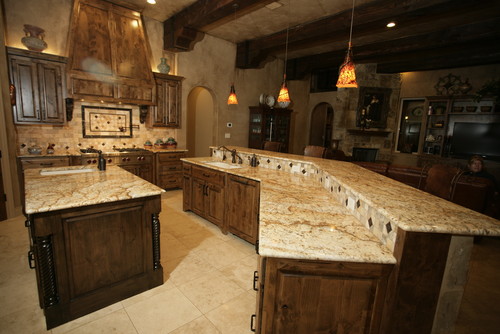 Picture Credit: Silver Oak Interiors
Breathtaking!!! This is another amazing sample for color combinations that we are always talking about it. Stunning alder kitchen cabinets with lovely Yellow River granite countertops over it. The tumbled travertine tile backsplash looks wonderful. Besides, natural travertine filed floor tiles made a good combination.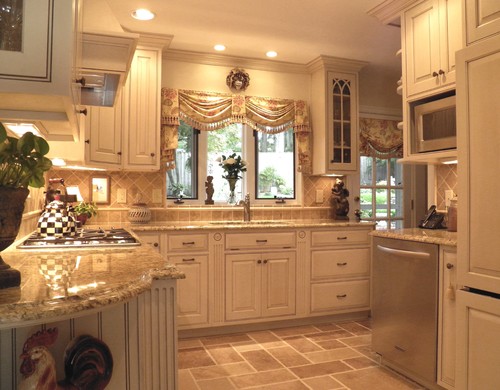 Picture Credit: Cameo Kitchens
Amazing traditional looking kitchen designed with maple wood cabinets and Yellow River granite. The mixed size of floor tiles with almond color grout matched wall painting and stainless steel appliances. 4X4 tumbled marble used for backsplash with almond grout and caulk. These color combinations are so peaceful.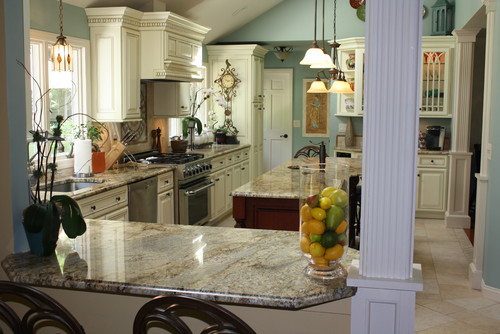 Picture Credit: La Pietra Marble
Beautiful two-tone cabinets designed with Yellow River granite countertop which made a gorgeous looking kitchen. 4X4 travertine tile backsplash and gold floor tiles gave also a cozy accent to the kitchen. Nice green wall color painting and stainless steel appliances look great. There is nothing else we could say about this kitchen because everything is perfect.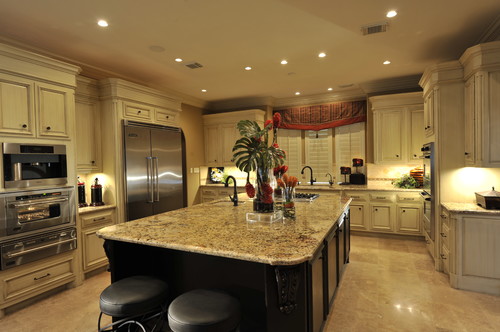 Picture Credit: The Design Firm
A beautiful combination of dark and white cabinets with a Yellow River granite countertop used in this kitchen. This is a big trend now among the homeowner who has an island in their kitchen. White or light cabinet color on the kitchen side and dark color on the island. I don't know how long it will go but this is the demand now. Usually, we put the same countertop color everywhere. Glazed white cabinets are remarkable with beige color backsplash tiles. I think it is a very good choice using similar colors for flooring and backsplash tiles. Natural travertine floor tiles and stainless steel appliances also went well with this cabinet's colors.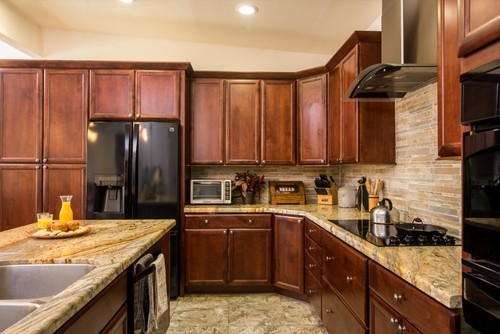 Picture Credit: Remodel Works Bath & Kitchen
Stunning!!! One of the Yellow River granite countertop kitchen design ideas is to combine it with dark color cabinets. The cabinet is Alder. The Yellow River granite adds the sparkle with a backsplash which is a combination of different marble pieces. The grout is a cream color. Moreover, this is a very well done job with backsplash and floor tile combination for a kitchen which is a unique remodeling idea.