Quartz countertops look like marble. Most white marble has dramatic veining to make them unique and beautiful. Since beauty is there most people are attracted to this natural stone. Some homeowners take a risk and put them on their kitchen counters some do not.
But, what are the solutions for the people who want a white marble counter but can not put it? As all, you know that marble gets the stain and white marble even shows more if staining happened.
Quartz Countertops Look Like Marble in Pictures: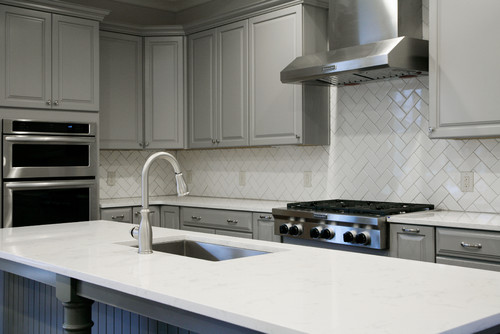 Picture Credit: CR Home Design K&B
This is a sleek, very contemporary example of a modern kitchen. The use of grey beaded board and shaker cabinet fronts is a great touch while the Cambria Torquay quartz countertops balance out the use of white.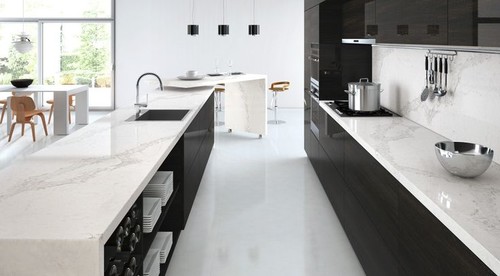 Picture Credit: Caesarstone
Quartz countertops look like marble.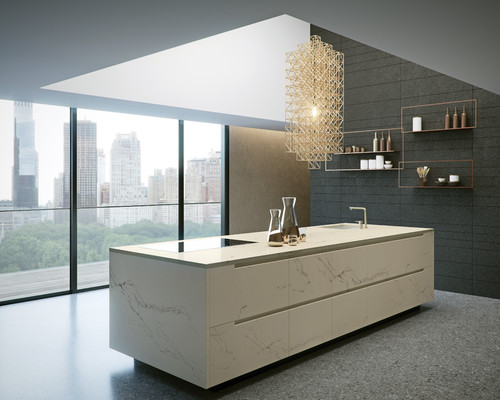 Picture Credit: Caesarstone
The bright white Caesarstone Statuario Nuvo quartz-covered island is a great complementary color that is also used in the tile work. The fancy island has a cooktop and the faucet over it are nice modern accents.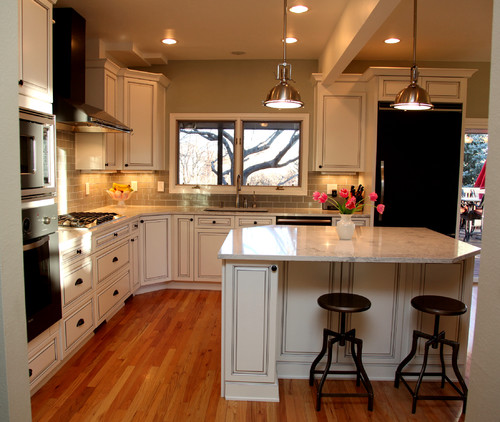 Picture Credit: Kaimee Klein Martelli
This charming kitchen is warmed up by the golden flooring and pale grey walls. In contrast, these are offset by the espresso glazed white cabinets and lovely gray glass subway tile backsplash. Zodiaq Bianco Carrara perfectly fits in this kitchen as a white marble-type look.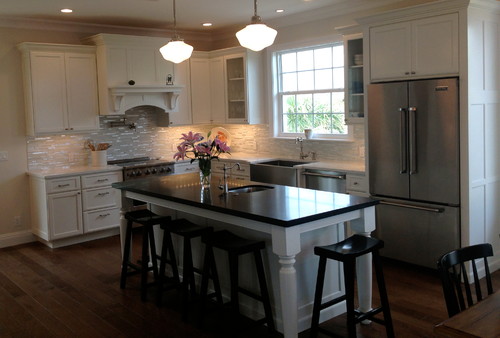 Picture Credit: J&J Construction Management
Vanilla Ice quartz counters match the lovely tile work in the backsplash. Antiqued white cabinets and dark hardwood floors are balanced by the white wood cabinets of the island. This is a perfect matching for engineered quartz white marble look countertop and Absolute Black granite.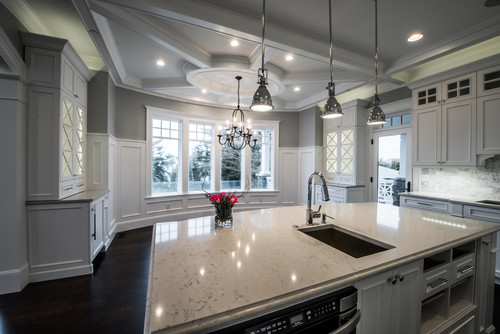 Picture Credit: American Marble & Granite
This kitchen is a great example of a contemporary look. Sleek coffered ceiling and rich dark natural hardwood flooring each other while the gorgeous Cambria Waverton quartz countertops and the painted ceiling add to the quaint modern feel. If you want a white marble-type look and a safe kitchen this is the way to do it.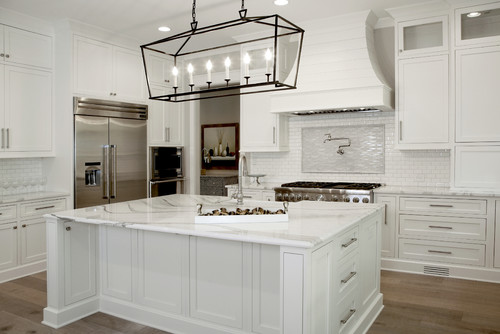 Picture Credit: Barbara Brown
This kitchen contains the charm of a modern kitchen in white cabinetry and little details throughout the kitchen while maintaining a regal traditional style. Warm dark hardwood and lighting add coziness to the room. Cambria Britannica quartz ultimately become a good replacement for the white marble.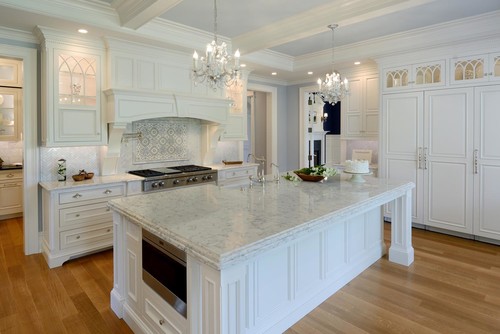 Picture Credit: Monticello Replica
White cabinetry is balanced by the puce walls and the distressed rest of the kitchen. On the other hand, two nice custom-made wood posts in the corners are a lovely touch to a kitchen island. Viatera Rococo quartz countertop adds the same effect white marble does.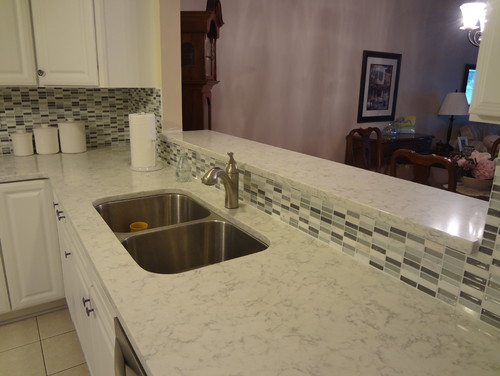 Picture Credit: Midwest Stone Source
This stunning small kitchen exudes basic design as well as usage aspects. Viatera Minuet quartz countertops look like marble exposed brick mixed color tile backsplash.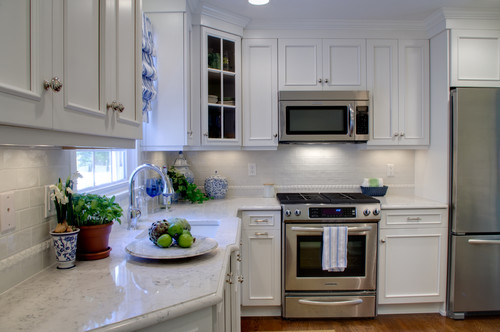 Picture Credit: Robinwood Kitchens
Silestone Lyra quartz countertops look like marble brings in plenty of brightness for the small space.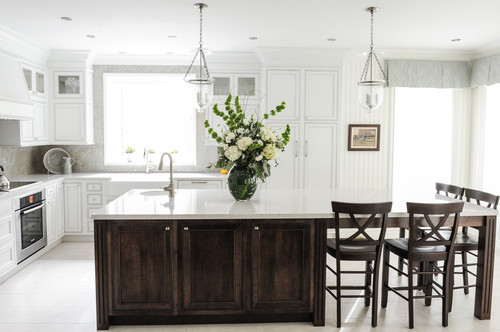 Picture Credit: Simply Home Decorating
This bright and airy kitchen utilizes Silestone Lagoon quartz countertop and maple stained dark island cabinets along with whites on the kitchen side to ground the room while the use of white illuminates the marble look. I also love this ceramic backsplash called "Lanterns" by Daltile.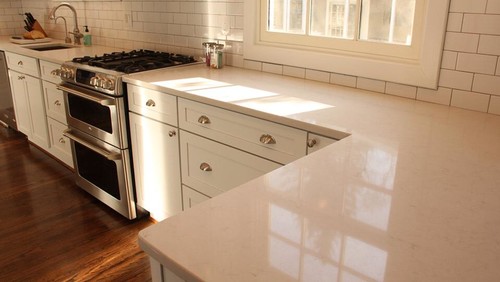 Picture Credit: Granite Works Countertops
The dark brown hue of the floors mimicked in the white cabinets, matching Caesarstone London Grey quartz countertops. White porcelain subway tile backsplash with darker grout maintains the cottage touches in this kitchen.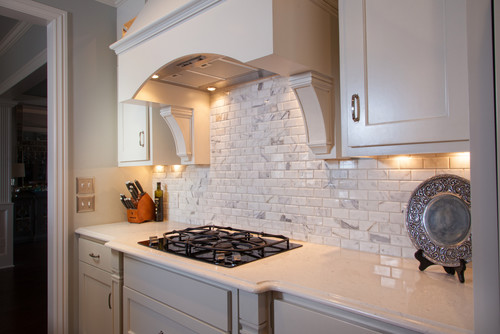 Picture Credit: New Century Countertops
Caesarstone Misty Carrera quartz countertop gives the white marble look more than needed.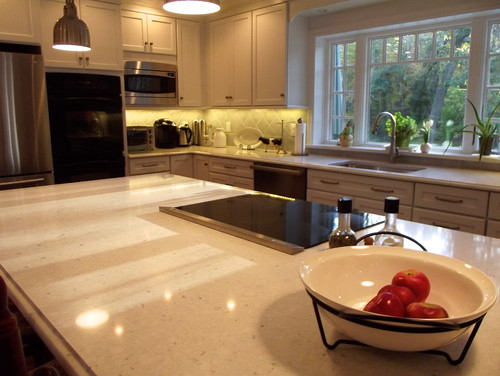 Picture Credit: Stamford Marble and Tile
This warm kitchen is full of charming touches; from the Silestone Bianco River quartz countertop right up to the warm white shaker cabinets. The pale beige backsplash is a nice change of pace from the usual white, while the under cabinet lights. White is still present as the main color.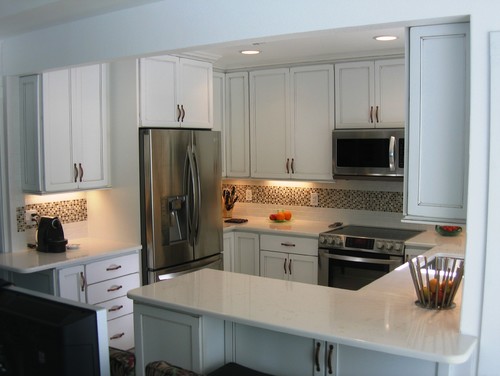 Picture Credit: Duncan's Creative Kitchens
Speaking of white, this truly modern, small chic kitchen balances the use of white with a rough, accent mosaic tile backsplash and Cambria Dovedale quartz countertop. Besides, the white quartz stone countertop responded is a good replacement for a white marble look.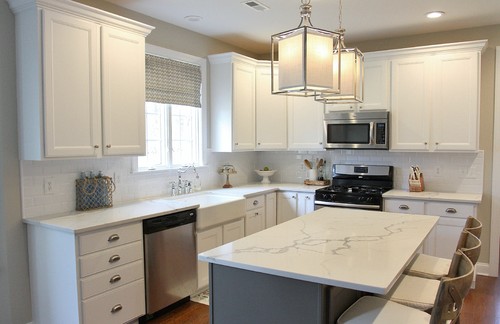 Picture Credit: Stoneshop
Quartz Master Statuario Venato still maintains a quartz kitchen countertop that looks like white marble.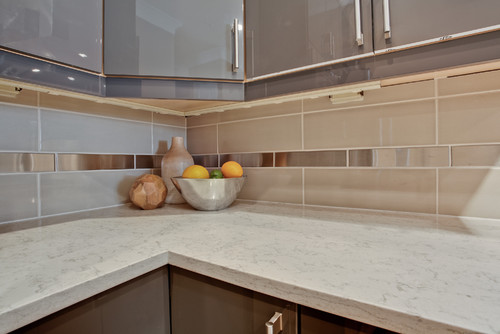 Picture Credit: J Campbell Interiors
Handstone Aspen quartz counters and the addition of thickly grey accent cabinets are wonderful neutral touches against this bright off-white subway-style tile backsplash.
White marble might be a great choice for some people. But, people don't want to worry about their guests accidentally spilling wine or tomato sauce on their kitchen counters. Even sometimes young kids could some mess and never clean it. If they have young kids who can not control their actions all the time could be a problem. So, what is white marble alternatives for kitchen countertops?
Natural Stone Quartz Countertop
The answer is quartz stone. Yes, engineered quartz is the only product out there now which can replace the white marble countertops position as an alternative. On the other hand, quartz can be manufactured to look like marble. That's why quartz has recently become a popular alternative to marble. I gathered as much white-colored quartz which looks like marble that is out there in the market as of now. Furthermore, you will find out a lot of variation in white marble, which you can see in the pictures below, there is plenty of variety in quartz products as well. Plus, this is the latest trend in kitchen remodeling and has a lot of benefits over the white marble countertop. Besides, one of the benefits is you don't need to seal quartz-like you have to do with granite or marble every few months.
Natural Marble
Quartz is one of the hardest materials in the world – is versatile, durable, easy to maintain, and comes in a wide range of looks. Most quartz product is less expensive than marble.
Here are some well-known names you can search for it. Here is the manufacturer and their marble-type look colors, Cambria Torquay, Caesarstone Calacatta Nuvo, Caesarstone Statuario Nuvo, Zodiaq Bianco Carrara, Vanilla Ice Quartz, Cambria Waverton, Cambria Britannica, Cambria Ella, Viatera Rococo, Viatera Minuet, Silestone Lyra, Silestone Lagoon, Caesarstone London Grey, Caesarstone Misty Carrera, Silestone Bianco River, Cambria Dovedale, Quartz Master Statuario Venato, Handstone Aspen, Caesarstone White Attica, Caesarstone Georgian Bluffs.