Welcome to our gallery featuring Santa Cecilia Light granite with white cabinets backsplash ideas.
This stone is also called White Tulum granite from time to time. The main characteristic of St. Cecilia Light is that the colors that compose the stone. This kind of color mix is very good to use in many kitchen remodeling projects. This granite is very easy to work with it and will be able to withstand many years of usage under normal conditions.
St. Cecilia Light would give an original appearance to any kitchen. The reason is that those warm beige, yellow and gray colors are mostly earth tones. This feature is unique and will have a high resale value for your property. Because one of the main benefit that having this granite countertop with the white cabinet which is the combination of modern and traditional concepts get together.
Santa Cecilia Light does vary a little depending upon the lighting conditions of the kitchen. When granite countertops combined with kitchen cabinetry they usually need a little addition to a stark beauty. So, you need to have the right color selections and the right style backsplash at that moment. As a matter of fact, the mix of gray, yellow, and beige colors complement the white tones of the cabinets. On the other side, yellow tones warm up the overall effect ensuring a clean, yet inviting appearance. This is the perfect stone to work with it. It is silky and also smooth stone.
The material for the backsplash can be ceramic, glass, travertine, porcelain, or St. Cecilia Light granite itself. Finally, the type or shape of the backsplash tile would be a subway, mini subway, matchstick, 4×4 square, and mosaic.
Santa Cecilia Light Granite White Cabinets Backsplash Ideas in Pictures:
As you see in this picture, how nice the matching backsplash colors with Santa Cecilia Light countertop and dark hardwood floors add additional charm to space.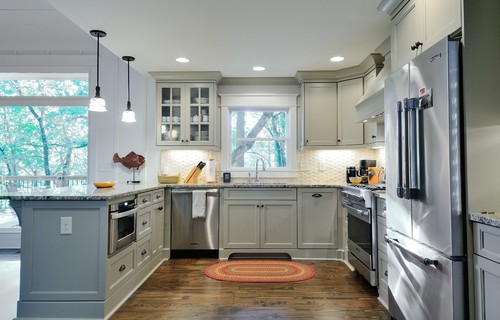 Picture Credit: Renew Properties
U-Shaped kitchen designed with light grey cabinets. This modern kitchen is featuring a natural matt finished arched backsplash. Additionally, dark flooring and stainless steel appliances contrasted with St. Cecilia Light countertops under the recess lights.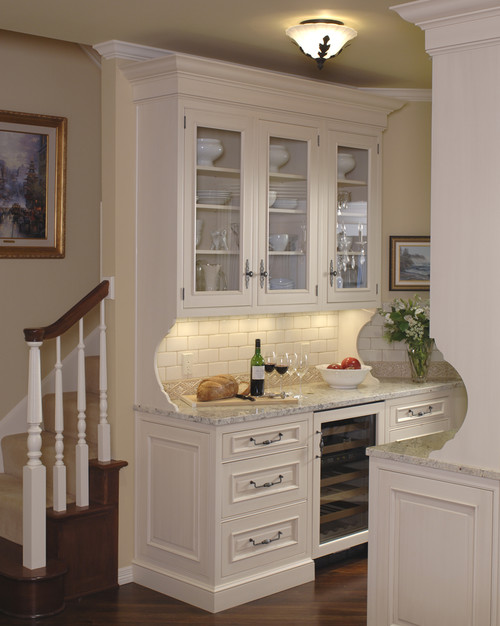 Picture Credit: Mosaik Design & Remodeling
This charming kitchen is warmed up by the dark brown flooring and oak color walls. Whether working with white cabinets and Santa Cecilia Light granite all the other factors in how the backsplash will affect when you put them together.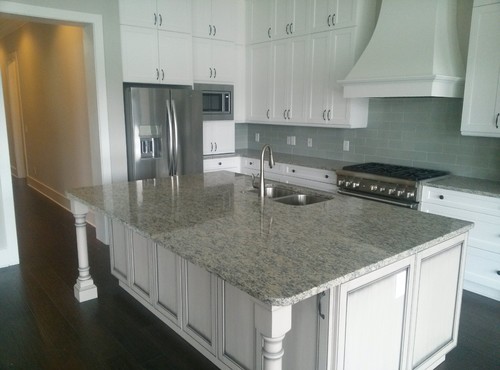 Picture Credit: Florida Design Works
Dark hardwood floors and St. Cecilia Light also bring in plenty of contrast for a space like this.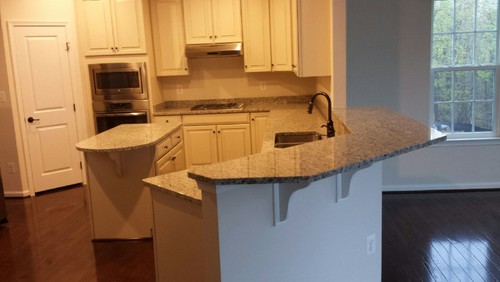 Picture Credit: Granite Source
A typical kitchen layout creates a fantastic kitchen with raised bar area designs of all styles. Moreover, these shaped kitchen cabinets occupy two of the room's adjacent walls. That's why no need for too many tile backsplash options.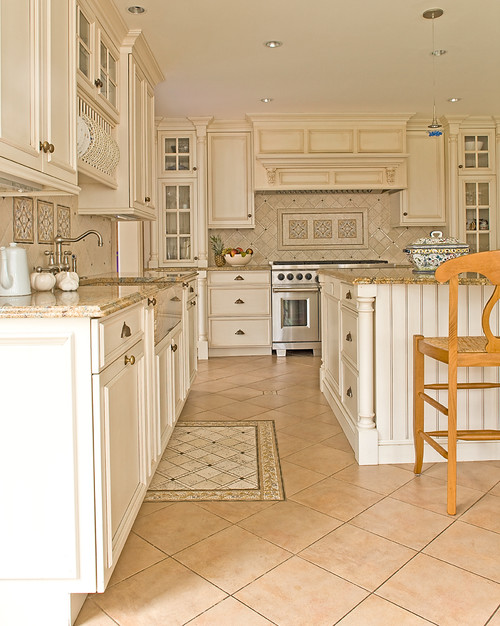 Picture Credit: Venegas and Company
This kitchen flooring has a little trick called a stone tile rug. As you see from the picture, in front of the sink cabinet is not a rug as you think traditionally. It is a part of the floor tiles which is shaped like a rug. On the other hand, Santa Cecilia Light and antique white with brown glaze cabinets keep the kitchen open and inviting.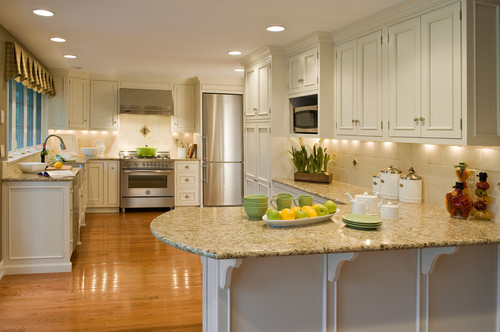 Picture Credit: Lisa Furrey – Barefoot Interiors
So, tracing the inspiration on how to combine colors while using St. Cecilia Light granite and white cabinets.
Finally, please enjoy reading my article and if you liked it you can post a review for it.