Welcome to our gallery featuring White Ice granite with white cabinet backsplash ideas.
Circle of love is completed when the right color of backsplash is used with white cabinets and White Ice countertops. If you are looking for a perfect match for White Ice granite, you can use some grey, light brown, or white tones of the backsplash plus matching borders.
Let's start with materials. I would like to describe the backsplash material first. Then, I would like to also talk about the other color matching elements in the kitchen such as painting and flooring as well.
White Ice Granite White Cabinet Backsplash Ideas in Pictures: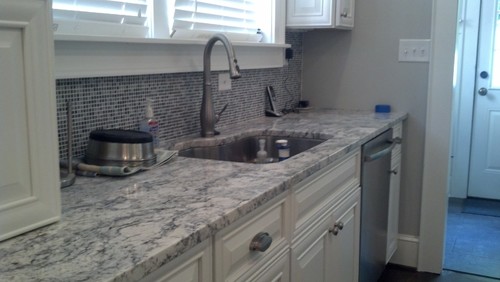 Picture Credit: All Stone Concepts, LLC
White Ice countertop with mini mosaic backsplash is priceless while making the kitchen remodeling. The backsplash is a blended color of mosaic tiles. Grey wall paint just fits perfectly in the room. Dark hardwood flooring brings a nice contrast.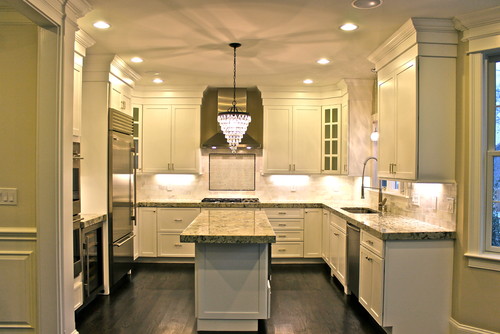 Picture Credit: Blueprint Properties 
White marble tile backsplash combined with off-white color cabinets and beautiful White Ice counters.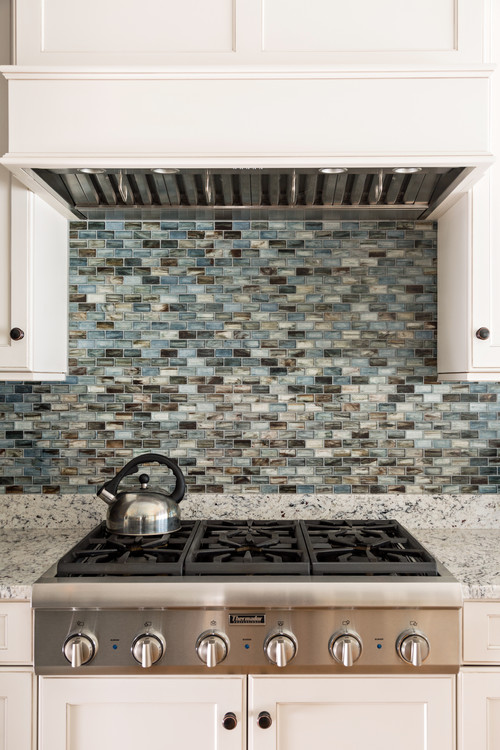 Picture Credit: Classic Kitchens & Interiors 
A mosaic tile backsplash is adding a generously deeper look no matter how colorful.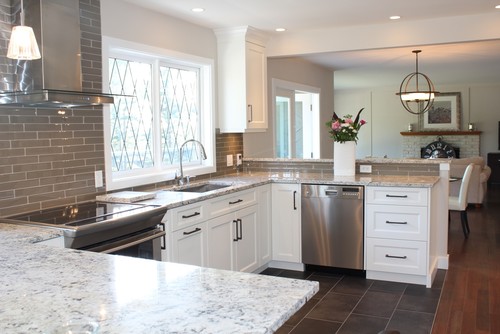 Picture Credit: Cornerstone Kitchens & Design Ltd
Lovely White Ice countertops combined with glass subway tile. White cabinets and dark color flooring create a very good contrast along with a light brown glossy subway tile backsplash.
Picture Credit: DFW Improved
Matte ceramic backsplash tile is a good match for this kitchen. The Cabinet paint color is off-white and the White Ice counter looks like a jewel.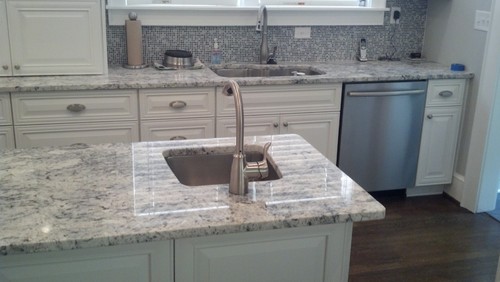 Picture Credit: All Stone Concepts, LLC 
Lovely White Ice counter with mosaic style backsplash tiles and off-white cabinets. Moreover, dark floors and stainless steel appliances are one of a kind.
Let's talk about what could be the backsplash materials. Well, there are many out there such as ceramic, glass, or granite itself. Backsplash can add tons of character to any kitchen with thousands of styles and colors the design options are endless. It is always important while selecting the style and color of the backsplash so, selecting a light or neutral color to accommodate the. A tile backsplash can add architectural interest to your kitchen. Backsplash complements white kitchen cabinets and granite countertop because it's classy and functional.
Selection can be done on the stone yard by carrying cabinet samples and some possible backsplash materials. Most of the time it is hard to visualize the whole picture without supporting elements in the same room. So, my advice is that please take all possible color selections when you are making a big decision like this.