Welcome to our gallery featuring Santa Cecilia granite with dark cabinets backsplash ideas.
My intention is to give you the best possible solution while picking the colors of the backsplash for your kitchen. I would like to talk about the name and the styles of the backsplash, as well as the color and shapes of the dark cabinets.
My main idea is to make a less stressful process while committing big decisions during kitchen remodeling. The main logic is to make a much more visual approach in the kitchen remodeling process when you decide to use Santa Cecilia counters.
Santa Cecilia Granite Dark Cabinets Backsplash Ideas in Pictures: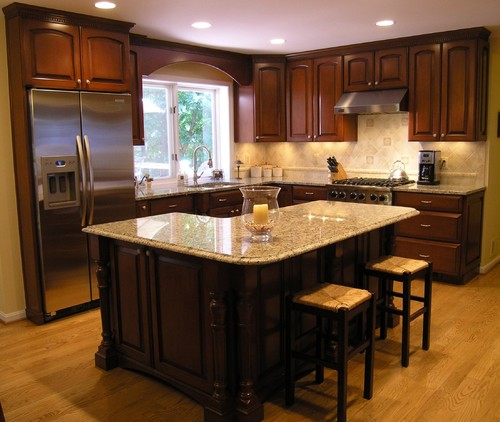 Picture Credit: Cameo Kitchens
Santa Cecilia granite countertop with maple wood custom cabinetry and glazed porcelain tile backsplash used for this kitchen concept. Standard white sanded grout combinations create a harmony that prevails among the backsplash and countertops. Light hardwood flooring with dark cabinet combinations also creates a perfect result. Stainless steel appliances, recess lights, under-cabinet lighting plus daylight made the room bright even though dark cabinets have been used.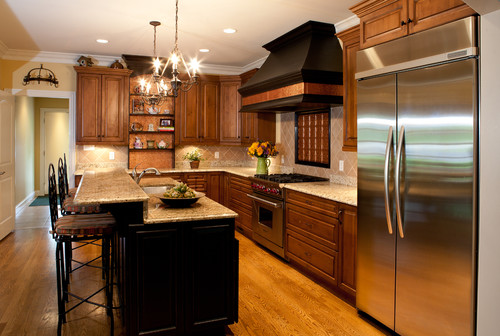 Picture Credit: Donna F. Boxx
St. Cecilia granite countertop combined with dark color cabinet into this traditional kitchen. Natural creamy color tile backsplash adds a characteristic look to the kitchen. Moreover, a lightly stained oak wood hardwood floor along with stainless steel appliances becomes a finishing touch. In contrast, the vintage-looking chandelier and custom-made black-colored hood continue to keep the classic look.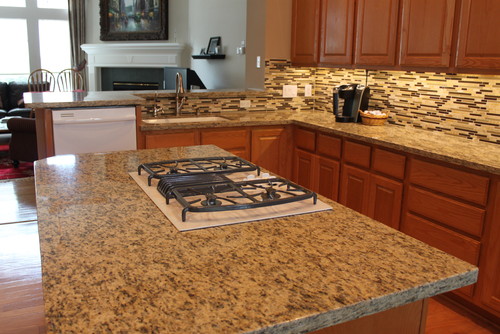 Picture Credit: Designer Kitchen & Bath
Santa Cecilia with mosaic tile backsplash equipped existing medium-dark color cabinets. Backsplash colors consist of black, cream, and light grey which give a focal point which is upgraded the new kitchen look. Besides, paints over the kitchen walls and leaving the room is a beige color paint.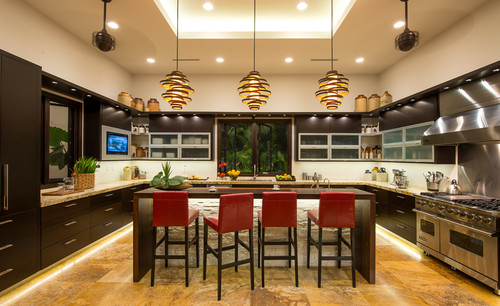 Picture Credit: Charmaine Werth
Contemporary kitchen designed with Santa Cecilia counters and bamboo espresso color cabinets. On the other hand, U shape kitchen is equipped with a lot of lighting and unique center island pendant lights. Natural travertine tiles for the floor also look very exotic.
Picture Credit: Virtual Warehouse
Breathtaking color combination for Santa Cecilia countertops and shaker style dark cabinets. While maintaining the classic look this kitchen involved several major color combinations seen which includes brown tones usage.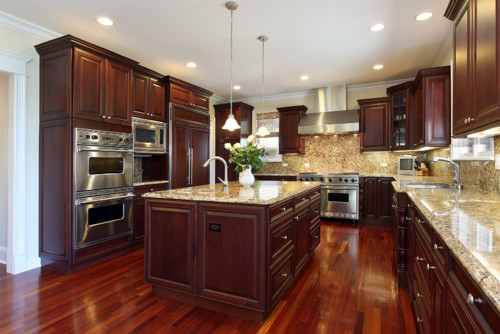 Picture Credit: Virtual Warehouse
This is a dark and light color meeting in a lovely kitchen environment to achieve Santa Cecilia countertop standouts. Adding generously dark cherry cabinet colors and connecting the kitchen to the family room by using also dark floors are priceless.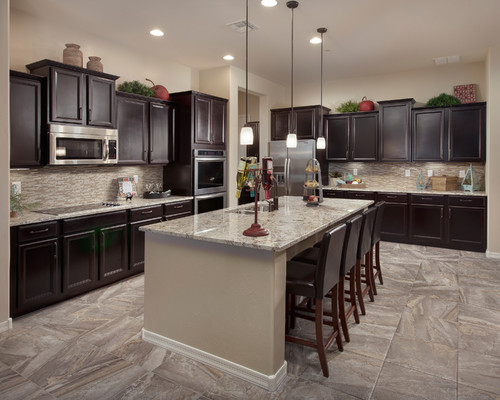 Picture Credit: Meritage Homes.
Remarkable kitchen with Santa Cecilia counters. The backsplash is a mixed cream color mosaic style. Furthermore, this design and color combination can accommodate backsplash selection and work very well.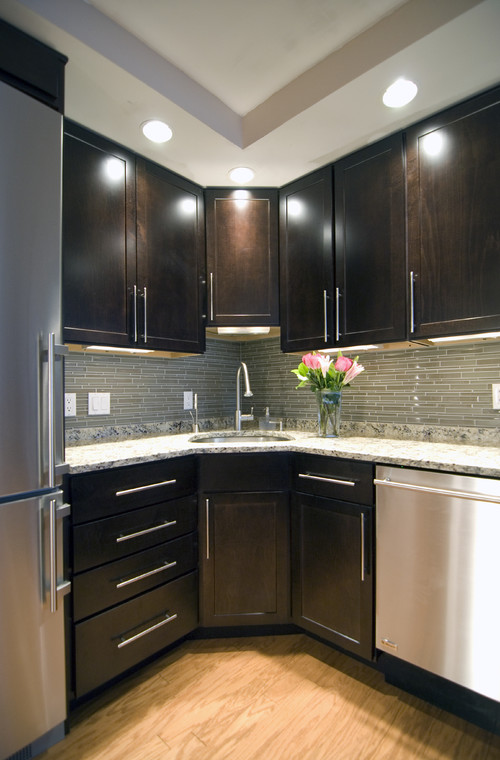 Picture Credit: Case Design/Remodeling
Since the dark espresso color is used for cabinets, the backsplash must be a light cream color. Santa Cecilia countertops were born to serve better with light color cabinets but they do go well with darker ones as well.
This is a kind of combination of colors that you don't need to be a designer. Because dark and light contrasted kitchens are very well plus playing with some soft cream color backsplash would be good enough. Of course, it is not that easy that's why I am here to help you. Dark color cabinets never go out of style but these days the dark tone cabinets are being very trendy. Santa Cecilia granite is a very good choice to create contrast lovers while remodeling the kitchen. Another lovely trend is stainless steel appliances with dark color cabinets.
The backsplash combinations would be white, cream, bone, or light earth color tones. I would like to add the darker tone glass mixed earth colors and even light cream color tiles. Finally, Santa Cecilia granite dark cabinets will surprise you with all these nice combinations.