Santa Cecilia Granite White Cabinets Backsplash Ideas
Welcome to our gallery featuring Santa Cecilia granite white cabinets backsplash ideas.
In this article, I would like to give you some kind of advises while having the kitchen renovation process. Santa Cecilia granite is known for its beauty and friendly feature as well. I would like to also talk about the color and glaze of the white cabinets to make more visual approach to kitchen remodeling process.
These days the white cabinets are being very fashionable and popular. Because of this, Santa Cecilia is a good choice for soft tone lovers in the kitchen. On a daily basis, I have clients come into the showroom asking me what they should use for the backsplash. Well backsplash is the one of the main character in kitchen designing process. On the other hand, backsplash can add tons of character to any kitchen with thousands of style and colors the design options which are endless.
The white kitchen cabinet goes well with Santa Cecilia granite. The flow of colors that Santa Cecilia has can bring some fresh influence in to your kitchen. Besides, dark and golden yellow parts of the granite create the enough contrast if you choice the right type and color of the backsplash.
The material for the backsplash can be ceramic, glass, travertine, copper or Santa Cecilia granite itself. I would like to inform you that the name and characteristics of backsplash that has to inspire you. The type of the backsplash tile would be subway, mini subway, matchstick, 4×4 square and mosaic. Furthermore, adding a little bit of glass or accent tile can create some style and character as well.
On the other hand, lighting is also very important which brings attention of the backsplash, by highlighting the texture and beauty of the tile and grout.
Santa Cecilia Granite White Cabinets Backsplash Ideas in Pictures: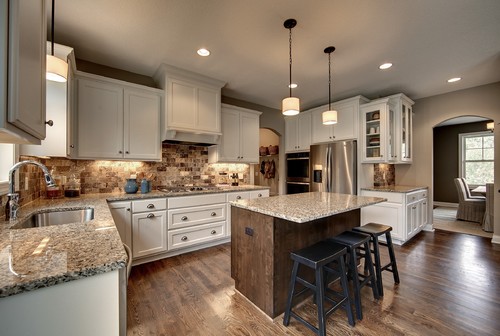 Picture Credit: Gonyea Homes & Remodeling
White kitchen cabinets and Santa Cecilia granite countertops are amazing. In addition, central island with an extra overhang gives you seating are  and elegant look. Matte travertine tumbled dark brown mixed subway backsplash tile with under-counter lighting have a contemporary appeal. So, multi color travertine subway backsplash did a very good job along with dark hardwood floor. Very satisfied design.
Picture Credit: Driggs Designs
Beautiful kitchen equipped with white cabinets and Santa Cecilia counters. However, the kitchen backsplash is decorated by ivory subway tiles with white grout. When selecting a tile for backsplash, select light or neutral color to make transition between the countertop and cabinets. White kitchen's floor selection is always important as much as backsplash because it has to be either dark or medium dark.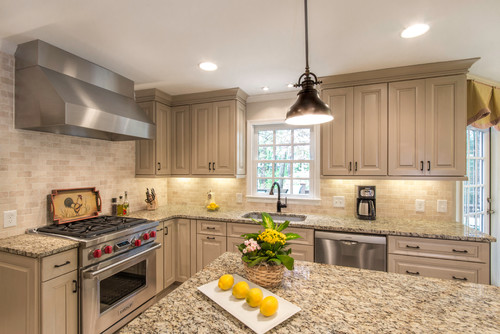 Picture Credit: Randi Destefano
Here is the another example of breathtaking Santa Cecilia granite white cabinets and cream color backsplash.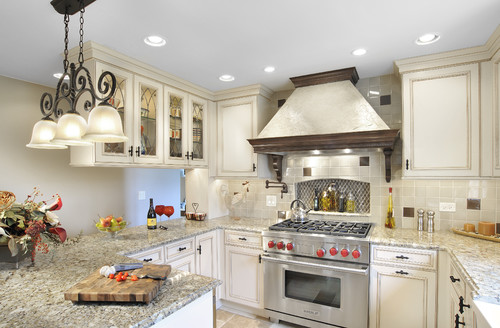 Picture Credit: Angie Keyes
Brown glazed white cabinets with Santa Cecilia countertop and lovely combo of white and brown 4X4 tile backsplash. The wall color is a taupe and floor is creamy natural travertine stone tiles. Using the brown accent tiles are really catchy. The custom hood and chandelier combinations are amazing idea.
Santa Cecilia Granite White Cabinets Backsplash Ideas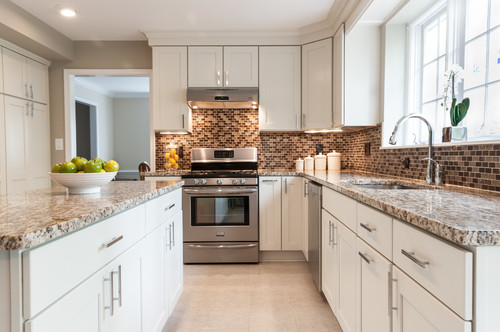 Picture Credit: Hammer Design Build Remodel
The open kitchen layout created more open countertop spaces with beautiful Santa Cecilia granite and a glass mixed stone mosaic backsplash. Porcelain floor tile design which brings beauty and durability to the kitchen. Moreover, painted white cabinets with Santa Cecilia countertops help the space to feel very light.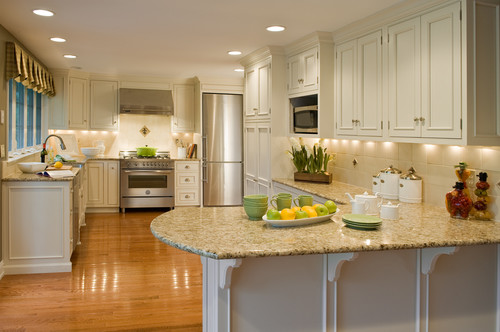 Picture Credit: Lisa Furey
White traditional kitchen with Santa Cecilia granite countertop. It is a very simple glazed ceramic tile, lovely under-cabinet lighting. It smells so cozy and intimated. Medium dark oak hardwood floor and white painting are another good sample of Santa Cecilia granite white cabinets backsplash ideas.
My main idea in this blog is to give you the best possible solutions according to your taste and of course the budget.
Please follow and like us