Welcome to our gallery featuring Colonial White granite countertops with white cabinets backsplash ideas.
Colonial White granite is being very popular in the stone countertop market because of the whiter background. This stone can be a great tone to select and install with white cabinets. Selecting the color of the backsplash is important because various selections made are probably going to impact the total look of the kitchen area. So this is a very important detail to keep in mind.
Designers are using tiles with so many new designs out there to pull out the beauty of the kitchen countertop. The tile backsplash is the right choice for the white kitchen because granite Colonial White countertops and cabinets provide just the right neutral look.
On the other hand, if you choose the mosaic tiles which will give also a modern look to any kitchen countertops. Subway style tile colors could be white or medium dark from light brown to petroleum green. Travertines are also very popular lately. Creamy color travertine tiles with different finishes and sizes would be one of the kitchen's best classic materials.
Colonial White Granite With White Cabinets Backsplash Ideas in Pictures: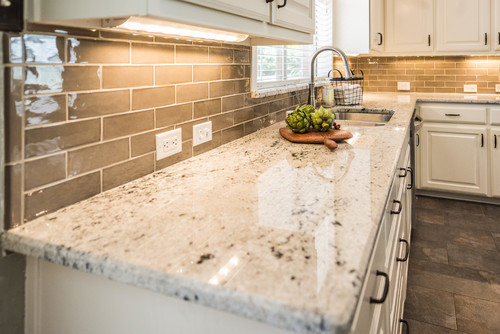 Picture Credit: Irwin Construction
Light brown subway tile with white grout in the modern kitchen. Colonial White countertops with under-counter lighting and cabinets. Brown-grey mixed contemporary porcelain tile flooring. Beautiful light green wall paint and dark hardware. A subway tile backsplash always gives a timeless vibe to the kitchen.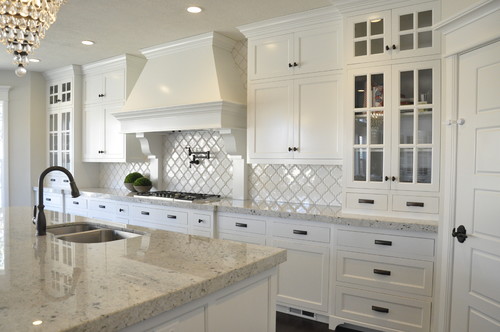 Picture Credit: 400 West Design
Rich taste for your dream kitchen. Colonial White granite countertops with white backsplash and cabinets and espresso hardwood flooring.Like a galore in the kitchen. Polished white granite colonial slabs are from India. Cabinet colors are very crucial but natural white wood finish boasts the appearance.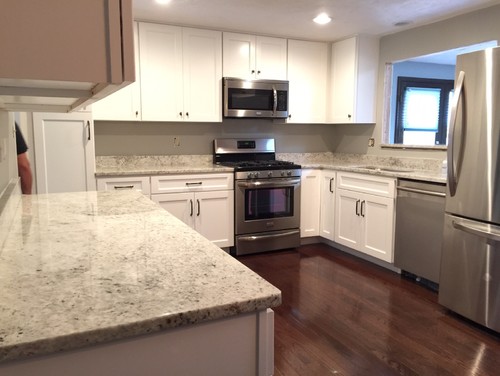 Picture Credit: Armina Stone
Colonial White granite countertop with same stone 4″ high standard backsplash and white cabinets. Stainless steel appliances and dark hardwood floor. Besides, perfect wall paint and countertop coordination along with recess lights. Black speckles mineral bedrock affects the granite color and prices.
Picture Credit: Irwin Construction
I really liked the bay window-looking sink area surrounded by glass front wall cabinets and windows. The kitchen looks so bright the way they picked a light green wall paint color. The reason that the Colonial White counter has some green tones in it is that's why light green wall paint with dark hardwood flooring creates a perfect contrast.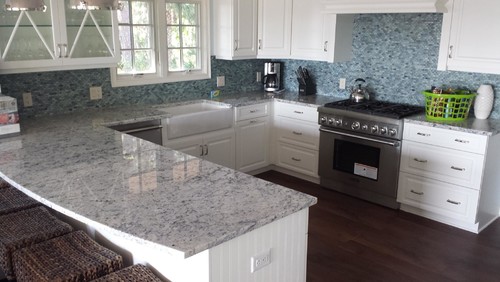 Picture Credit: Stoneworks
White kitchen cabinets with pops of color from Colonial White granite countertops and mosaic glass tile backsplash. Mosaic tiles are installed in a stacked pattern to give a modern look. Moreover, stainless steel appliances and dark hardwood flooring look remarkable as well.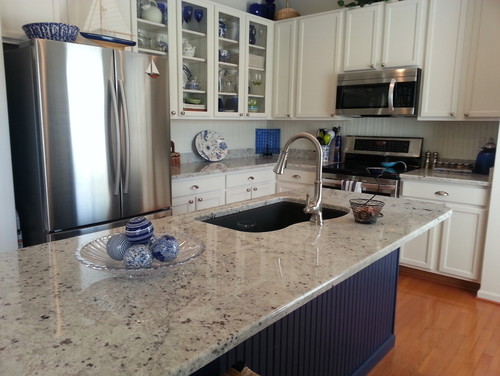 Picture Credit: Ancient Art Stone
Colonial White granite countertops are used with two different colors of cabinets in this kitchen. The main perimeter side is white cabinets, and the island is a dark espresso color cabinet. A regular 4″ high backsplash has been used. Plus stainless steel appliances and medium dark hardwood floors compliment the rest of the kitchen materials.
White Colonial countertop is such an easygoing stone to work with it. The backsplash could be from the same granite with the same thickness which will add richness to the room. Backsplash material could be varied such as glass, travertine, marble, ceramic, or light color mosaic and subway tiles. When you decide to go for Colonial White granite slab, your color pallet will be filled with pastel tones. The backsplash colors could be white, off-white, mixed light blue, soft beiges, and light browns.
In addition, If you would like to take your turn and drop a comment about this article, please do not hesitate.