Caesarstone Raven Quartz Kitchen Countertops Ideas
Welcome to our gallery featuring Caesarstone Raven quartz kitchen countertops ideas.
This deep grey is not a solid uniform looking color on the surface. It is actually stunning unique color in its class. Especially, 4120 Raven is dazzling for modern kitchens. Let's start with a basic questions before we say somethings. Why you can choose this stone for your kitchen countertop or why people are getting this grey quartz surface for their homes? Since the grey represents past and future as a transitional color. Well the answer is simple because there is still people out there who do not want too much change in their life. Grey color is still popular and has a wide usage area in remodeling business. Most in demands are  as a countertop or cabinets into kitchen designing. Since this stone is a very solid color with no variations would be a good fit for modern kitchen design.
Caesarstone Raven quartz will be a very good candidate for black&white kitchen combinations. The reason behind is that it looks black color, because this stone looks like black from the distance. When you combine it with white cabinets which is very popular also will be the perfect contrast.
So, there is no other natural stone out there which is solid, uniform and dark grey like Caesarstone Raven. This is the benefit for countertop market customer's who is looking specified solid grey look. Engineered Raven has it its deep coloring would go well also with medium dark cabinets as well. Man made stones are less maintenance and also have a wide usage area also in commercial projects. We receive more and more demand for manmade materials.
Caesarstone Raven Quartz Kitchen Countertops Ideas in Pictures: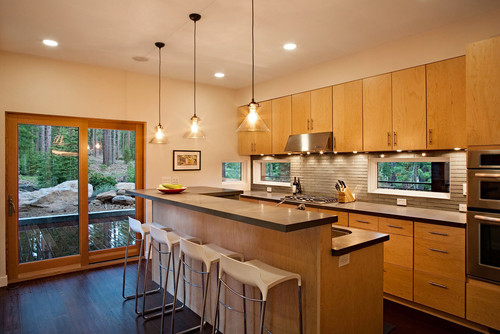 Breathtaking kitchen designed with shaker style white cabinets and Caesarstone Raven quartz honed countertop. Medium color natural maple wood cabinets equipped with glossy sterling color glass tile. The wall paint is aesthetic white. Moreover, to create the contrast between the cabinets and flooring – hand scraped hickory hardwood with dark color has been used.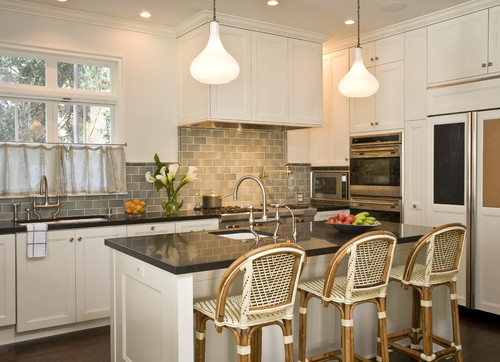 Picture Credit: Studio William Hefner
Remarkable kitchen paired with white cabinets and Caesarstone Raven quartz countertop. The hand crafted backsplash tile is also a grey color ceramic. Selecting backsplash color and style in this kitchen is marvelous and glazing makes the ceramic tile different. Dark hardwood flooring also goes well with stainless steel appliances.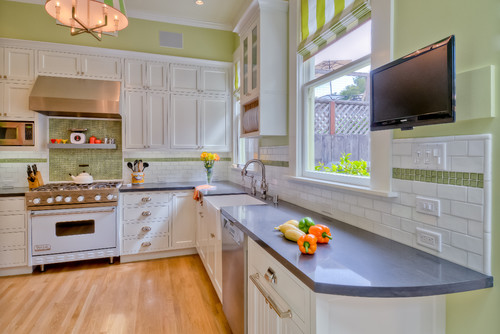 Picture Credit: Mascheroni Construction
Attractive traditional kitchen equipped with white cabinets and Caesarstone Raven countertops. Furthermore, clear finish cabinets combined with oceanside glass tile. The floor is natural oak, and no stain.
Caesarstone Raven Quartz Kitchen Countertops Ideas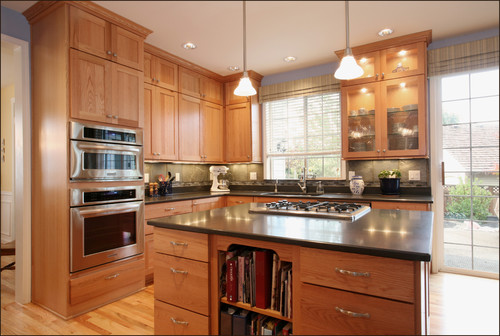 Picture Credit: Julia Williams
Appealing kitchen featured with medium dark maple cabinets and Caesarstone Raven countertops. It's a sort of caramel colored stain cabinets with the combination of  three different backsplash which are quartz, glass tiles & slate. The flooring is a natural oak with a clear finish on it. On the other hand, pendant lights and large size windows are making the kitchen bright and cozy too.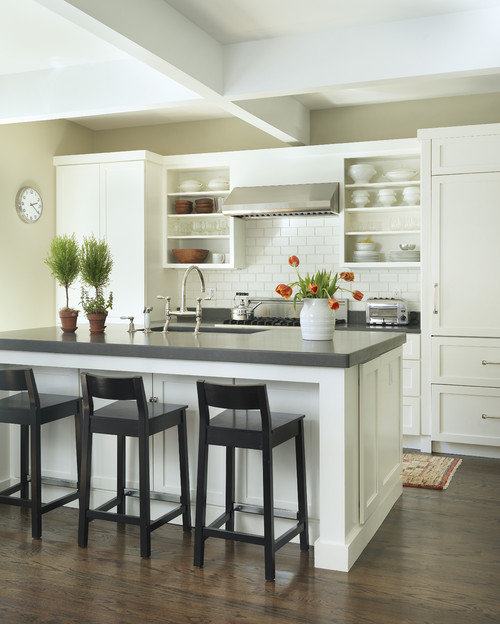 Picture Credit: Kate Jackson Design
Outstanding modern kitchen combined with white cabinets and Caesarstone Raven countertops. Besides, Raven quartz tops and stainless steel appliances work nicely together in this kitchen. The wall color paint is off yellow. Additionally, the hardwood floor is red oak. For backsplash, subway tile used which is honed, beveled with the size of 3″ by 6″.
Please follow and like us