Welcome to our gallery featuring Viscount White granite countertops.
Ever tired-looking old Formica countertop? Here is the best opportunity for you. Let me explain to you why!!! What is the benefit of having Viscount White granite countertops as an interesting natural stone for your kitchen?
Well, the answer is simple. Because this granite is very unique and nobody can even make an imitation. When you use white cabinets and stainless steel appliances it will make the value of your house better than ever. This color combination makes you feel happy while you are in the kitchen because that veining gives you relaxation.
Granite Viscount White is unique because every time it comes different curvy veins, even the quartz manufacturers are trying to come up with a similar look as new lines for them. This stone's origin is India for kitchen countertops and slabs.
Viscont White Granite Countertops
For cabinet ideas, we recommend definitely white or off-white cabinet colors for your kitchen remodeling projects. Silver Cloud granite looks especially good in white cabinets.
Backsplash Ideas, it does not matter which cabinet color you use but cream and white colors would be your choices.
For flooring ideas, there are no preferences but usually try to create contrast which would be your dilemma during the remodeling process. Viscount White granite price per square foot is $45.
Viscount White Granite Countertops in Pictures: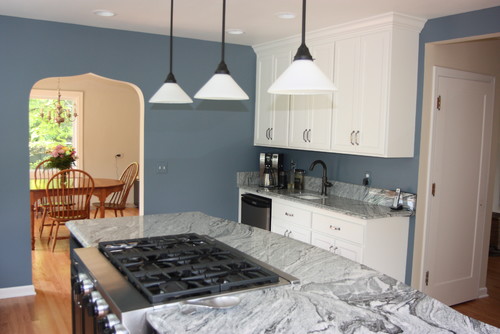 Sweatman-Young, Inc.
Small cozy kitchen with an island equipped with a slide-in range in it. Viscont White granite countertop can go with white cabinets no matter what is the other surrounding colors.
Light navy blue paint has been chosen carefully to compromise the rest of the coloring.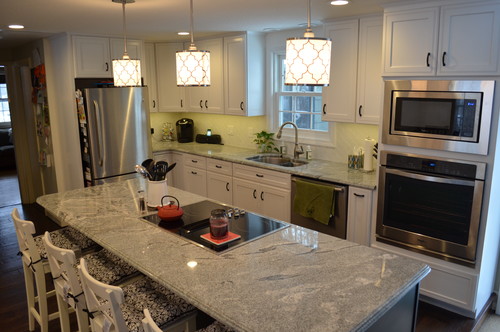 PerfectView Remodeling
White porcelain tile backsplash combined with dark engineered hardwood flooring adds a little touch of elegance to the kitchen. However without this contrast could be a little too white and depressing for many people's taste, so white granite Viscount bathroom usage is a great little addition also to this lovely home. Nice fancy pendant lights over the island also nice with white painting overall the room.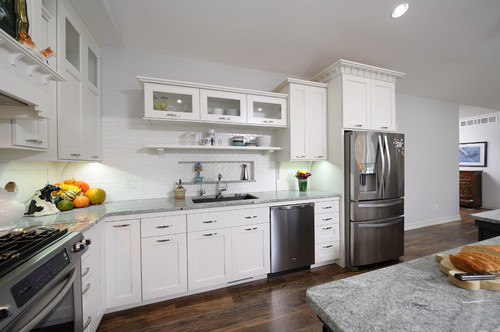 Kalamazoo Custom Kitchens & Bath
Gray on hickory at the island cabinet and super white paint on hickory for the perimeter cabinets. Viscon White granite countertops covered these beautiful cabinets.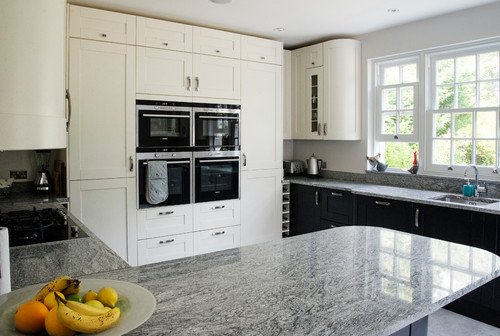 Affordable Granite Surrey Limited
This kitchen is interesting to point of combining two different cabinet colors. Wall cabinets are pure white and base cabinets are dark espresso with Viscount White quartz counters on them.
Floor tiles are light grey porcelain which gives enough contrast with base cabinets. Grey wall paint and 4″ high backsplash make it a simple but elegant space.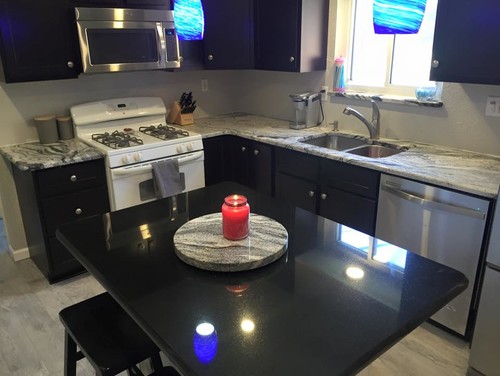 Titan Granite STL
The major color combinations are grey in this stone. Black and white create a good contrast with dark espresso color cabinets. I just want to show you that Viscount White granite with grey cabinets too, but it looks more appealing with whites. The floor is light grey porcelain tile to match the rest of the granite kitchen.
Post navigation of this is marble but it is actually a white granite kitchen for homeowners. Polished slab for this stone can be used in a residential installation-related design, variations, details to install gray base countertops.
The beauty of this material is veining, quality, style, and nice finish. Honed marble and granites quarried stones installed as kitchen countertops.