The colors of the Silestone Pulsar quartz countertop are characterized for being warm and natural which is ideal to create striking environments. This stone is designed as a cream veiny, marble-looking quartz. If you are looking for a cream veiny, marble-looking worktop with a suede or polish finish then this is for you. 
Silestone Pulsar countertop is an investment for the house and for the future as well. Since the trend towards the white countertops lately by a manufacturer who is working hard to invent the similar look like some beautiful marbles. Moreover, it has an un-resistible feature which is strong resistance to everything. White countertops such as this one were chosen for modern spaces for several reasons.
First, since this is a very modern color it offers a clean look for any place, and also it can open up the look of a smaller kitchen. Second, if you plan to incorporate a minimalist color into the kitchen area, this color of Silestone is going to be the best selection for you. When it comes to beauty this stone gives you everything that you need while you are designing your kitchen.
Silestone Pulsar Quartz Countertop in Pictures: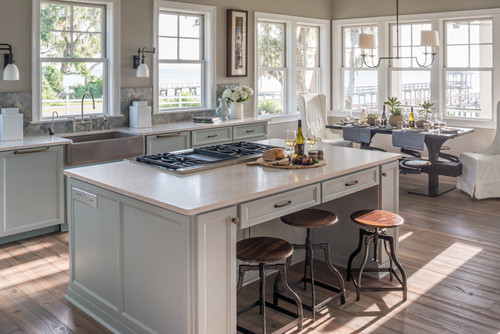 Traditional beach-style kitchen modernized by designing Silestone Pulsar countertops and light gray kitchen cabinets. Medium tones hardwood floors with the rustic finish on it combined gray color wall paint including the leaving room as well. Blue, grey, cream, and white mixed subway-style 
backsplash
 tiles completed the job.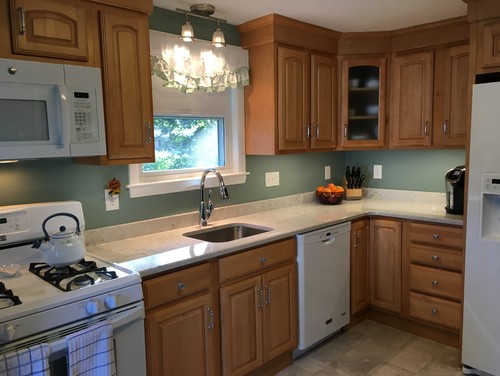 Picture Credit: Justin of Spotlight Kitchen and Bath
L shape small cozy kitchen equipped with Silestone Pulsar quartz countertop and light maple cabinets. The backsplash is 4″ high and used from the same stone with blue tone wall paint. White kitchen appliances and 
cream
 color porcelain floor tiles update the kitchen.
Pulsar Silestone Countertops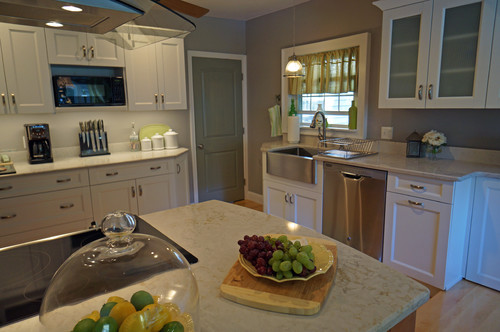 Picture Credit: Justin of Spotlight Kitchen and Bath
Philadelphia door style white shaker cabinets paired with Silestone Pulsar quartz countertops. 
Gray
 wall paint color matched amazingly with stainless steel appliances. White shaker-style doors create a light and clean look in a kitchen. That's why rooms like this with little daylight white cabinets are appealing.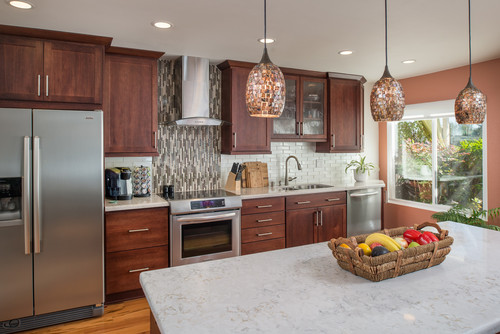 The effect of these three shades of white with golden yellow combined is amazing enough and is certainly a marble look in its origin. This kitchen enjoys dazzling views of the Silestone Pulsar countertops.
Picture Credit: Creative Surfaces
This is an example of a traditional L-shaped eat-in kitchen with an under-mount sink, white raised-panel cabinets. Pulsar Silestone
quartz
 countertop, subway-style glass tile backsplash, stainless steel appliances, and porcelain floors are relaxing and calm.
Silestone Pulsar slab comes normally polished version. On the other hand, it has also suede forms part which is one of the special series that has been formed to give a kitchen an extra-matt look. The suede form is a different finish than the polished one. It gives a smooth soft feel when you touch your finger and creates an antique look for the kitchen itself. It is a rising star this kind of finish among the others. The suede finish is a little bit more pricey due to the way they finish the surface with water-jet machines. This type of finish is also extremely popular in the designer's world.
The quartz products are naturally non-porous, easy to clean and provide high scratch, stain, and heat resistance. Silestone Pulsar's price is $75 per square foot. This is an easy task for quartz products because it is something that can be done once a year. That will also easily improve its appearance if you seal it every year.
How to clean quartz countertops? Keeping up on the daily maintenance of wiping down your Silestone Pulsar reviews is really good. Avoid thinking of this wash down as a scrubbing, because you won't want to scrub at all. A simple solution of water and soap, a few drops of dish detergent mixed in a spray bottle is the perfect cleaning solution.