Welcome to our gallery featuring Caesarstone Frosty Carrina quartz.
This stone is a very soft, creamy white-looking color that has better appearances than most of the competitors in the market. Frosty Carrina has the most reasonable translations I've seen among the engineered stones. So you may want to ask this question, what is the benefit of having Caesarstone Frosty Carrina on your kitchen countertop versus marbles?
The most popular trend or answer is that similarity with beautiful white marbles. The way it's designed with longer veining and darker grey colors is very appealing which looks like one of the famous natural marble stones.
Caesarstone Frosty Carrina Quartz Countertops in Pictures: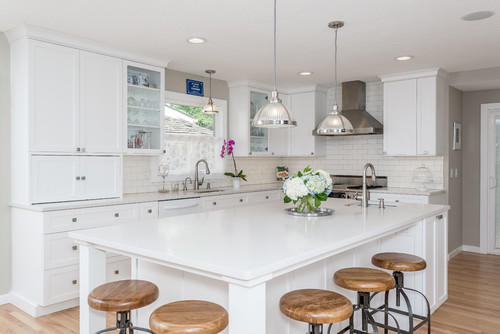 Picture Credit: KM Kitchen Design
The breathtaking kitchen featured white shaker cabinets and Caesarstone Frosty Carrina countertops. White subway tiles and light color hardwood floors are dazzling. A huge island with enough overhang allows you to put some vintage-looking bar stools. Additionally, the ceiling is painted white color and walls are grey color which gives tasty feelings.
Picture Credit: Leslie Arnold Architecture
A very deep chocolate brown, almost black color cabinets equipped with Caesarstone Frosty Carrina countertops. Even when the sun hits the cabinets then the brown tones show through which is very attractive. Arabesque white backsplash tile goes well with the rest of the kitchen colors. As you see, there are no wall cabinets which is an upcoming fashion for the kitchen remodeling industry.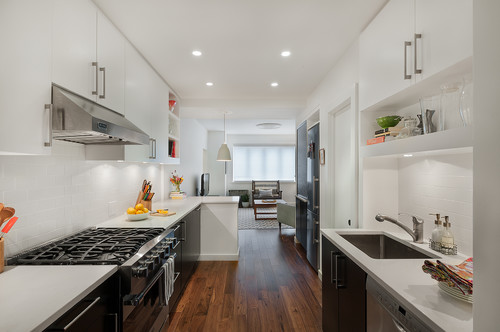 Picture Credit: Ecostruct
Contemporary kitchen equipped with a mix of dark base cabinets and modern white wall cabinets. The Caesarstone Frosty Carrina countertop looks stunning with white porcelain subway tiles. Walnut engineered floors in a stain finish which is super durable and very attractive to complete the kitchen remodeling.
Caesarstone Frosty Carrina Quartz Countertops Images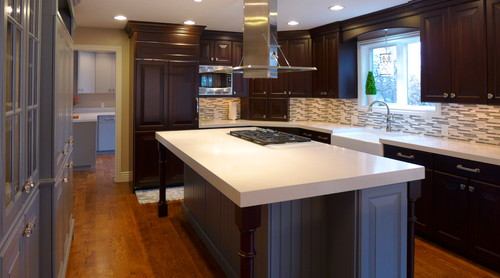 Picture Credit: Accent Interiors
L shape kitchen designed with dark chocolate maple cabinets and Caesarstone Frosty Carrina bathroom counters. The idea is here to create the contrast by using two opposite colors. Multi-color glass and stone mixed mosaic backsplash become compatible that suits very well in this kitchen remodeling project. Medium-dark cherry-stained hardwood floors and white porcelain farm sink along with stainless steel appliances complete the job is done perfectly.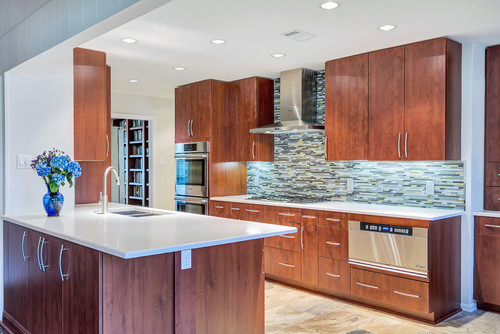 Picture Credit: Kitchen Design Concepts
Gray glass and slate tile backsplash in a random brick formation combined between the countertop and wall cabinets as a transitional action. Moreover, 16×24 slate ceramic floor tiles give a nice contrast.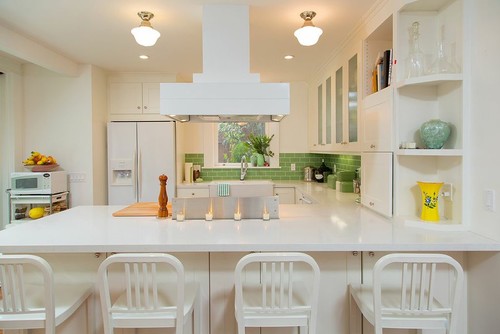 Picture Credit: J Walsh Construction
Outstanding kitchen paired with a custom color based on linen Caesarstone Frosty Carrina with white cabinets. Mint green accents of subway-style backsplash tiles with white grout stand out so tasty. The rest of the kitchen colors stay white to keep the clean look for the entire kitchen.
Picture Credit: TRG Architects
A remarkable combination of dark and white cabinets is striking with Caesarstone Frosty Carrina kitchen countertops.
The trick is, if you have this stone in your kitchen, you will get the marble look with almost no maintenance. Plus taking care is easy when you compare it with marbles. The white marble look is in fashion now and you are not going to worry about getting stained or chipped easily when you have white quartz in your kitchen. Because Caesarstone Frosty Carrina reviews have a lot of advantages which as heat and stain resistance.
There are all types of marbles with all types of veining. There will be no mistake if you choose the Frosty Carrina for your kitchen countertop. It will not be a marble that you are dying to have for a long time. But it definitely looks like a more subtle form of white marble. It's not trying to be that heavily veined white marble. Yes, real marbles are gorgeous when they are new, but it would bother me to see all that damage on them when the time passed, and I don't want to worry about it all the time. Caesarstone Frosty Carrina price is not that expensive.