Welcome to our gallery featuring Brazilian Black granite countertops design ideas.
Brazilian Black is a smooth-looking granite. This granite color is only available from Brazil and has silver patterns running on a black background. It has a touch of some highlights and lowlights allowing for both a traditional and contemporary feel.
This stone has white and light shades of gray that are the dominant effect throughout the stone. Brazilian Black countertops can also bring a rich, natural, high-end appeal to any kitchen. This stone isn't totally black; it has a slight grey and even green tones in it. Black is a color still royal among the others.
Brazilian Black granite countertops are also famous its honed and leathered finish options. It has been very popular for some customer who has modern look in their kitchens.
Brazilian Black Granite Countertops Design Ideas in Pictures: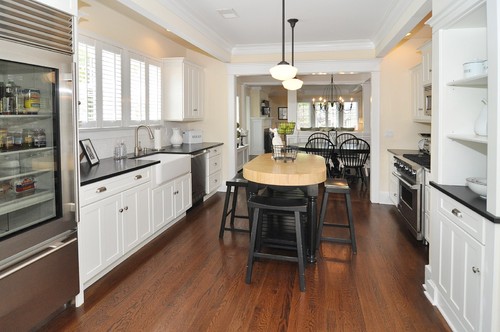 Picture Credit: Stonington Cabinetry & Designs
Black Pearl granite countertop is stunning with white cabinets under every condition. White cabinets really complement with porcelain white farm sink. Solid black color granite with white specs in it makes a complex and interesting combination together. Moreover, red oak hardwood floor stained with special walnut color admired light peach-salmon mixed wall paint.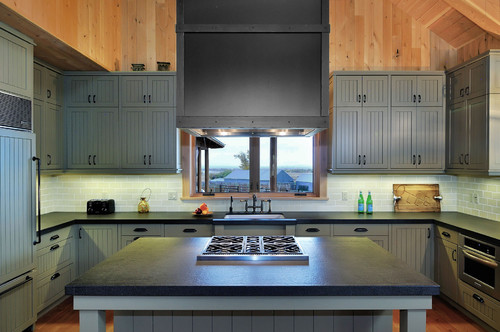 Picture Credit: Koch Architects
The countertop is Brazilian Black with a leathered texture on it. This is a different finish that can be done by water-jet machinery. It works well with dark and black granite colors rather than light and white ones. Light green cabinet colors and a Brazilian Black granite countertop create a marvelous kitchen. Besides, this great-looking kitchen with subway tile backsplash and fumed white oak flooring are just like a country-style home.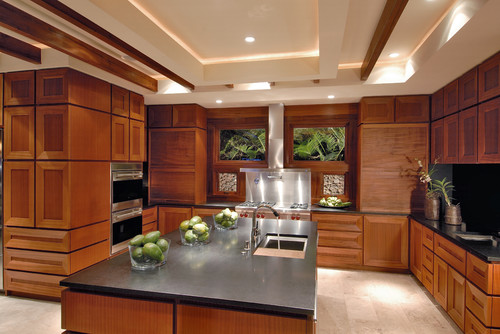 Picture Credit: Ownby Design
Brazilian Black granite countertop features some white veining combined with leathered finish provides a soapstone alternative if you look at closely in this picture. Kitchen cabinets are made of wood and the floors are a 12×24 ivory limestone. Moreover, the kitchen features beams that are stained and give a beautiful natural vibe to the room. The stainless steel backsplash behind the cooktop is flat (no pattern). The other backsplash is from the same stone with the same thickness.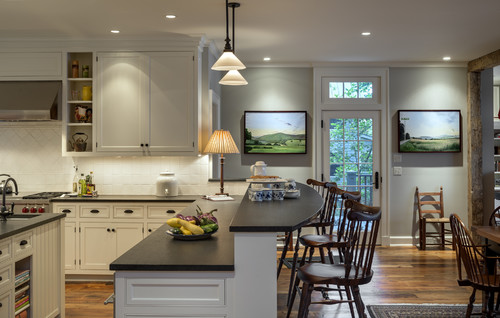 Picture Credit: Crisp Architects
The painting over the wall is grey in color. The hardwood used for floor custom stained rustic looking material. Besides, the countertop is Absolute Black granite.
Picture Credit: Case Design/Remodeling
The backsplash used behind the stove is a crackled porcelain tile with subway style. Additionally, Brazilian Black countertops combined with white cabinets and cream wall color create an amazing effect.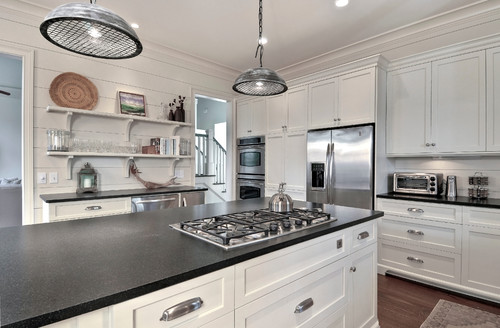 Picture Credit: Robert Paige Cabinetry
Another sample of the white cabinets and leathered(honed) Brazilian Black granite countertop. The only difference is that using white plain wood backsplash change the overall appearance of this kitchen.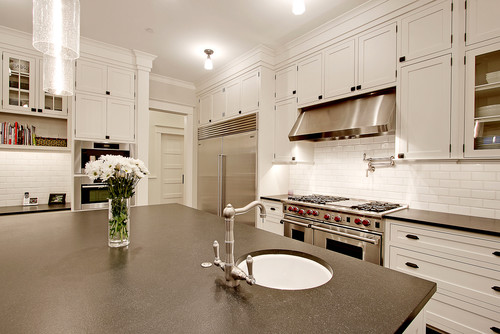 Picture Credit: Paul Moon Design
Moreover, white backsplash subway tile decorated with honed Brazilian granite with white oak planks finished floors. This is also a perfect example of black and white combinations.
Brazilian Black granite countertops are also famous its honed and leathered finish options. It has been very popular for some customer who has modern look in their kitchens.
White cabinets and some lighter cabinets would be the right direction for this stone but there some other applications are seen such as light cherry or light green colors as well. For backsplash ideas, subway tile backsplash would cover all the concerns regarding what to put. Carrara marble backsplash and glass subway backsplash would be the other alternatives. For flooring ideas, medium tone hardwood floors will be the right choice but sometimes darker hardwoods are outstanding as well. Brazilian Black granite counter that is gorgeous and can be the center of the activity, or other elements in the room can take the action.
How to take care of black granites? Honed or leathered finish countertops are no different than polished ones. Just put sealer more often and pick the one which is good for those finishes that's all. You will be able to enjoy a countertop that functions great for you for a longer period of time with the proper maintenance. In the end, the care that you put into the surface.