Welcome to our gallery featuring Silestone Bianco River quartz kitchen countertops.
It is a predominantly white bedrock with black veins running throughout the slab. One of the main features of Bianco River quartz is that has a marble look but offers much more valuable benefits than marble. Quartz materials are non-porous while marble is not. They are considered less maintenance countertop options.
Engineered stones are made with natural quartz which is making them highly resistant to wear and tear. Besides, Bianco River Silestone is unique in its class to replace whoever wants marble in their kitchen as a countertop because of its ideal combination of beauty.
This stone is made for marble lowers who want to put white marble in their kitchen but can not put them because of staining and scratching problems. It has the same look and better quality which is also against staining and scratching.
Silestone Bianco River Quartz Kitchen Countertops in Pictures: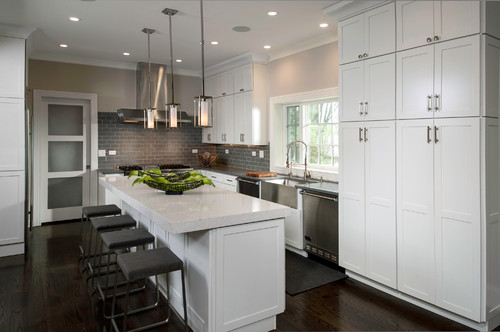 Picture Credit: Donna Mondi Interior Design
Bianco River quartz kitchen countertops paired with white shaker-style cabinets. It turned out a brilliant kitchen with all the color combinations. The backsplash is 3×6 glass tile. On the other hand, the floor is the oak floor which is finished with a custom stain.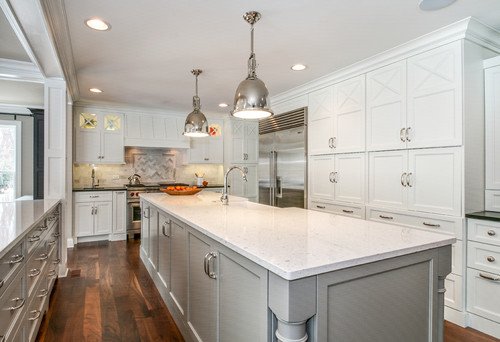 Picture Credit: Redstart Construction
In this amazing kitchen Silestone Bianco River quartz kitchen countertops paired with honed Absolute Black granite countertop on the kitchen side. Moreover, the backsplash is a subway style, which is installed behind the stove herringbone pattern, and the rest of the kitchen is installed with a regular pattern.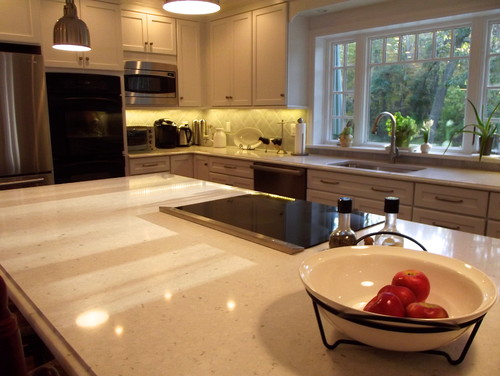 Picture Credit: Stamford Marble and Tile
Very attractive kitchen designed by Silestone Bianco River. White shaker cabinets and travertine backsplash embellish the kitchen. The huge window in front of the sink area allows getting more daylight during the day.
Picture Credit: Cameo Kitchens
Outstanding kitchen combined with Silestone Bianco River countertops and maple wood cabinet. On the other hand, travertine tile backsplash along with stainless steel appliances are priceless. Besides, Silestone with an arabesque backsplash is a perfect choice. Light oak flooring paired with light purple wall paint.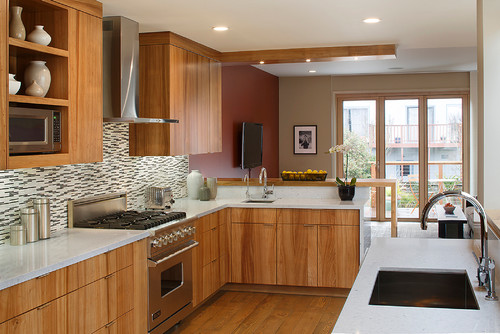 Picture Credit: Kathy Bloodworth Interior Design
Silestone quartz is a less maintenance stone. It is totally fine to use with this cabinet color. Beauty is in this kitchen which has a countertop coordinated with backsplash, on the other hand, cabinets matched with the floor.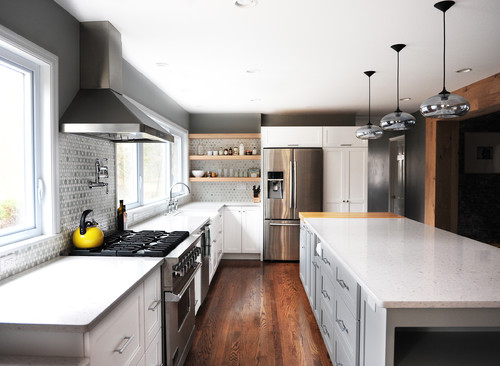 Picture Credit: Susan Yeley Interiors
Breathtaking kitchen equipped with Silestone Bianco River quartz kitchen countertops and the a combination of white and Chelsea grey cabinets. Moreover, custom stained hardwood floors with stainless steel appliances are captivating.
In the kitchen designing world, the main concern would be that what goes with what? For example, they would be cabinets, backsplash, countertops, or even paint colors combinations. All of these are very very important while you are remodeling a kitchen project in your house. These questions are what we are facing almost every day from our customers and try to give them advice according to their color selections for kitchen projects. Furthermore, this advice would be a trend or taste and maybe what they have current and try to upgrade. So this blog helps end-user to inspire by looking at the pictures and reading the small notes under them.
We have to always focus on these 4 different elements of kitchen combinations while we are picking materials. Let's remember them, those are respectively cabinets, countertops, backsplash, and paints. First, it is of course your taste second, budget, and third would be the trend while deciding those elements. Besides these 4 main kitchen elements, flooring is also important.
Finally, the 3cm Silestone Bianco River price is about $75 per square foot for residential installation depends on your location.