Welcome to our gallery featuring Sienna Beige with dark cabinets.
We are playing with colors a lot in kitchen design. We need to know them well or at least understand them correctly. I would like to formulate them with the same concept as a 4C rule in the diamond stone business. Yes! the initials are CCBP which means (cabinets-countertops-backsplash-painting). Just like a diamond stone business when 4C comes together in perfect conditions, the quality of the diamond stone will be perfect.
In real-life kitchen remodeling is the same way actually when those CCBP(cabinet-countertops-backsplash-painting) get together with perfect color selections your place will be amazing. These are the main characters for kitchen remodeling which are cabinets, countertops, backsplash, and wall paints in this picture.
Sienna Beige Granite With Dark Cabinets in Pictures: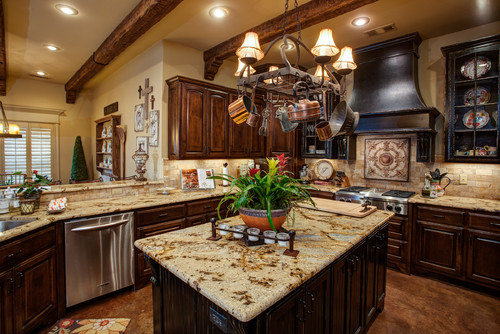 Picture Credit: MLBaxley Photography
Sienna Beige with dark cabinets can be used with a beige color backsplash. Rustic alder whisky black custom-made cabinets were installed with care to compromise the kitchen decorating. In this example, cabinets and countertops' beauty can be seen separately to see each beauty. Soft beige wall paint is also a very good choice with a travertine backsplash. This is definitely recommended combination, please keep in mind that using Sienna Beige for your kitchen remodeling projects is very crucial.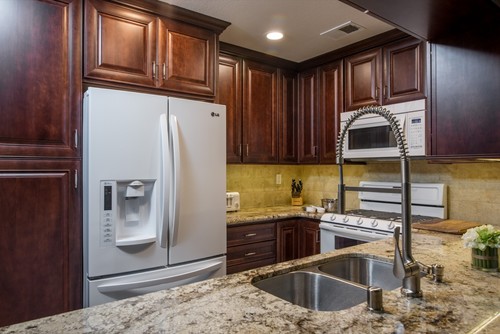 Picture Credit: Remodel Works Bath & Kitchen
This small kitchen is very elegant with rich, dark, cherrywood cabinets and Sienna Beige tops. Dark cabinets and yellow-creamy-looking 4X4 marble tile backsplash work very well in this combination. When you have a small kitchen like this, if the dark cabinets are exist and not able to change them use everything else light colors like this picture above. Whitewall paints white appliances and yellow-beige backsplash helped the kitchen to be brightened.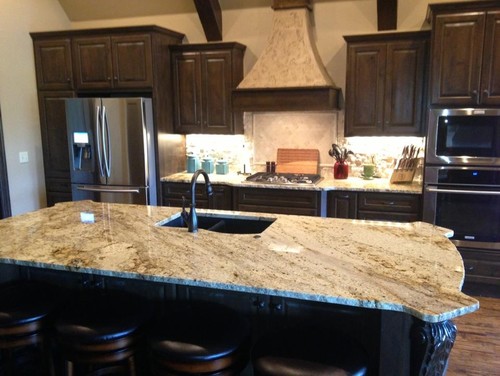 Picture Credit: Pacific Shore Stones
Another good combination for Sienna Beige with dark cabinets result. The catch is here to give a nice contrast with matching dark spots on the countertops. Using cream-beige color travertine backsplash along with cream color wall paint are pretty smart choices. The floor is a little lighter than the cabinets which is a very good decision along with the stainless steel appliances.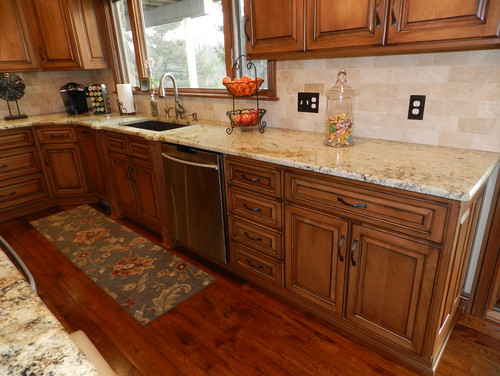 Picture Credit: Johannings
If I bring to your attention dark maple glazed cabinets have enough contrast with Sienna Beige granite countertops. What kind of backsplash does here in this combination play the bridge role as a transition? I think dark red cherry hardwood floors could be a little lighter but this is not bad either.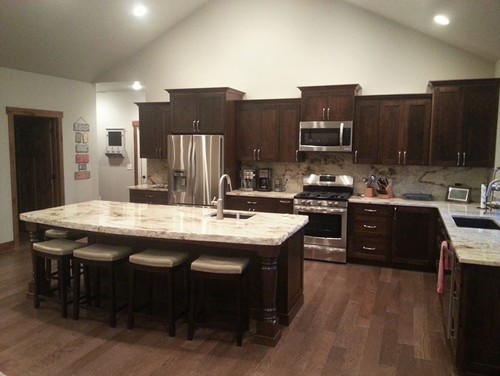 Picture Credit: Idaho Granite Works
Using the same stone(Sienna Beige granite) as a backsplash to the bottom of the wall cabinets is a very smart idea. Stone-like these with movement respond quite well to this kind of installation. Espresso shaker-style cabinets with almost the same color paint as countertop bedrock match perfectly. The floor could be a little lighter than this, maybe it was dark when the picture was taken. In any way, the bottom line is perfect color combinations.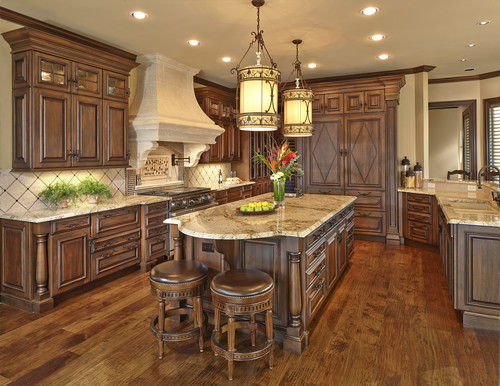 Picture Credit: Le Belle Maison Interiors
Traditional kitchen equipped with Sienna Beige and dark cabinets. Perfect combination with backsplash and painting. The backsplash is a custom-made porcelain tile perfectly matched. The hardwood floor is a 7″ oak plank that has been slightly hand scraped. This kitchen is a very good example if you want to have traditional look in your house. As we mention earlier 4 elements combinations(CCBP) worked very captivating here.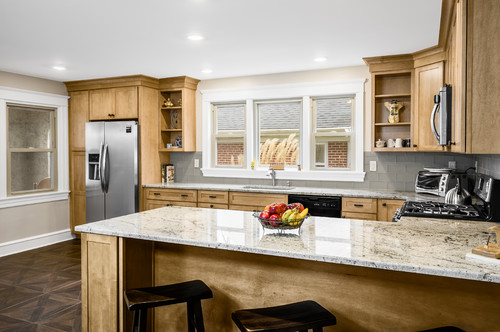 Picture Credit: Main Line Kitchen Design
I put this kitchen picture as a sample to show the combination of countertops and cabinets, because this is neither dark nor light color cabinets but almost worked perfectly because of the backsplash. Sienna Beige paired well enough because of the grey color porcelain subway backsplash. On the other hand, using dark floor tiles create good contrast as a secondary element in kitchen design.
Sienna Beige Granite With Stainless Steel Appliances
While remodeling the kitchen, floors are secondary important because sometimes for existing homes people intend not to change it most of the time. Sienna Beige is more compatible with dark cabinets if you want to compare white cabinet colors. I would definitely use Sienna Beige with dark cabinets if you are fall in love with the stone itself. Sienna Beige is a Level 3 granite and the price is $45 per square foot. Level indicates nothing related to quality only shows the pricing.
Sienna Bordeaux Granite Countertops
Most of the granite is the same quality only darker ones are a little dense than lighter ones. Plus if the quarry recently opens usually the first blocks are much softer than the ones deep inside the quarry. Granite also needs care once a year. It is an easy process than marble and some other porous materials. Since Sienna Beige countertops are lighter in color you may need to seal them every year. It is a very easy process everybody can do it. Just pour the sealer on top of the granite and wipe it till the surface absorb it. Leave it overnight or as much as without using it and clean it up with soap and water. After that, it is ready to use again…
I hope you enjoy while you are reading my article, enjoy reading…