Welcome to our gallery featuring River White granite with backsplash ideas.
One of the most famous peaceful granite in our stone countertop industry is River White granite. This stone is from India. Since Kashmir White granite production stopped and it becomes very popular and charming to the homeowners.
First of all, the River White counter is going to work green and gray color combinations for backsplash ideas. The backsplash types would be also natural subway tile, white and gray tiles, split face stones, a glass mosaic, a marble subway tile, shark skin shape tile, arabesque style, matchstick, or carved style tiles.
White granites backsplash ideas could be red, light blue, white, beige, brown, and gray tones. You can really do any color combinations for your backsplash ideas for white cabinets and brown granite counters.
River White Granite Countertops Backsplash Ideas in Pictures: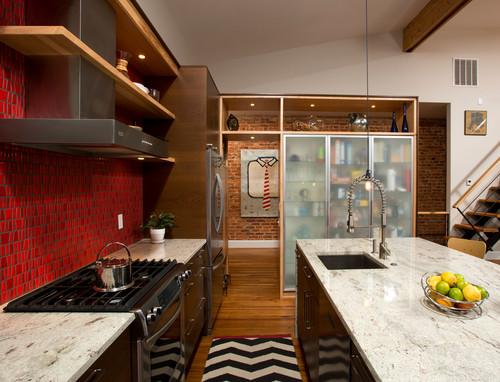 Picture Credit: Four Brothers 
River White granite countertops for contemporary kitchen designed by brown cabinets. Since it is kinda small kitchen for a modern look and usage of the backsplash became very flashy. Red painted glass backsplash with black grout suited very well this lovely modern kitchen with brown hardwood floors.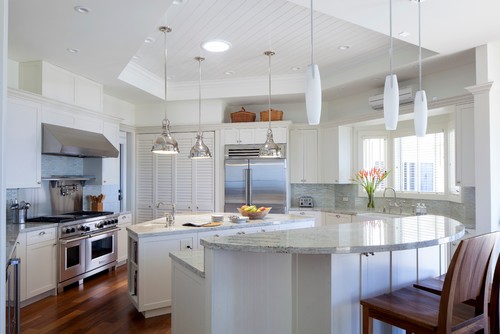 Picture Credit: Barker Kappella Construction
River White also looks great with white cabinets. Glass tile mosaic style backsplash perfectly matched between two main things in the kitchen. Hardwood flooring creates a wonderful contrast along with stainless steel appliances.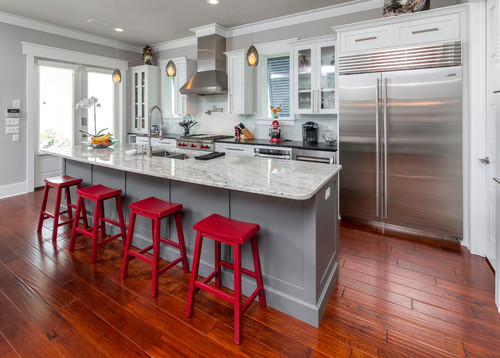 Picture Credit: Dalrymple/Sallis Architecture
River White countertops with white and grey color combinations. Smooth white glass subway tiles used with white grout. The color used on the walls is gray tint paint for the kitchen and leaving the room. Trims and moldings are white to create contrast. The cabinets are white for the kitchen side and gray for the island. Besides, engineered cherry color hardwood perfectly matched with red color wood bar stools.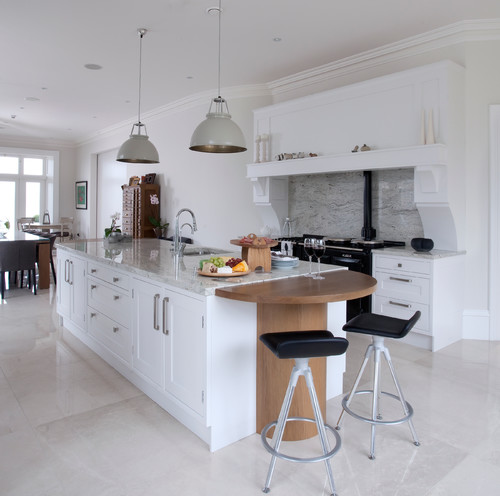 Picture Credit: Parkes Interiors
Using the same stone with the same thickness as a full-height backsplash where all walls need to be covered between the base and wall cabinets. This actually one of the best options if a stone like this has a smooth flow. The reason behind this while we cut the slab we cut it from the same place and it seems after installation like a 3D continuation piece.
Picture Credit: Studio Design

White cabinets combined with blue island cabinets which are also decorated River White countertop. The backsplash is white porcelain subway tiles with off-white grout which becomes clean and full of light design. Moreover, the wood floors are wide plank hickory with a light brown stain the rest of the kitchen and leaving walls to paint colors are light brown to give accent to the floor.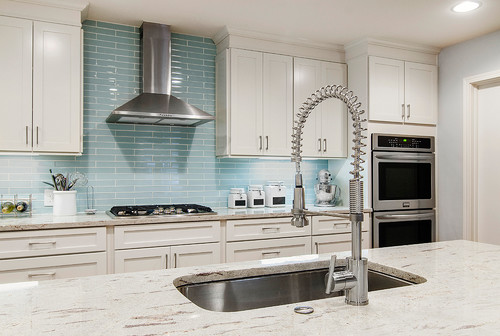 Picture Credit: Hatfield Builders & Remodelers
White cabinets actually create in the small kitchen a spacious feeling. Upgraded appliances lend to an easy work triangle when cooking and entertaining. The gorgeous River White granite kitchen counters are a stunning yet neutral backdrop to give this remodeled kitchen class! Moreover, the light blue backsplash looks beautiful with the white cabinetry.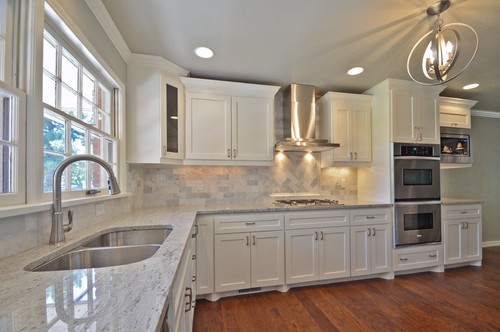 Picture Credit: Design Directions
Outstanding lovely kitchen designed with River White countertops with white cabinets. Additionally, medium-dark color stained hardwood floor gives enough contrast.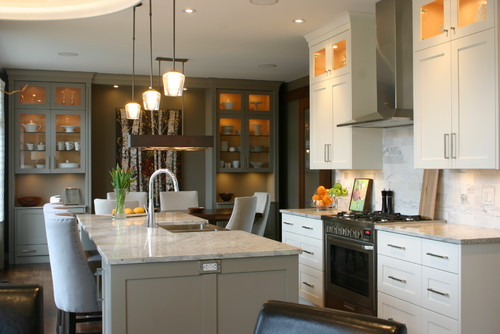 Picture Credit: Hutton Bielmann Design
Here is the two similar color cabinets sample other than dark & white combinations with River White granite with white cabinets.
To pick the right backsplash is a very tricky process for homeowners. I see people every day coming to our store to make a decision for a backsplash. My suggestion is that after picking a couple of options, borrow those samples from the tile shop and go to the fabricator with your cabinet door sample and try to match the color with your granite countertop decision. Yes, I am talking about River White granite backsplash ideas in this article and sharing my thought regarding the backsplash selections with this beautiful natural stone. Because what you see is really in the kitchen which are cabinets, countertops, backsplash, and wall paints. All these color combinations are not supposed to bother you while you are looking at the whole picture.