Welcome to our gallery featuring Colonial Cream granite countertops design ideas.
This granite is a perfect combination of the two similar colors mix. They are grayish whites and off whites. It has also small bits of golden mixes on dark spots like a confetti thrown. Since the bedrock of the stone is dominantly white yellow and gold with dark almost black spots. As a matter of fact, we can consider this stone is a "light" color stone.
This important decision is to make before start looking anything else related your project either full remodeling or small changes in the kitchen area. I always say almost every post I ever made to focus the contrast. Especially, if you are not fully working with designer or some other professional.
Colonial Cream Granite Countertops Design Ideas in Pictures: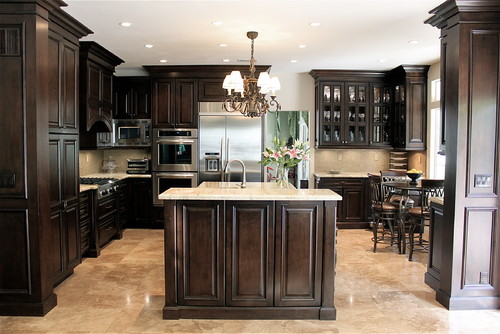 Picture Credit: Christina Duffy Designs
Stunning kitchen combined with Colonial Cream granite countertops and solid alder cabinets with a dark walnut stain. The beauty in this kitchen if I bring to your attention is that concurrency between each other from top to the bottom. It is also decorated with stainless steel appliances and nice vintage pendant lights over the kitchen island.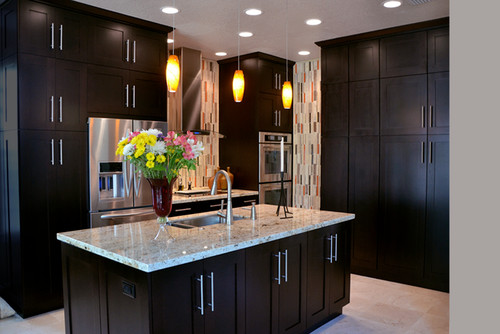 Picture Credit: KabCo Kitchens
In addition, stainless steel appliances and contemporary style pendant lights over the island look gorgeous. Dark cabinets with Colonial Cream countertops are striking.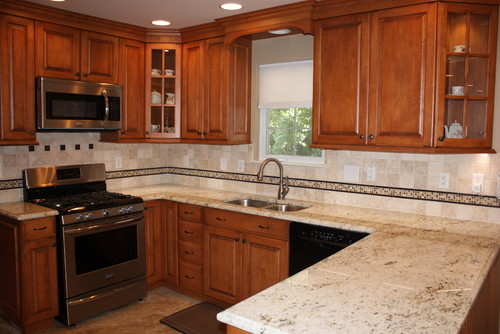 Picture Credit: Zal Kitchens
What is done here basically they used cream color travertine backsplash tiles and Colonial Cream counter along with cherry color cabinets.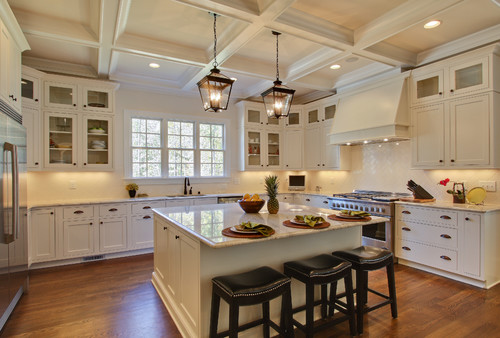 Picture Credit: Otrada LLC
Breathtaking kitchen combined Colonial Cream granite with white cabinets. Kitchen has also custom made hood and white subway tile backsplash. Custom coffered ceiling and white oak hardwood floor are very attractive. Of course this is the key concept that thinking all those elements before hand to come up this result which is marvelous. Stainless steel appliances, nice modern leather bar stools, and unique pendant lights are also add a priceless impact.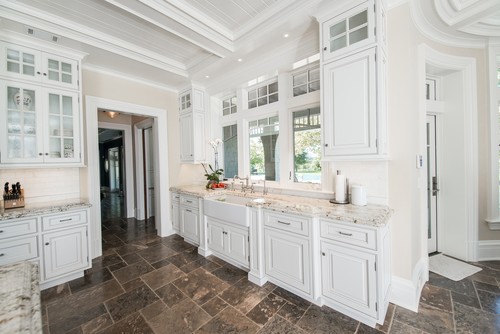 Picture Credit: Passacantando Architects
If you pick Colonial Cream granite, it is hard to think and design kitchen like this. Because of falling love with white cabinets. You must go with dark color floors. Backsplash also is crucial here because it might be little dark. But, I guess home owner wants to keep it white as a dominant in kitchen designing.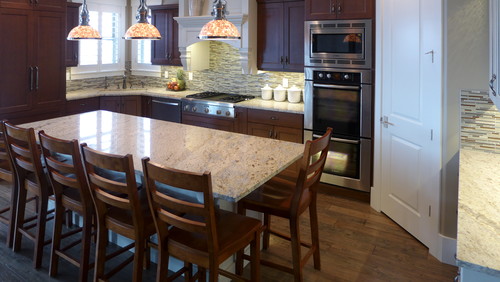 Picture Credit: Accent Interiors
Small size cozy kitchen equipped with Colonial Cream granite and shaker style dark coffee cabinets. The kitchen is also brighten by mix color glass mosaic tile backsplash and walnut stain hardwood floor.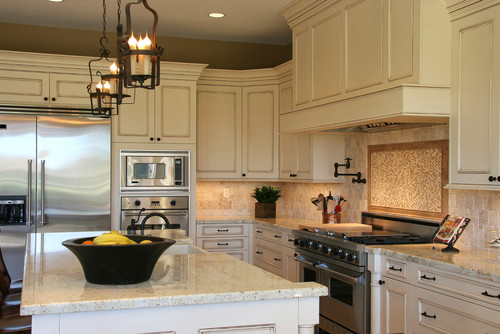 Picture Credit: Cosmos Granite & Marble
Traditional kitchen combined with Colonial Cream granite countertop and white color cabinets. Backsplash is tumbled 4X4 travertine tile with a little accent behind the stove. Stainless steel appliances and vintage looking pendant lights over the island are captivating.
Backsplash, it is very important when you are using dark cabinets because it must be medium color which means darker then countertop but lighter then cabinets. Usually cream color backsplash is very popular for Colonial Cream granite countertops. Flooring, could be nice honed travertine tiles or medium dark hardwood applicable.
My suggestion before you start if you are going to get new cabinet pick first the cabinet color and style. If you are going work with existing cabinet that way you have to remove a door or drawer something to find right granite color for your kitchen. It is very important to make a right decision while picking the other related things in the kitchen. Colonial Cream granite works very well with a dark color cabinets unless if you are not fall in love with the white cabinets. It is ok to use with white cabinet but you might need extra help for that.
Finally, Colonial Cream granite price is about $45 per square foot in the US.