Welcome to our gallery featuring White Pearl quartzite countertops design ideas.
White Pearl quartzite countertops have a cream background accented by beautiful chocolate veining. This stone has small movement and timeless elegance. It has very tiny lines across the slab. Some slabs have more veins than the others but the creamy background stays the same.
On the other hand, you may see some green color accent slightly most of the slabs. We may describe this stone by saying creamy background combined with the lightest color of brown and green. It is also called Sea Pearl quartzite from time to time.
White Pearl Quartzite Countertops Kitchen Design Ideas in Pictures: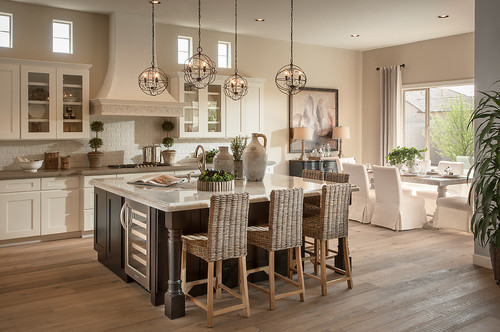 Picture Credit: Camelot Homes
Outstanding kitchen designed with White Pearl quartzite countertops and white shaker cabinets. The wall paint color is a storm cloud. Coloring tones get along with each other softly and perfectly. Also using white subway tile as a backsplash gives additional perspective to the kitchen.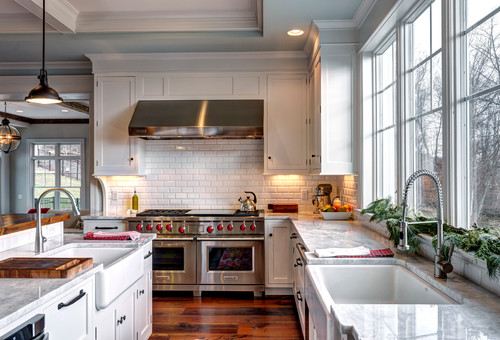 Picture Credit: Farinelli Construction
Almost pure concept white kitchen completed with dark floors to break white superiority. Moreover, dark cherry hardwood floors and white subway tiles completed the kitchen remodeling. On the other hand, the remarkable kitchen featured white cabinets and White Pearl quartzite slabs.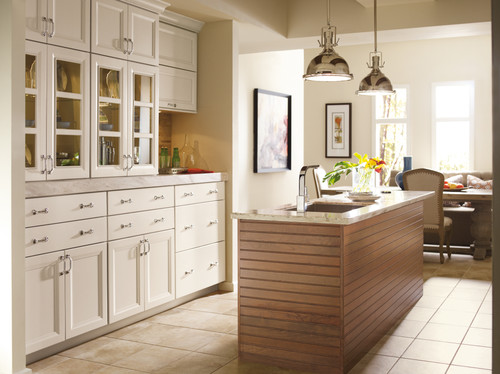 Picture Credit: MasterBrand Cabinets
If you want to increase your overall remodeling projects use White Pearl quartzite which is perfect with white kitchen cabinets.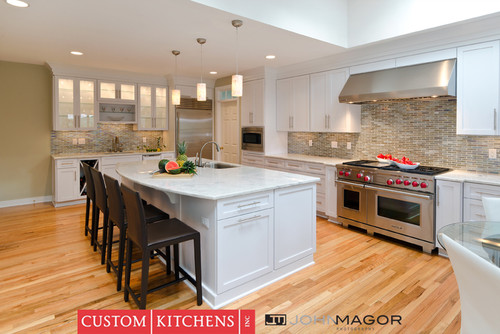 Picture Credit: Custom Kitchens
Wonderful kitchen paired with White Pearl quartzite countertop and white cabinets. The floor is light oak hardwood. The backsplash is mixed light brown marble mosaic tile which makes a perfect combination.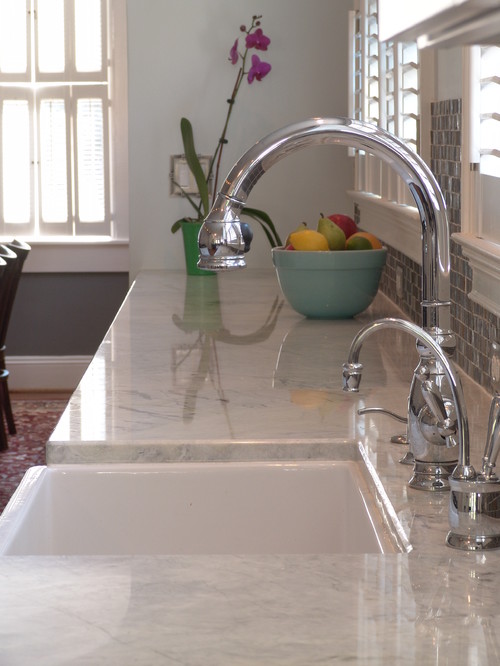 Picture Credit: Soorikian Architecture
One of the White Pearl quartzite kitchen countertop design ideas is to make it with a dark brown mosaic backsplash. White Pearl quartzite vs Sea Pearl quartzite in this picture.
For cabinet ideas, it would be nice to use white and off-white colors with no question asked. Backsplash ideas are endless for White Pearl quartzite. For example, a brown-cream-white mixture of mosaic tiles would be a good choice. For flooring ideas, it is generally wood products but not dark ones, and sometimes cream color porcelain or travertine tiles would be ideal too.
White Pearl quartzite has a glossy look shine when you look closer or even from the distance. Quartzite materials are more durable than all the other natural countertop stones in the market. The cost of the quartzite material is quite expensive if you compare all the other countertop options. Besides, the reason behind this is that quarry owner spends more time taking it out to the earth level which means more labor involved.
Finally, the 3cm White Pearl quartzite price is about $125 per square foot. White Pearl quartzite countertops cost may vary from region to region.