Welcome to our gallery featuring White Diamond granite countertops design ideas.
White Diamond granite countertops have large black and grey spots on the white background. This is a very characteristic feature of this granite color. Dark black and grey quartz splashed all around the surface which gives a very unique look to the stone. Almost no veining and color varies for the White Diamond granite. It is ideal for both interior and exterior use.
White Diamond Granite Countertops Kitchen Design Ideas in Pictures: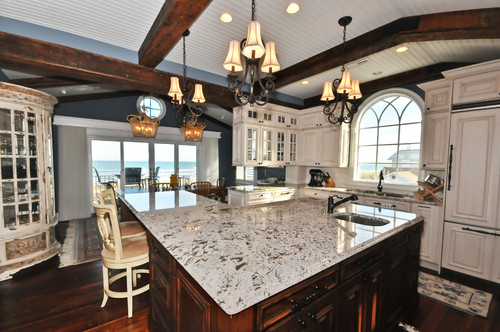 Picture Credit: Echelon Custom Homes
Traditional kitchen renovated with White Diamond granite countertop. On the other hand, dark color cabinet kitchen island and white cabinets on the perimeter look gorgeous. Dark hardwood floors combined with white color tile backsplash and blue color wall paint. The kitchen is also featured a classic style chandelier over the island which has a prep sink on it.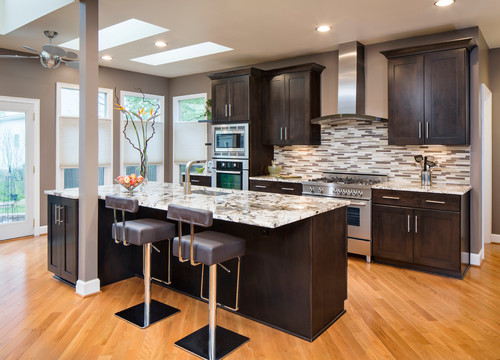 Picture Credit: Nicely Done Kitchens
Outstanding modern kitchen paired with White Diamond granite countertop and espresso color shaker style cabinets. On the other hand, the kitchen refinished with mixed color glass mosaic backsplash tiles and a light oak hardwood floor. Moreover, stainless steel appliances and hood gave the whole modern look for kitchen remodeling ideas.
Picture Credit: Lilija Gelazis
Captivating small contemporary kitchen combined with White Diamond granite countertop and dark color cabinets. No traditional wall cabinets are available but the island has an overhang to sit with bar stools. Moreover, a light oak color hardwood floor paired with creamy color wall paint makes the kitchen beautiful.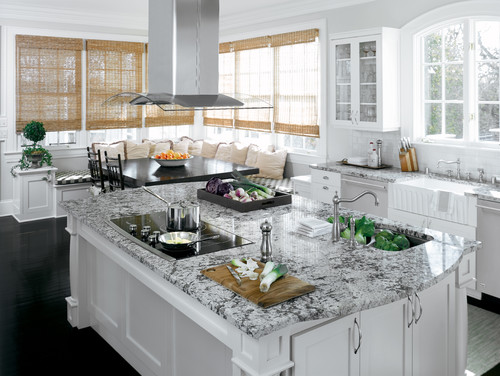 Picture Credit: Monogram Appliances
One of the White Diamond granite countertop design ideas also makes it with pure white cabinet color and dark hardwood floor.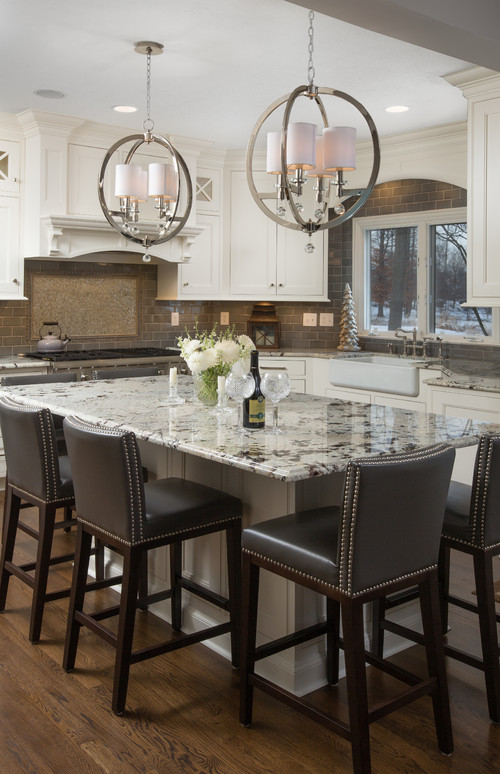 Picture Credit: Kitchen Kraft
Extraordinary Sample of a kitchen equipped with white cabinets and White Diamond granite countertop. Besides, the beauty of this kitchen is to use brown color subway tiles as a backsplash which makes a huge impact on the overall looking.
Using White Diamond granite for cabinet ideas, you should consider dark color which will pop up more if it is used accordingly. Backsplash ideas, you can use the same color mixed which has as a mosaic design or white and light brown tones tile selections would be nice as well. For flooring ideas, usually dark color will be preferred as hardwood and will make a better contrast if it chooses dark cabinets.
This granite has usually medium size to big black chunks spread out occasionally with some individual crystals. This is a one of kind stone used to very popular before the white quartz material floated on the market. Giani white diamond countertop paint kit has cool color tones that creates glossy surfaces
Finally, 3cm White Diamond granite price is about $95 per square foot depending on the location.