Welcome to our gallery featuring Cambria New Quay quartz kitchen countertops ideas.
Every engineered stone has its own design, different coloring, maybe some character, and of course speckles from the way they created. When you look at the Cambria New Quay quartz is a fundamentally the same as sand looking. It unifies any space you need be cover in the house from kitchen to the bathrooms.
It is exceptionally valuable since the coloring mix so delicate and oblige with a large portion of the house hold furniture in nowadays.
Cambria New Quay Quartz Kitchen Countertops Ideas in Pictures: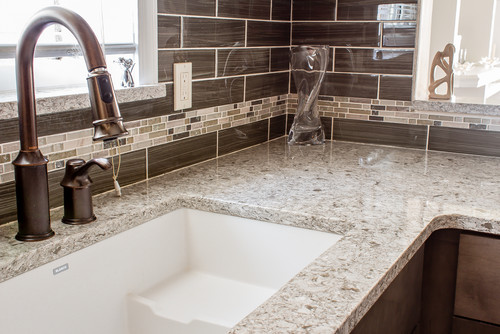 Picture Credit: Dream Kitchens
A small contemporary L-Shaped kitchen with cast iron sink, dark brown shaker cabinets, New Quay quartz countertops, and brown backsplash.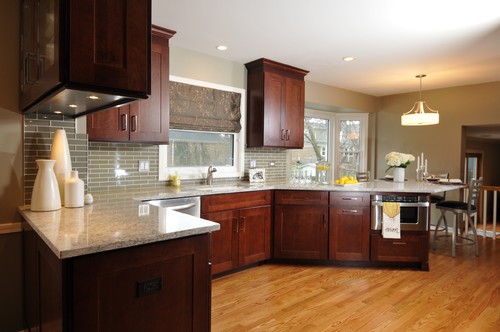 Picture Credit: The Kitchen Studio Glen Ellyn
Appealing kitchen with cherry finish cabinets and Cambria New Quay quartz colors. Subway style backsplash with white grout paired well with countertop. Light stained oak hardwood floor and lighthouse landing color wall paint create very warm cozy spot in the kitchen.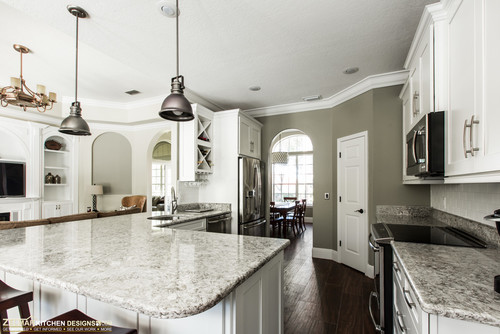 Picture Credit: Zelmar Kitchen Designs & More
Cambria New Quay quartz countertops completed along with white subway backsplash, stainless steel appliances and dark hardwood floors.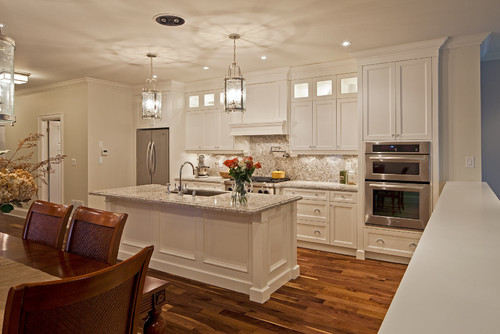 Picture Credit: Craftsman Kitchen
Inspiration for a contemporary kitchen with white cabinets, white backsplash and New Quay quartz gallery. Furthermore, it's natural walnut with a matte finish floor matched with rest of the kitchen.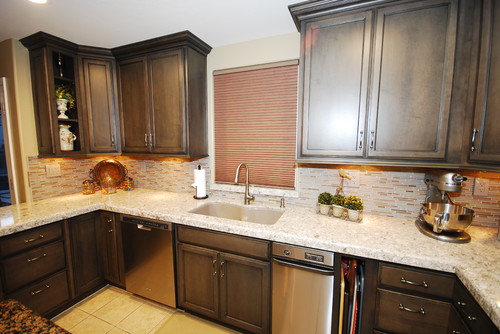 Picture Credit: Blue River Cabinetry
Baltic Brown granite countertop is on the island versus Cambria New Quay quartz on the perimeter side of the kitchen.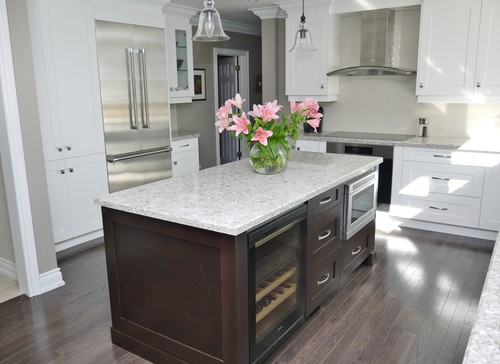 Picture Credit: Marcon Kitchens & Bath Stidio
Large transitional L-shaped eat-in kitchen in with an under mount sink and shaker white cabinets look great. Cambria New Quay quartz countertops with beige porcelain backsplash create nice decoration. Moreover, stainless steel appliances and dark hardwood floors in contrast.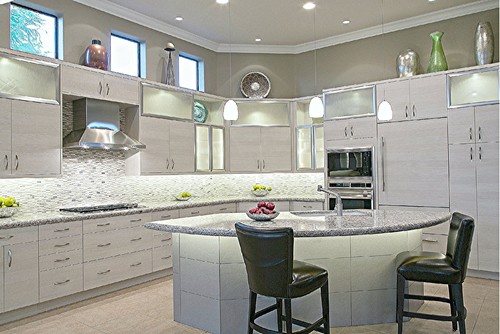 Picture Credit: An Interior Motive Designs
Breathtaking kitchen design combined with Cambria New Quay quartz countertop and thermo foil covered kitchen cabinets which are tones of gray and white to create the contemporary look. Besides, it has a vein cut travertine mosaic backsplash tiles featured desert suede color wall paint.
While designing the point is to create contrast and color harmony in the kitchen, you are planing to accomplish something. These are the brilliant rules of designers plus your taste of course. Cambria New Quay considered light color stone and most presumably will run well with dark shading cabinets.  In this way, for cabinet choice could be dark cherry or any painted or stained dark cabinets will be the correct decision. For backsplash ideas, which is also very very important while making decisions. It could be light cream or beige colors or possibly mixed white and black combinations for the white cabinets.
For paint and floor ideas, it is decent to have white cabinets with grey color painting and if you use dark cabinets usually cream tones are preferable. New Quay is interesting item which comes 2cm and 3cm thickness. We usually use 3cm countertop thickness and the cost is $95 per square foot.