White Galaxy Granite Countertops Kitchen Design Ideas
Welcome to our gallery featuring White Galaxy granite countertops kitchen design ideas.
Galaxy In The White: It is sort of white and cream with some black and gray and beige is thrown in. Some of the slabs have even burgundy color in them too. This mixture of various color with a white background which makes the slab unique even from its class from time to time. When you make a decision we recommend that you must see the actual ones at the slab yards. To use White Galaxy is a very very wise move for the homeowners to make the right choice with this unique stone surface material.
White stones are more popular if you compare them with darker tones. This unique colored White Galaxy granite is one of them to use more in kitchen countertop applications. White bedrock or background makes it more useful on either side of the color palette in the designing world.
Here are some hints about the other elements in the kitchen. For cabinet ideas, we definitely recommend white or light color cabinets but dark will make also a strong impact on the kitchen. Backsplash usages, you need to pick the backsplash colors whatever color slab has it. You may use natural earth colors such as cream, beige, and gray tones. For flooring ideas, a hardwood floor preferable and show it more elegant but you can also use some tile applications as well. Finally, the installation price for White Galaxy granite is $50 per square foot.
White Galaxy Granite Countertop Kitchen Design Ideas in Pictures:
Picture Credit: Crowe Custom Countertops
This kitchen has White Galaxy granite with almond glass backsplash and a white farm sink. This beautiful kitchen also has two tones cabinets which are white and dark espresso. Stainless steel appliances went well with White Galaxy granite and custom made white hood as well as the dark porcelain floor tiles.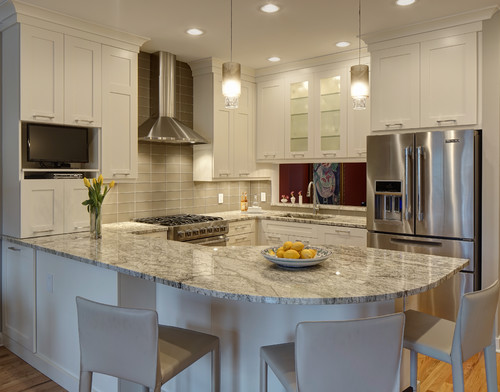 Picture Credit: Drury Design
This is a small cozy nice kitchen with a White Galaxy granite countertop.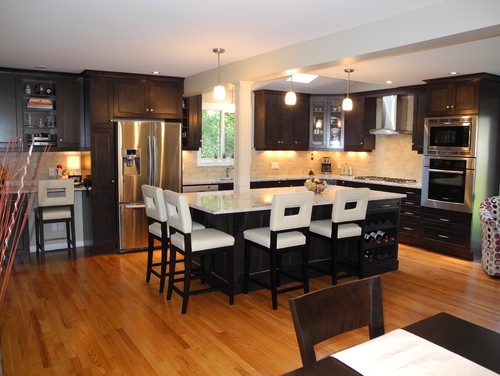 Picture Credit: OakWood Renovation Experts
Neatly decorated open layout modern kitchen is featuring White Galaxy counters with dark espresso cabinetry. Modern leathered bar stools, cream color natural stone backsplash, and medium-dark oak floor create a very good combination.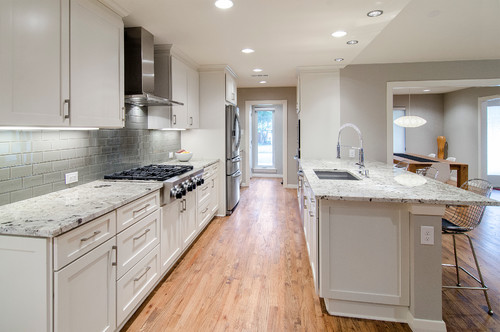 Picture Credit: Hatfield Builders & Remodelers
To create the sleek gray-toned look, this kitchen has gray paint and subway tiles which is throughout the kitchen. White Galaxy and white cabinets plus light-colored wood flooring to keep a traditional look in the kitchen.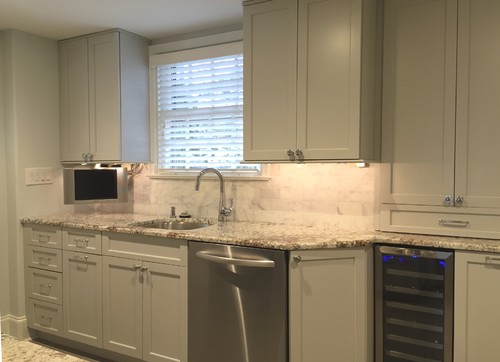 Picture Credit: Beatty Lumber Company
One of the White Galaxy granite countertop kitchen design ideas is to use with the cabinet which is different than white and dark ones. Even this basic kitchen show very limited countertop space but off-green cabinet colors fitted perfectly.