Tropical Brown Granite Countertop Kitchen Design Ideas
Welcome to our gallery featuring Tropical Brown granite countertop kitchen design ideas.
The combination of dark brown and black crystals create a uniform color with a rich looking stone. If you are planning to put brown countertops in the kitchen this stone would be a perfect fit for that.
For cabinet choice, we recommend definitely white cabinets but there are always exceptions. Backsplash ideas, creamy natural tile stones are preferable. For flooring, it does not matter the color choice of the cabinet but the floor should be chosen mostly dark color materials.
What color of the cabinets goes well with a Tropical Brown granite countertop? This is one of the main dilemmas among the homeowners. However, my answer is mostly white cabinets with dark glazed would be perfect. Dark cabinets are nice too but mainly white or cream cabinets are more desirable.
The second important question would be the backsplash selections. What color or type of backsplash goes well with this countertop? On the other hand, well the first indication should be a cabinet color. According to the cabinet selection(looks mostly white) we need to make a decision for the countertops. Finally, the cost of the Tropical Brown installation price is $45 per square foot.
Tropical Brown Granite Kitchen Countertops Design Ideas in Pictures: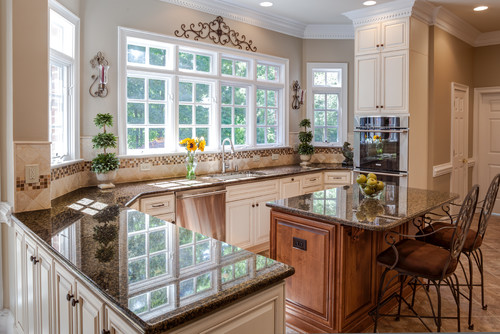 Picture Credit: Case Remodelling
The lovely color combination covered all around the kitchen. Besides, Tropical Brown countertops with cream color cabinets completed travertine backsplash and nice accent colorful mosaics.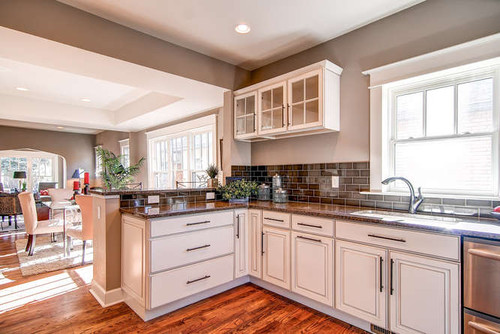 Picture Credit: AK Interior Design
L shaped kitchen designed also with multi coloring concept. White cabinets combined with Tropical Brown tops. Green/brown mixed subway style backsplash coordinates with countertops and wall paints. On the other hand, the cherry-stained dark hardwood floor continues to the living room to give some more contrast to that direction.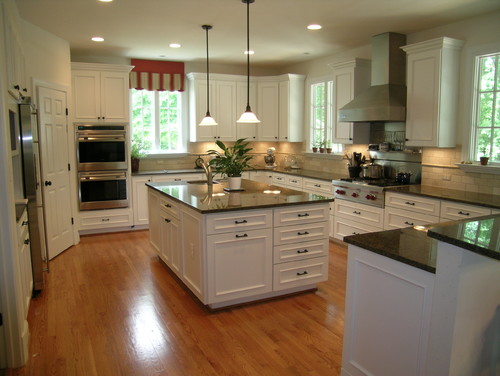 Picture Credit: Cornerstone Kitchen & Bath
Lovely kitchen with white cabinets combined Tropical Brown to create a tremendous nice contrast. Especially, it creates an amazing contrast with white cabinets.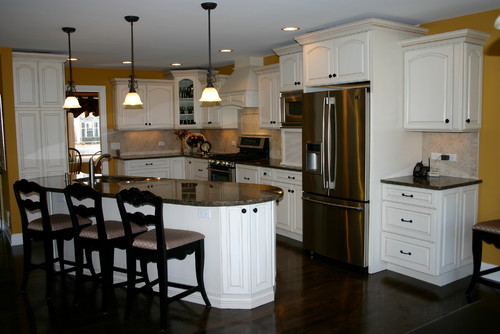 Picture Credit: Cabinets 4U
A stunning kitchen with white cabinets and Tropical Brown granite countertops look good if you are planing white cabinets dark stones combination. For instance, creamy looking backsplash, and dark floor color completed the design. Stainless steel appliances and bar stools create a cozy environment.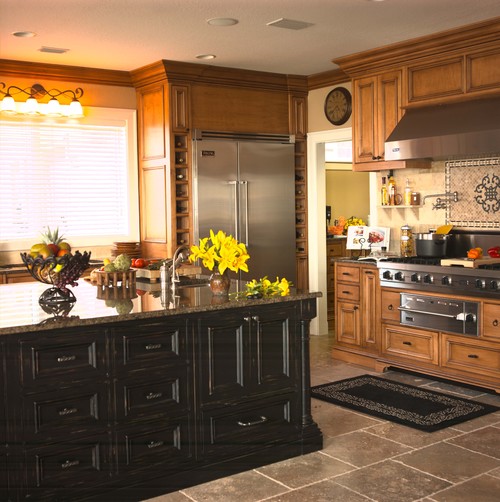 Picture Credit: In Detail Interiors
One of the Tropical Brown granite kitchen countertops granite design ideas is to use with dark cabinet combinations. Moreover, dark color floor tiles added also a nice touch to the kitchen remodeling ideas.