Welcome to our gallery featuring Sienna Beige granite countertops kitchen design ideas.
Sienna Beige granite has shades of brown/yellow mixed randomly placed on a heavily saturated cream bedrock. The combination of these colors creates warm soft earth tones which makes it rich and beautiful. This stone is created for dark color decorated kitchens. Darker cabinets and floors are perfect color combinations for this stone. The ratio between the dark and light spots is always consistent. But this stone considered a light color rock for the kitchen. Since it has brown and yellow spots throughout the stone which can combine with the rest of the room.
For cabinet usage, since the earth color involved the best choice will be dark brown cabinet selections will be a perfect match. That's why Sienna Beige granite color looks great on the medium-dark or dark kitchen cabinets. Backsplash usage, cream natural stone tiles will be your best bet for this granite. For flooring usage, the dark sides of the colors either hardwood floors or natural stone tiles could be the best choice for kitchen remodeling.
Finally, Sienna Beige granite install price is $45 per square foot in most of the US markets. Sometimes it is called Sahara Beige as well.
Sienna Beige Granite Countertops Kitchen Design Ideas in Pictures: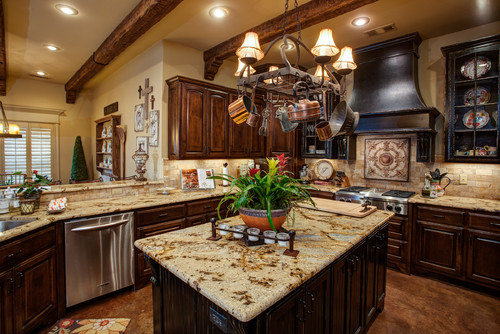 Picture Credit: MLBaxley Photography
Tiles as a backsplash contrast with dark color floor tiles perfectly too. In fact, stainless steel appliances, custom made hood, chandelier, recess lights, creamy yellow wall paint, and Sienna Beige tops created a perfect combination.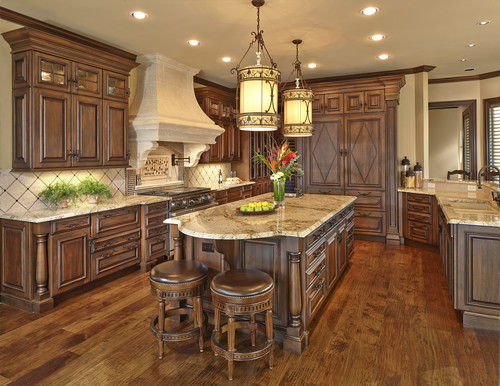 Picture Credit: Le Belle Maison Interiors
The gorgeous kitchen featured with dark cabinet color and Sienna Beige granite. Custom made hood and vintage style chandelier made the kitchen very rich-looking. Having darker cabinets under the lovely Sienna Beige granite counters with the current color combination is amazing.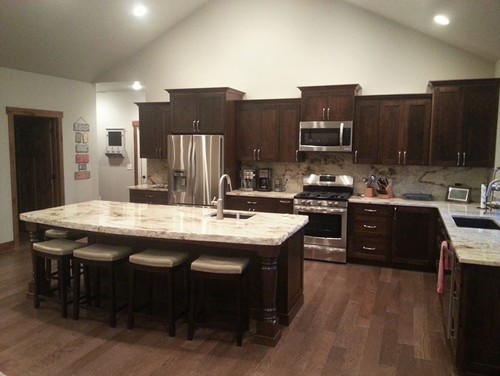 Picture Credit: Idaho Granite Works
The amazing kitchen has designed with dark cabinet color to match with floor. Sienna Beige granite makes a perfect contrast to complete this beauty using stainless steel appliances and recess lights that became very useful.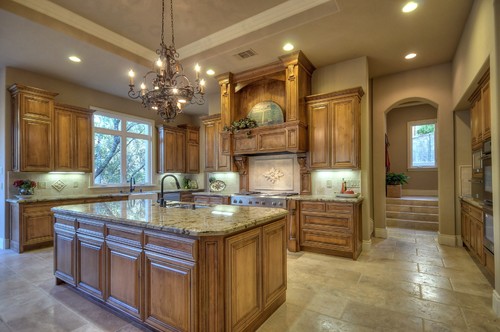 Picture Credit: Design Alchemy
Stunning open layout kitchen decorated with dark cabinet and Sienna Beige granite countertops. Natural chiseled edge travertine floor tiles and smaller size of the same tile for the backsplash installed perfectly. Furthermore, the center island with a chandelier combined with cream wall paint made a very cozy environment.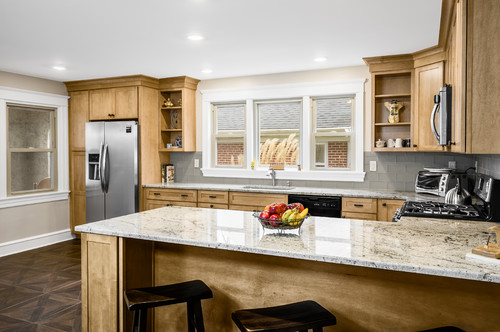 Picture Credit: Main Line Kitchen Design
On the other hand, Sienna Beige granite with white cabinets for kitchen design ideas.