Persian Pearl Granite Countertop Kitchen Design Ideas
Welcome to our gallery featuring Persian Pearl granite countertops kitchen design ideas.
This stone is a kind of white granite quarried in Brazil. Creamy white beige background with black and its inclusions. The combination of white, yellow, beige, and mixed black lines colors created harmony. The beauty of this Persian Pearl granite has a white background and some soft darkness here and there to design kitchens or bathrooms. If you are thinking to pick this granite for your countertop projects you must love yellow and beige colors as well as whites.
Cabinets usage, we try to match with white or creamy cabinet colors, and of course, the glazing would be preferable. For a backsplash, we prefer either subway tiles or mixed mosaic tile with some darkness on it. For flooring, it is nice to use dark hardwood flooring which never dies anyway for kitchen remodeling projects. The price for a 3cm Persian Pearl granite countertop is about $60 per square foot for residential installation.
How to take care of the Persian Pearl countertop? This is like in real life example when you wear white clothes and you have to be very careful not to get dirt or dust. Because if it happens shows very obvious. This stone is the same way if staining happens it will show. So make sure that fabricators whoever is installing to put sealer before they leave your house. After that, you can re-seal it once a year or every six mounts since this is a white background stone. It is a very basic process everybody can do it. Just pour the sealer top of the countertop and wipe it out till it gets absorbed. Leave overnight without using and clean it with soap and water before start using it again.
Persian Pearl Granite Countertop Kitchen Design Ideas in Pictures: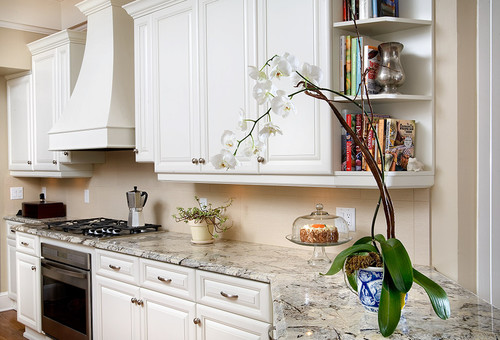 Picture Credit: Ramos Design Build Corporation
Beautiful white cabinets designed with Persian Pearl granite countertop. The subway style backsplash is a white glossy 3×6 tile, set in a running brick pattern to give some transitional contrast. Dark color stained oak hardwood completed the remodeling job for this kitchen. The other factors are wall paint color and flooring. Very nice cream color wall paint is used here to accommodate the rest of the kitchen. Moreover, custom made white painted hood looks gorgeous along with stainless steel appliances.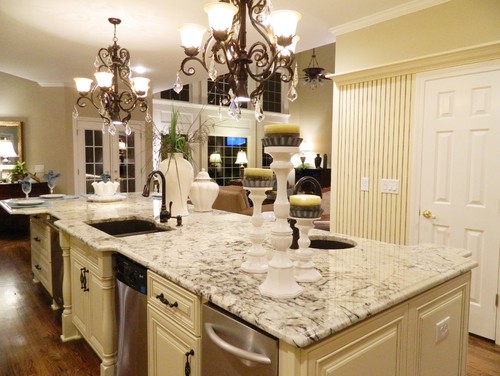 Picture Credit: ISD Kitchen and Bath Renovations
Amazing chocolate glazed creamy looking cabinets decorated with Persian Pearl granite tops. Yellow wall paint and dark walnut hardwood floors made a huge impact. Vintage style chandeliers and stainless steel appliances completed the project. First, you have to decide on cabinet color and style and of course granite countertops. In this picture, yellow color cabinets along with yellow color wall paint paired together.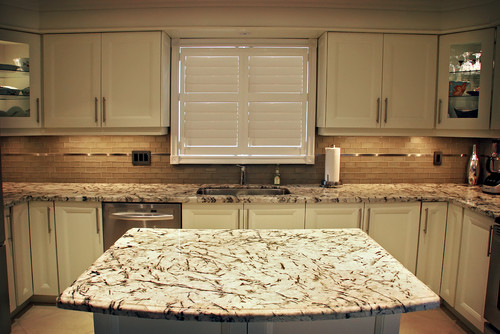 Picture Credit: Torontogranite.com
Stunning U shape kitchen designed with white cabinet and glossy subway backsplash tiles. Persian Pearl countertop matched perfectly also oak color hardwood floor and stainless steel appliances. Like always we suggest to our customers what we call is dancing with colors. This is one of those captivating kitchen designs if you are fall in love with yellow tones. Even the porcelain tile cream-beige color floors are very very attractive.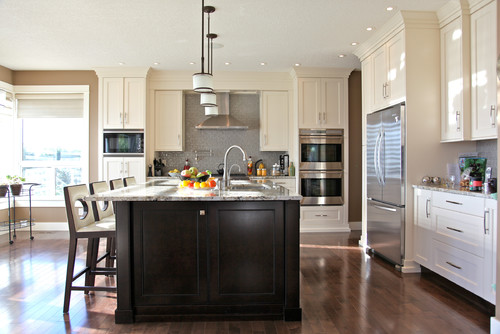 Picture Credit: Canyonview Construction
Beautiful two-tone cabinetry featured with Persian Pearl granite tops. Dark hardwood floors and stainless steel appliances complete kitchen remodeling. The backsplash is a light gray glass tile which makes the kitchen a nice appearance. Because of the yellow bedrock in this stone which is dominant, it is ok to pick yellow-cream color cabinets with the same tone wall paints. Darker island cabinet colors and hardwood floor created enough contrast the one we always emphasize.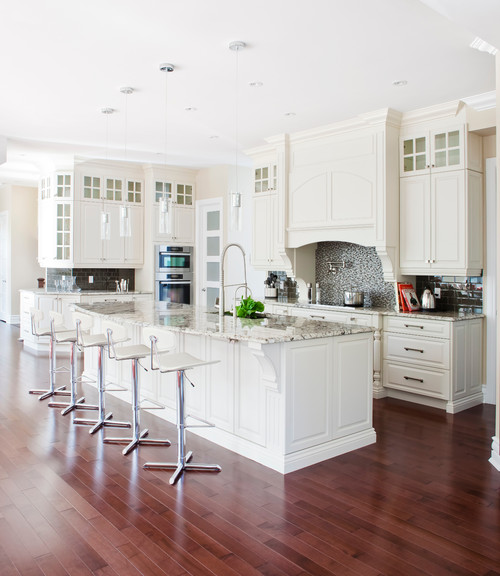 Picture Credit: RMI
One of the most famous applications of Persian Pearl granite countertops kitchen design ideas is to catch color harmony and this is the result. Cherry color hardwood floors just like what we needed for this outstanding open layout kitchen. Whitewall painting and white painted cabinets paired lovely.