Welcome to our gallery featuring Monte Carlo Bordeaux granite countertops design ideas.
This granite has mostly a combination of grey and burgundy veining all around the slab. Monte Carlo Bordeaux is a kind of white or light colors dominated granite that has some black spots and white waves. It has high variations and veining which shows a very elegant stone pattern. Having light salmon-tan lines going through the white color, making this stone as unique as it is.
First, it will protect not get staining. Second, will help germs away from the family and will make the household an overall more sanitary place to live. Monte Carlo Bordeaux is level three granite. This stone is the lightest version of the Bordeaux family.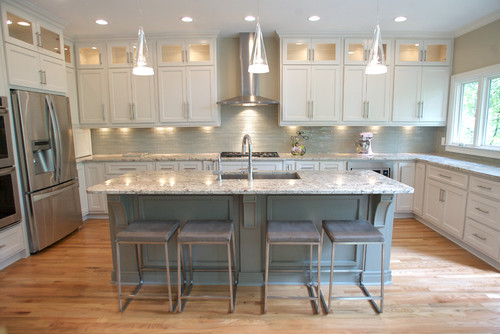 Picture Credit: Heather Stonecipher
Outstanding kitchen designed with white cabinets and gray color island cabinets. The tile used here is also gray in color. The kitchen is equipped also with light oak hardwood floors and stainless steel appliances.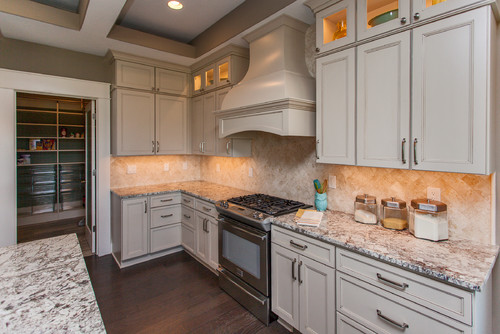 Picture Credit: Ground Breaker Homes
This granite goes well also with white cabinets. Gray-white combined ceiling wall paint is good a selection. Remarkable kitchen designed with Monte Carlo Bordeaux granite countertops with glazed white cabinets. Ivory travertine backsplash and dark hardwood floor combined very well.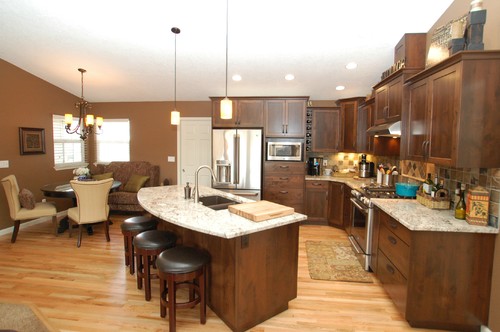 Picture Credit: Keilty Remodeling
Breathtaking kitchen paired with espresso maple cabinets and Monte Carlo Bordeaux tops. Light oak wood floor, dark brown wall paints, and multi-color slate backsplash are creating a tropical-inspired space are just one of the many desires that homeowners dream for it.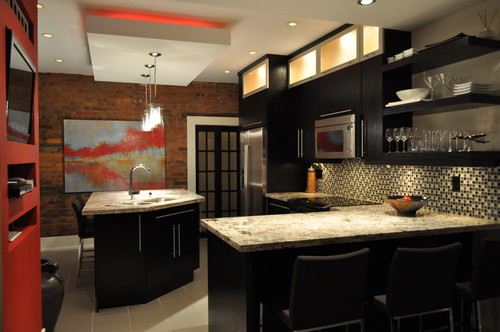 Picture Credit: Isabel Beattie @ K Cabinets Oakville
Contemporary look kitchen designed with light-dark contrast ideas. Monte Carlo Bordeaux countertop design ideas are to make it with dark black cabinets and light porcelain floor tiles. Mixed colors of dark, white, and grey mosaic color backsplash create a good transition between the countertops and wall cabinets.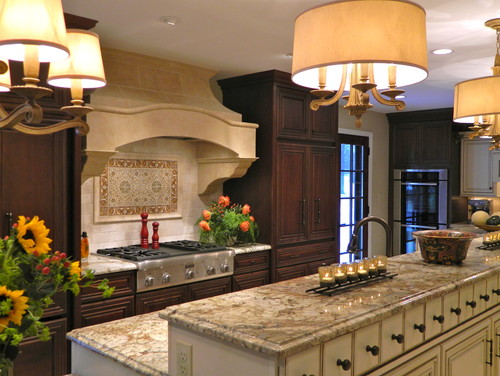 Picture Credit: Melissa Blackwood Homes & Interiors
Monte Carlo Bordeaux counters installed in this kitchen can define the look of the room. Plus it offers a lovely environment to the homeowner. Even though, having the two different color cabinetry cream backgrounded stone perfectly fit the kitchen. Travertine backsplash tiles and cream custom-made hood look stunning too.
For cabinet ideas, it has a mixed usage which depends on your preferences requires either dark or white color cabinets you may prefer. It will go very well with light-color cabinetry. Backsplash ideas, creamy beige color is most dominantly used but mixed mosaic colors welcome too. For flooring ideas, you can either direction on that too because both light and dark color flooring will be fine. This stone gives a warm feeling of cream brick that picks up burgundy veins in slabs. The unique lines of the burgundy colors look the best. 3cm Monte Carlo Bordeaux price is $45 per square foot for residential installation.
How to care for or clean this valuable surface that has just been purchased? One of the most important granite countertop care and maintenance tasks as well as one of the easiest that you can complete is cleaning the surface. The regular cleaning of the countertop is going to be important for a few different reasons.
Sometimes homeowners try to be different than the others with a unique appearance and unusual look. Thankfully, this is the one-of-a-kind granite that you can catch the famous marble look if you are lucky enough. Homeowners and designers love Monte Carlo Bordeaux countertops which have a warm and cream look that fits when it comes to movement and texture. Moreover, this granite is easy to work with.