Welcome to our gallery featuring Giallo Veneziano granite kitchen countertop design ideas.
Giallo Veneziano granite has a warm look which has peach, pink, black, and gray color combinations. At the same time, Giallo Veneziano granite for its stunning black and golden yellow colors do not have any other common stone colors in the industry. Moreover, it has a luxurious appearance which makes a very nice stone when we compared to the other stones. If you are looking closely the stone has truly unique colors. The bedrock is pink that has a variety of different tones such as peachy pink and some brown tones. Stone has black spots throughout of the stone which makes these spots are a predominant feature of the stone.
For cabinets ideas, cherry color cabinets are no mistakes, and also the white one is nice too. For backsplash ideas, beige color tiles are the best choice, and if they are honed finish is a plus. Tumbled travertine tile light brownish shade or solid color porcelain tile if you like to keep it clean and smooth. For floor ideas, not very dark color floor preferable but some applications are available.  Giallo Veneziano granite price for 3cm is $45 per square foot for installation and fabrication. 
Giallo Veneziano Granite Kitchen Countertop Design Ideas in Pictures:
This stone is a builder grade granite. It is level three granite and matches with dark color cabinets. It is a popular color for a traditional kitchen. When combined with dark cabinets Giallo Veneziano granite countertops look amazing. It brings a warm and inviting feel into any kitchen too. So, it works very well with white kitchen cabinets as well.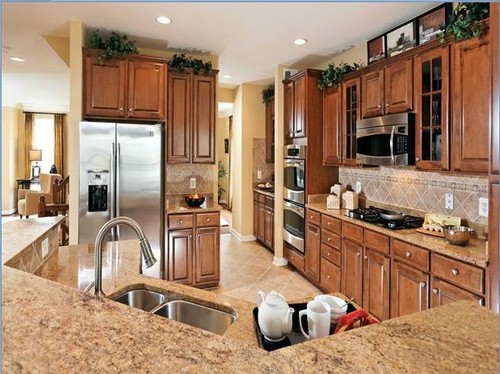 Picture Credit: Castel Tile Inc.
The custom cabinetry topped with a Giallo Veneziano granite countertop. The backsplash is also honed marble. Beautiful cherry cabinets combined with Giallo Veneziano granite. Diagonally installed marble backsplash tile and peach color porcelain floor tiles made a good match. Besides, light yellow creamy looking wall paint combined with stainless steel appliances.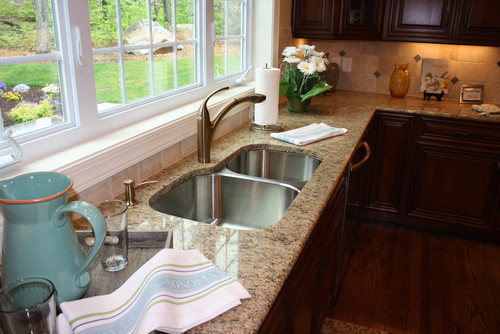 Picture Credit: La Pietra Marble
Amazing Giallo Veneziano granite with dark maple cabinets to create very good combinations. If you want the granite to stand out this stone is perfect with dark cabinets because Giallo Veneziano has a warm look. Peachy color travertine 4X4 square natural stone for a backsplash made a good transitional move. Dark hardwood floor which is not a good choice but went well with the rest of the kitchen. Since this is a safe color granite to put in the kitchen who thinks to sell their house faster in the market.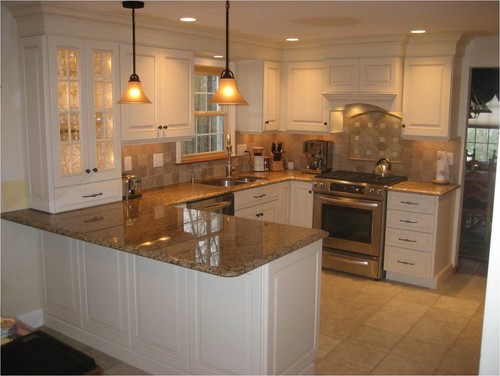 Picture Credit: Granite State Cabinetry
One of the Giallo Veneziano granite countertop design ideas is to make with white cabinets. For example, the cabinet door color is oyster with a caramel glaze. The backsplash is made from classic 4×4 travertine tiles. Moreover, floor tiles also are natural and matching the countertop and backsplash.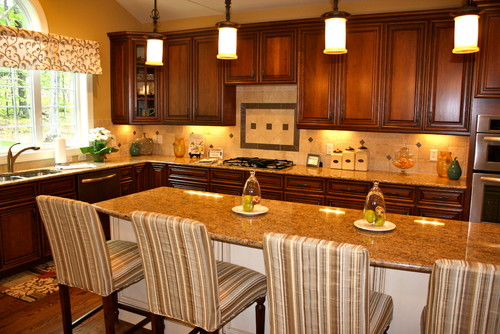 Picture Credit: La Pietra Marble
Giallo Veneziano granite has peach and pink color to give dimensional texture to any type of kitchen. For example in this kitchen, beautiful cherry cabinets decorated with Giallo Veneziano granite and travertine backsplash. On the other hand, the dark hardwood floors and stainless steel appliances along with pendant lights above the island look cozy for this kitchen.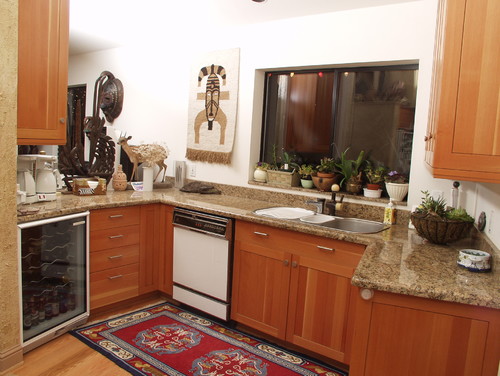 Picture Credit: Antony Architectural Stone
A stunning kitchen with shaker light wood cabinets and Giallo Veneziano granite made the small area looks bigger. Cherry color hardwood floor and backsplash from the same stone look amazing. On the other hand, depending on your choices, you can quickly decorate or improve your desired kitchen remodeling ideas.