Cosmic Black Granite Countertop Kitchen Design Ideas
Welcome to our gallery featuring Cosmic Black granite countertops kitchen design ideas.
Black bedrock decorated with white swirls just like an ocean wave throughout the slab. Cosmic Black granite provides a beautiful white swirl throughout the whole surface within the dominated black color. 
On the other hand, Cosmic Black granite is called Titanium granite lately and it comes in three different finishes. They are regular polish finish, leather finish, and honed finish. These three finishes are very popular for Titanium(Cosmic Black) granite. 
How to select the right cabinets, backsplash, and floor combinations when you use a Cosmic Black granite countertop? Since stone has white swirls look like an ocean wave white cabinets and grey color backsplash would be suitable for kitchen designing. Cosmic Black granite countertop is one of the unique color combinations which could go either white cabinets or dark ones without hesitations. This stone is one of the nicest granite. In other words, Titanium is a new name for this stone.
Well here are some tricks when you are picking the color combinations. For cabinets, Titanium(Cosmic Black) granite can go so well with any light to medium colored cabinets. It is usually good with white cabinets but if you apply dark cabinets it looks really elegant. For the backsplash, it is really nice to use the stone itself as a backsplash option but on the other hand, depends on the cabinet color you can pick always a little lighter tone than the countertop. For flooring, the best choice is hardwood and again depends on the cabinet colors. Finally, the price for the Cosmic Black(Titanium) granite is about $50 per square foot.
Cosmic Black Granite Countertop Kitchen Design Ideas in Pictures: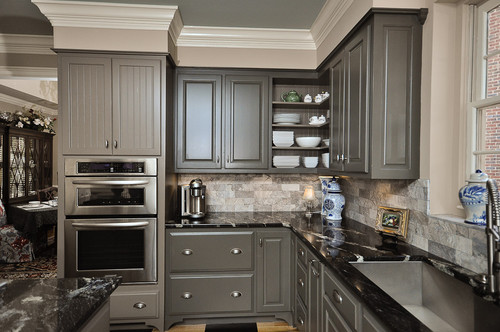 Picture Credit: Dreammaker Bath &Kitchen
Beautiful kitchen with ultra painted cabinets and lovely Cosmic Black granite countertop matched perfectly. A lovely grey tile backsplash surrounded all the walls between the cabinets and countertops which make the kitchen neat looking. Light oak hardwood flooring is of course a big plus.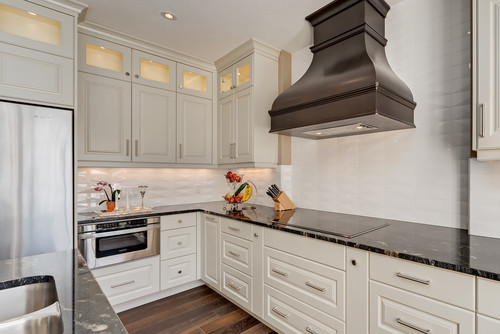 Picture Credit: Kon-strux Developments
Amazing kitchen designed with white cabinets and Cosmic Black granite countertops. White subway tiles as a backsplash with custom made bronze metal hood completed by dark hardwood flooring. Besides, the inspiration for a contemporary kitchen white cabinets, stainless steel appliances, an under-mount sink, and dark hardwood floors are outstanding.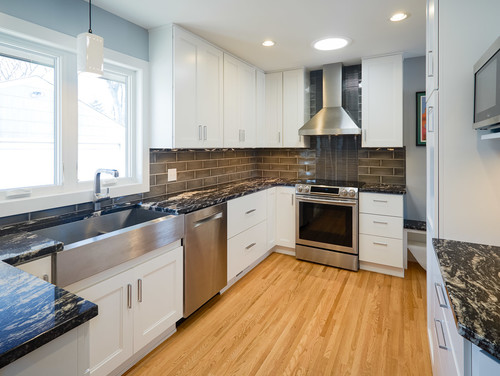 Picture Credit: Ohana Constructions
A stunning kitchen with white cabinets and a Cosmic Black granite countertop looks marvelous. Light oak hardwood flooring and stainless steel appliances suited in a nice way. Beautiful grey color subway porcelain tiles along with stainless steel appliances created perfect contrast. Moreover, the contrast of white cabinets to the Cosmic Black is very eye-popping and you can see that we really like this kind of contrast.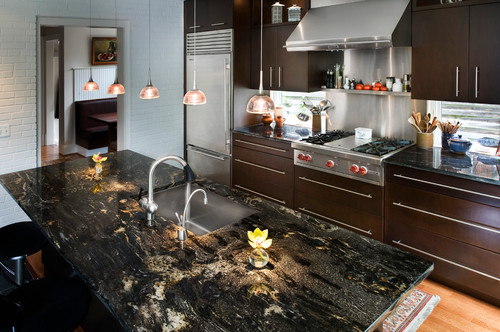 Picture Credit: Marblex Design International
One of the Cosmic Black granite countertop kitchen design ideas is to make it with dark espresso color cabinets and light oak hardwood flooring. Solid dark stained cherry cabinets and Titanium (Cosmic Black) granite look perfect. On the other hand, light color tones for the backsplash is fascinating.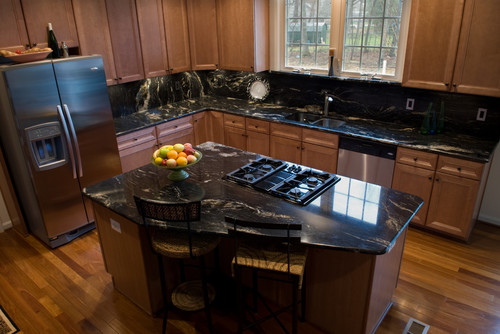 Picture Credit: Granite Grannies
This is a great way to use Titanium (Cosmic Black) granite on the counters while avoiding the overload dark. So, using the same stone as a backsplash with dark cabinets looks phenomenal. The kitchen is also finished with similar dark color like a cabinet which makes it a perfect conclusion.