Welcome to our gallery featuring Cambria Windermere quartz countertop design ideas.
The Cambria Windermere design with shades of gray and cream has golden flecks of coppers throughout the slab. Basically, all the colors spread out uniformly. Windermere offers a lot of excitement and movement in your kitchen. Cambria Windermere quartz to give the kitchen a fresh, clean, and new look than ever. Besides, those earth colors mix-matched with this stone which gives flexibility to the homeowners. Particularly, this color is one of the leading quartz kitchen countertops options in the US market. Cambria is a man-made stone. It is also called engineered stone countertops.
For cabinets ideas, we usually prefer white cabinets or two color combos such as dark color cabinets for the island and white cabinets for the rest of the kitchen. Backsplash Ideas, we usually use a mix of the same tones Cambria Windermere has and also a few dark versions. For flooring ideas, we prefer usually hardwood and the dark sides of the colors.
Cambria Windermere Quartz Countertop Design Ideas in Pictures: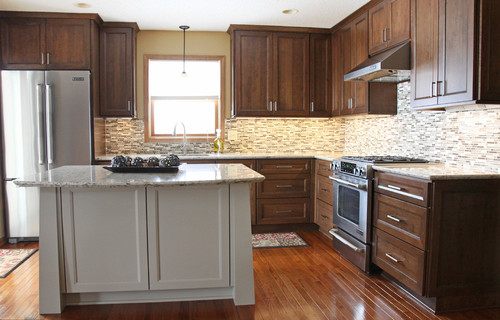 Picture Credit: Dura Supreme Cabinetry
This contemporary kitchen that you want to create for your future dream home. As a matter of fact, dark color shaker cabinet with Cambria Windermere quartz countertop combined perfectly. Mosaic glass and stone mixed backsplash created a nice transitional contrast. On the other hand, the final and perfect touch is to put a nice cherry color glossy hardwood floor. The attractive two-color combination of cabinets is amazing.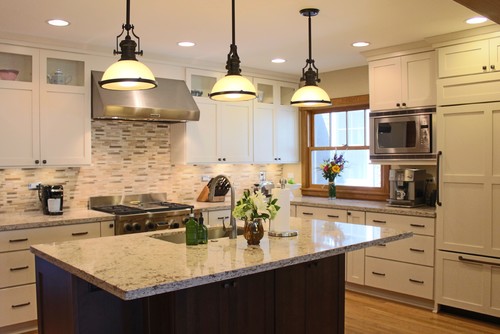 Picture Credit: Kitchen World
Amazing kitchen designed the pearl white on maple cabinets with Cambria Windermere quartz countertop. Island cabinet color is a chestnut stain. Flooring is also the original oak wood floors. Glass/stone mixed mosaic tiles used for the backsplash.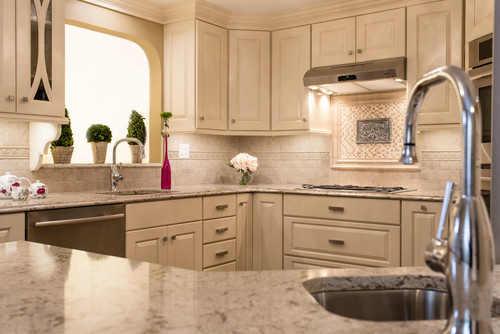 Picture Credit: New England Design Elements
Beautiful creamy beige color cabinets with Cambria Windermere counters create amazing combinations. Besides, the cabinet color is white chocolate on maple paired with creamy look travertine subway style backsplash perfectly suited the kitchen remodeling. Warm colors blend smoothly with three different tiles as a backsplash to create the transition between the cabinets. Of course, the last touch is dark hardwood flooring.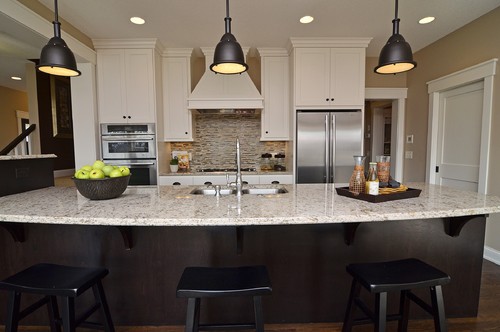 Picture Credit: Highmark Builders
Lovely combined two cabinetry used with Cambria Windermere man-made countertop look fabulous. Mosaic tile backsplash used to create the contrast.  The kitchen island has a 12″ overhang also to put bar stools and modern pendant lights above the island. On the other hand, finishing completed with a dark hardwood floor and nice wall paint color.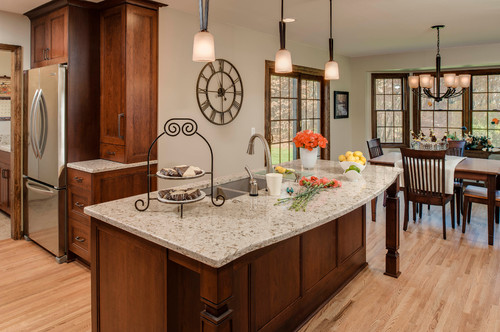 Picture Credit: Epiphany Kitchens
One of the Cambria Windermere quartz counter kitchen design ideas is to use full dark color cabinets and light oak flooring which is an oak wood that was custom stained on site. The door modified shaker style door.  The wood is cherry and the stain is Blossom. Moreover, a combination of the colors is wonderful which is very peaceful.