Cambria Canterbury Quartz Countertop Design Ideas
Cambria Canterbury quartz countertop is filled with rich, warm tones of the earth which you can feel like natural colors. The combination of beige, brown, cream and black colors give very warm-blooded for kitchen usage. A mix of nice earth colors gives the flexibility to choose backsplash and flooring materials while designing. This stone has warm browns and creams for refreshingly modern feelings. You can mix up and will look very nice with stainless appliances and cherry cabinets and an oak hardwood floor.
Using Cambria Canterbury one of the easy choices you have ever made for the kitchen. Because of the remodeling process to carry all the earth color most people like it. The secret about this stone is that goes very well with dark or white cabinets.
Using the white cabinet what we prefer for this stone especially a lot of darkness involved it. Warm cream cabinets can also be used with Cambria Canterbury and Jerusalem gold limestone backsplash. For backsplash ideas, it is going to be creamy color if you choose the white cabinets definitely. Dark cabinets choices could be closer to the white tone would be perfect. For flooring ideas could be mostly dark colors. Furthermore, porcelain tiles or hardwood floor selection are up to the customer. The price of Cambria colors is varying.
Finally, this stone is a very popular color that has all the warm colors to make the kitchen fresh.
Cambria Canterbury Quartz Countertop Design Ideas in Pictures: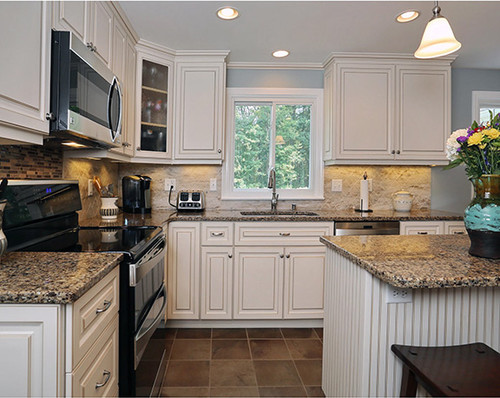 Picture Credit: Kitchen Magic
Cambria Canterbury quartz consists of a lot of warm color combinations. When combined with white cabinets it shows its most remarkable beauty with no hesitations to the world.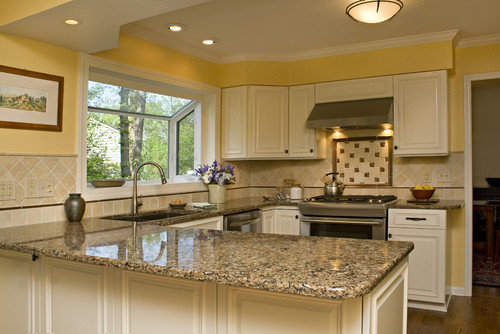 Picture Credit: Emma delon
Here is a beautiful cozy kitchen with a white cabinet and Cambria Canterbury quartz countertop. It is also featured with honey wheat paint for the walls and Jerusalem gold limestone for the backsplash. Walnut stained hardwood floor and stainless steel appliances go well original garden window in the kitchen. This stone is good with stainless steel.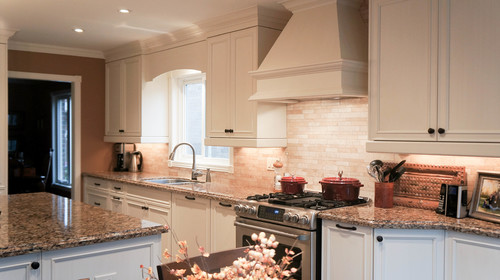 Picture Credit: Oakville Kitchen and Bath Centre
A stunning kitchen with cherry finish cabinets and Cambria Canterbury countertop added style and warmth to the kitchen. Creamy natural stone backsplash with dark hardwood floor look amazing. For example, a mid-sized traditional designed eat-in kitchen with an under-mount sink, raised-panel cabinets. On the other hand, white color cabinets, cream backsplash, stainless steel appliances, and ceramic floors became a very good team player since the color palette almost perfect. This stone is also good with white cabinets.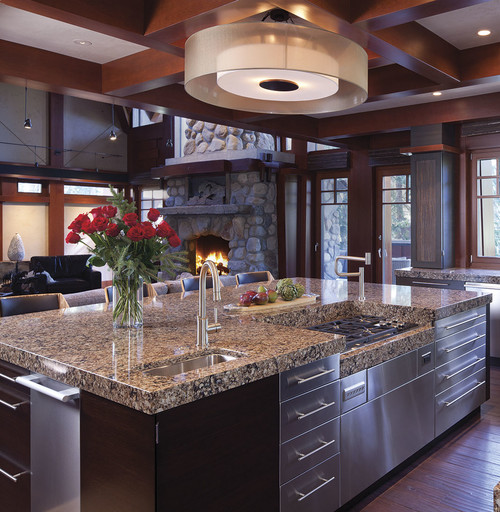 Picture Credit: Cambria
One of the Cambria Canterbury quartz countertops combines with dark cabinet color and dark flooring. This is such a dream kitchen. Dark cabinets and dark stone countertops are hard to match up. But this contemporary looking kitchen has been modified with modern dark cabinets and engineered hardwood floors. Dark color wall paint added a cozy environment to the overall looking. This stone is good with dark cabinets.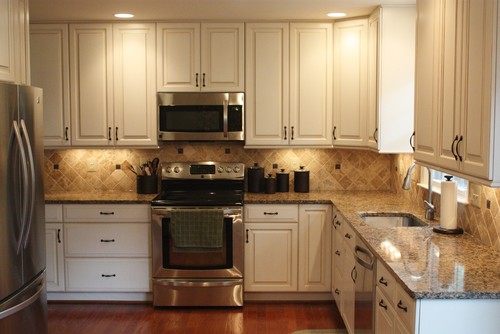 Picture Credit: Cornerstone Kitchen & Bath
L shape kitchen with white cabinets and Cambria Canterbury tops matched very well. Moreover, dark cherry hardwood floors and stainless steel appliances are compromising.  Clean cut nice kitchen with cream travertine backsplash. This stone is good with cream color backsplash.