Welcome to our gallery featuring White Zeus Silestone quartz countertop design ideas.
Pure Beauty: The whitest shade of quartz work surface available. One of the whites stones offers a solid, bright, and clean look in the market. White Zeus Extreme is for designers, architects, and consumers looking for the ultimate sleek, modern, and refined white appearance throughout the kitchen. However, it is a great way to add glamour and brilliance to kitchen design.
Pure solid white surfaces are challenging to get more share in the market. White Zeus Extreme is offering a new bright look. White Zeus is also available in polished, leather, and volcano finishes. This stone is good for those who have been thinking about modern or contemporary kitchen projects. Especially, quartz countertops continue to glow versus all the other natural stones in the residential kitchen projects.
Cabinets ideas, it is much better with dark cabinet for kitchen usage rather than white ones but lately, we see the applications with white cabinets as well. Flooring ideas, light color porcelain tiles are preferable for White Zeus Extreme Silestone to keep the modern look. For backsplash ideas, It is usually white, cream, grey color tiles and which is installed with different patterns to give exotic look. The cost of 3cm White Zeus Silestone quartz is between $80-$90 per square foot for residential installation.
Finally, White Zeus' Extreme is naturally non-porous and never needs to be sealed. It is easy to maintain its beauty easily if you compare the natural stones.
White Zeus Silestone Quartz Countertop Design Ideas in Pictures: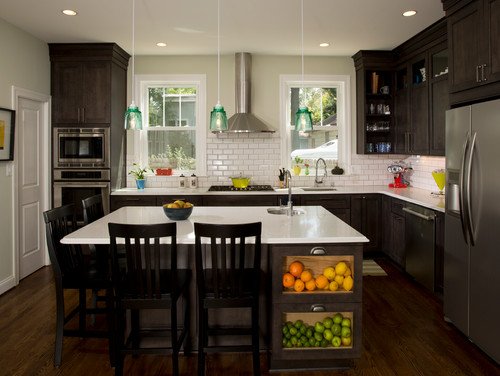 Picture Credit: MARK IV Builders
Example of dark wood with white countertops and a dark floor that could work on all main floor. Beautiful color combination for kitchen application with White Zeus Extreme Silestone. Besides, dark cabinets have been used with white countertops and subway tiles for the backsplash made. Dark hardwood floor and stainless steel appliances.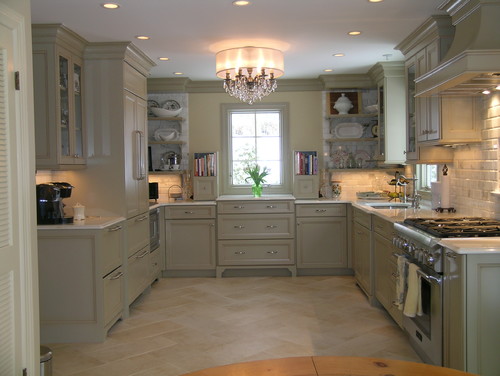 Picture Credit: Marlene Wangenheim 
These extremely light stain green cabinets pull together the cream backsplash and the glass door and molding. Beautiful kitchen with painted cabinets beveled cut Calacatta marble backsplash used. On the other hand, beige color travertine floor tiles made also a huge impact on the kitchen remodeling concept. This is a perfect sample forWhite  Zeus tops.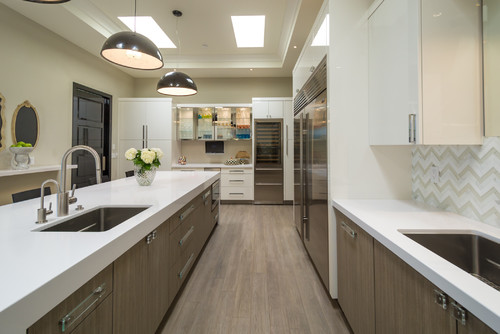 Picture Credit: Laura Dery
Inspiration for a contemporary open concept kitchen. Stunning kitchen designed with White Zeus Silestone and modern looks dark base cabinets along with wall cabinets. On the other hand, the wood look porcelain floor tiles have been a good match with the rest of the kitchen.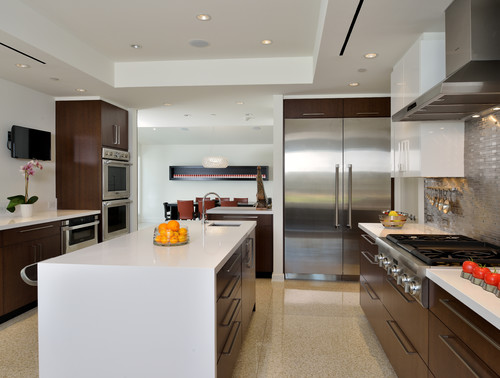 Picture Credit: RD Architecture
Dark brown and white cabinet combinations. Again contemporary look kitchen designed with White Zeus Extreme Silestone and dark color base cabinets. Moreover, the modern sleek kitchen also features creamy look floor tiles and stainless steel appliances.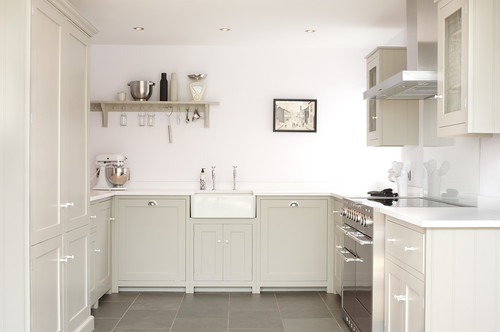 Picture Credit: deVOL Kitchens
This is an example of a transitional kitchen with a farmhouse sink, glass-front cabinets, cabinets, White Zeus countertops,  backsplash, grey color porcelain floor tiles, and stainless steel appliances. Besides, this amazing kitchen designed with white color wall paint and stainless steel appliances.