Welcome to our gallery featuring Super White granite countertops kitchen design ideas.
White Fantasy: This is the first stone that has been in the market which was considered as marble for a long time but actually it is a quartzite. This stone is called quartzite super white and marble super white over the years. Just because it was unique and classified as granite for years…Finally Super White found its own place in the market as a quartzite. Yes, I am talking about White Fantasy granite to convert Super White quartzite countertops lately. Beautiful stone mistreated for years and did not get the exact attention it deserves.
White Fantasy or with the new name Super White is the only stone in the market that looks like White Carrara marble or white marbles generally. Stunning grey background with lovely movement on it. This is a stone must go with white cabinet and dark floor but the other applications are available too. The only problem is that little bit pricy that's all. One of the main reasons is why this stone is expensive which is really hard to bring back to the ground because it is much deeper than other stones and it is unique in its class.
White marble lovers welcome! This is the only natural stone in the market that looks like White Carrara marble. This stone gives fabulous look in the kitchen who loves the trendy white look in their house. If you think that man-made, engineered quartz materials do not look real to you in that case Super White quartzite is right for you.
This stone gives you what white marble does not even provide you. Yes, this stone seems like a popular marble look in the kitchen with no maintenance needed. You do not have to worry about scratching, staining, and heat resistance. Due to hardness level and low porosity, this stone is in high demand among homeowners.
Finally, the only mines point of this slab is the cost for fabrication and installation. The reason why Super White quartzite price is expensive because of production. In order to bring it to market, quarry owner spends almost double or triple time if you compare for granite or marble production time.
Super White Granite Countertops Kitchen Design Ideas in Pictures: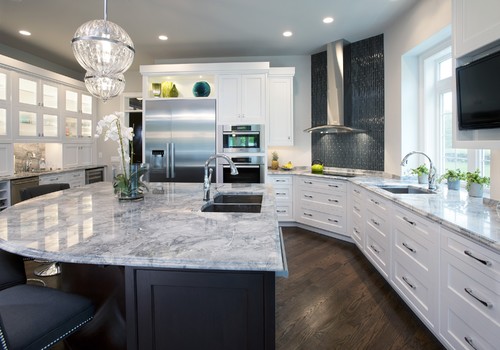 Picture Credit: Main Street Cabinet Co.
A stunning kitchen designed with white cabinets and Super White quartzite. Glass tile backsplash behind the stove and dark hardwood floor made a beautiful impact on the kitchen. Two-tone cabinets are also preferable for Super White kitchen countertop.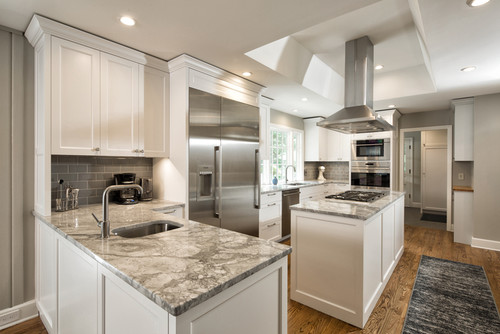 Picture Credit: Evolve Granite and Natural Stone
Beautiful color combination for the modern kitchen countertops. Super White granite(quartzite) with white cabinets look stunning. Grey color subway tiles with dark walnut hardwood floors are definitely good choices.
Picture Credit: K & K Custom Cabinets
Contemporary amazing kitchen with a special coating that makes it super glossy- they call it the "wet look" – it is the same finish they use for oak dark hardwood floor which makes a good combination. Super White quartzite and stainless steel appliances look great.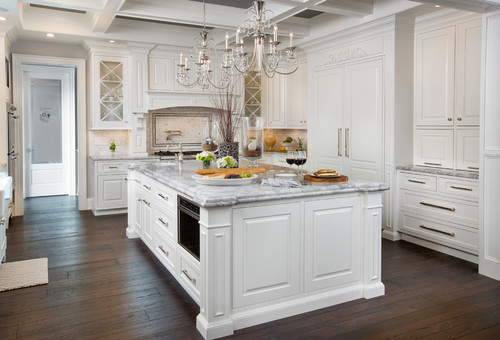 Picture Credit: Kitchen Kraft
One of the beautiful application for Super White granite countertop ideas with white cabinets and dark hardwood floors. White countertops like marble are always good for interior design ideas. This dolomite slabs are granite marble mixed durable counters. This stone isa stain resistant natural, durable, and quality material for pros and cons. Granite Super White is a stylish natural slab for kitchen remodel along with tile backsplash and light colored cabinet.
Super White Quartzite Slabs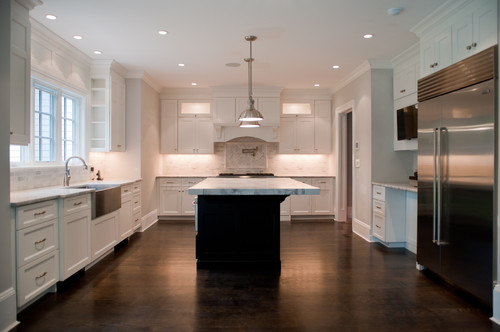 Picture Credit: Michelle Winick Design
Lovely kitchen with two-tone cabinetry which has a white and espresso color decorated Super White quartzite slab. Stainless steel farm sink, stainless steel appliances, dark hardwood floor, and kitchen island pendant lights made it spectacular.
This stone goes well with farmhouse sink and white marble backsplash for custom homes. Super White like granite with gray background boasts the room white kitchen cabinets combinations. Super White surface is great with direct lighting on it and easy to work stone for fabricator. This stone is not etching or scratch which has a gorgeous veins and durability, elegant look create no stains. Stone usage categories for bathroom space to contrast with wood floor boast gray posts to vary granite.