Welcome to our gallery featuring Peacock Green granite countertops design ideas.
Green World: Peacock Green has a lot of options from dark tones cabinets to medium colors. This stone has a smooth, rich, and relaxing feeling which matches perfectly with the darker side of the cabinets rather than the white ones. It looks much better with a darker cabinet color with creamy or white wall paint.
Floor colors can go vary from dark to light also depends on your taste. Backsplash can be from travertine to marble and even a combination of the travertine-glass, slate-glass, and marble-glass might be the choice. Lighting is very important for this stone because direct light shows more flex inside the stone and make the stone special for the homeowners. For this reason, Peacock Green granite countertops with white cabinets are a builder grade which is a nice uniform stone.
How to take care of Peacock Green granite countertops? Since it is a darker stone it is less like to be seen if it gets stained. But if you apply a sealer once a year properly I believe you will not have any problems. Buy the strongest sealer product which is good for granite and pour it on top of the granite and wipe it till absorbs. Leave it overnight and clean it with soap&water before start using it. The other useful method is that clean it after you make a mass basically!!!
Peacock Green granite price is a builder grade and affordable. Similar granite colors for this stone are Verde Butterfly granite, Verde Peacock granite Peacock Blue granite.
Peacock Green Granite Countertops Design Ideas in Pictures:
Picture Credit: GR8WORK Builders Inc
A medium color cabinet is also an option for a clean-cut look when it is applied with lighter color floor tiles. Large open kitchen equipped with stainless steel appliances and wood stained cabinets. Peacock Green granite countertops design ideas with glass tile backsplash and large format tile floor look cozy. An oversize granite countertop for the island provides an extra place to sit and eat in the kitchen. Dark stone color contrasted perfectly with cabinets and natural stone tiles.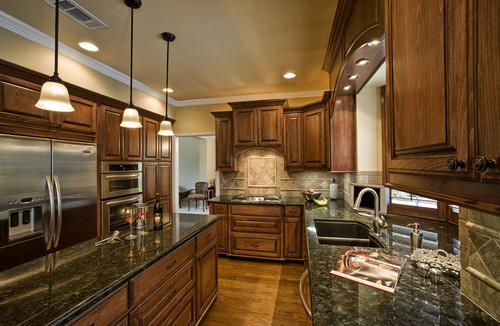 Picture Credit: Curb Appeal Renovations
Peacock Green granite tops design ideas with the beechwood cabinets and a medium oak staining. Beautiful kitchen design 4X4 travertine backsplash made a contrast with dark stained hardwood flooring. This does not mean that darker is better, just has more personality I believe. It is just a very elegant look. It stands much better with darker cabinets which makes this stone richer and heavier rather than using the white cabinets.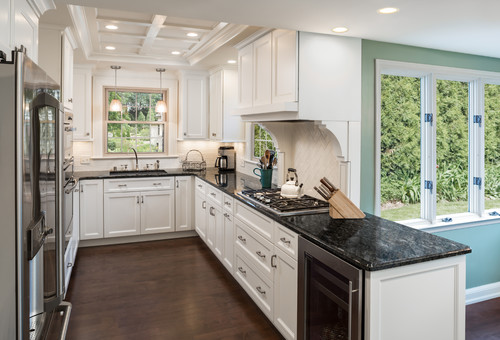 Picture Credit: S.J. Janis Company
This is the sample of the white cabinet and creamy color travertine tile backsplash with dark hardwood color. Lighting made a huge change. Kitchen allows for a contrast with the Peacock Green granite with white cabinets. Ebony stained maple hardwood floor created a nice combination with stainless steel appliances.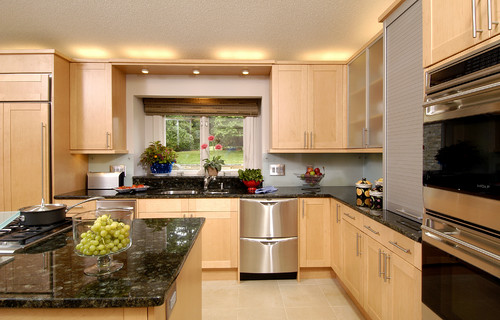 Picture Credit: Landis Architects / Builders
One of the perfect combination of Peacock Green countertops design ideas to finding the right cabinet and backsplash selections. The cabinets are shaker maple and the backsplash is glass looking good with cream color floor tiles. When we design a kitchen we are looking for this concept always. It does not matter a small remodeling project or using your own taste, please do not hesitate to bring color together. Any good combination of colors could make you a designer without a diploma.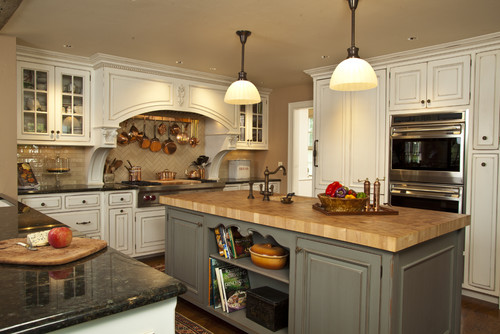 Picture Credit: Trish Namm
Peacock Green granite counters design ideas combined with backsplash and cabinets. The reason is that a dark countertop and white(glazed) cabinet paired with nice warm beige color travertine have used. Moreover, travertine backsplash and almost the same color paint as a travertine color featured with white cabinets. Actually, it looks stunning with green color island cabinets and stainless steel appliances.