Welcome to our gallery featuring New Venetian Gold granite countertops design ideas.
One of the most popular granite to work with is called New Venetian Gold. It has the warmer, more golden, neutral tones, with black/grey veining, and random burgundy flecks. Moreover, no matter what New Venetian Gold countertop will work well for anyone who likes a warm, neutral base color. On the other hand, this granite has entirely unique color combinations to allow homeowners to make their decision quickly.
Lately, this granite has a new name which is Giallo Napoli.
For cabinets, usually white color cabinets have been used as a new trend lately for kitchen remodeling. For the backsplash, we recommend more often a natural, tumbled travertine for the backsplash. They might be beige, ivory, and mocha colors which all can work as well. For flooring, the warmer stain colors are most likely going to be the best selections, with golden overtones, if you plan on staying with the neutral tones.
New Venetian granite is also known as builder-grade stone among home builders.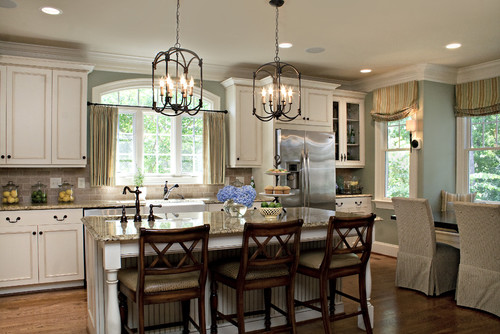 Picture Credit: Driggs Designs
New Venetian Gold is a very accommodating stone color in the market. For this reason, the kitchen has coffee glazed cabinets that require this kind of tone for perfect matching. The backsplash color is beige.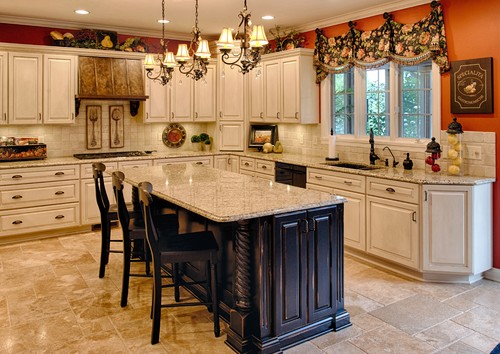 Picture Credit: J. Gauker Interiors
Stunning French kitchen colored with lovely New Venetian Gold counter. However, two different cabinet colors selected respectively dark and white to design this lovely kitchen. Tumbled travertine backsplash used along with some kind of finish like floor tiles but with different patterns. The sink is a dark bronze with the same finish as a faucet.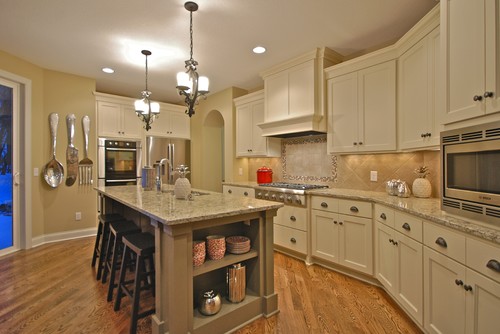 Picture Credit: Gonyea Homes & Remodeling
Amazing kitchen custom made cabinets such as antique white stained perimeter and darker stained island combined with New Venetian Gold tops.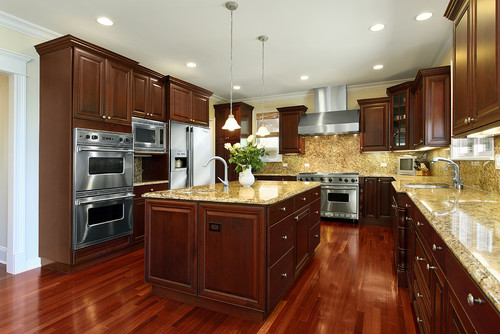 Picture Credit: cliqstudios.com
The combination is also with dark color cabinets and cherry color hardwood flooring. The kitchen also features stainless steel appliances and New Venetian Gold countertops.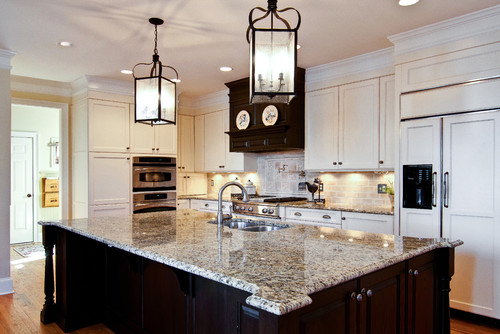 Picture Credit: Keri Morel Designs
This modern look kitchen has a great color palette including New Venetian Gold tops.