Welcome to our gallery featuring Luna Pearl granite countertops kitchen design ideas.
It is a real pearl for the stone industry. One of the well-known builder-grade stone which is part of the many kitchens in the US. Luna Pearl granite is also known as Bianco Sardo. This stone looks light black and white mixed with some small black dots in appearance. This is a very consistent stone throughout the slab.
Seriously, homeowners have only one choice regarding the cabinet color selections. I believe the white color cabinetry is the best choice to go with granite Luna Pearl. Lately, we can add the grey color cabinets to the list. For the backsplash options, it is usually white or cream with white cabinets, and very rare usage for dark cabinets. Flooring will be dark hardwood or dark porcelain tiles. As a result, this stone is perfect who are looking for a white kitchen concept with a budget.
Is Luna Pearl granite outdated? Luna Pearl is still one of the best options for the builders as well. Great price point and uniformity most granite color does not have are still a big advantage. Luna Pearl granite cost is still affordable. If you are looking from the seller's point of view, this stone has a lot of competitive advantage then the other granite colors in the market. Pearl granite luna is a natural stone. Luna Pearl granite price is $35 per square foot.
Luna Pearl Granite Countertops Kitchen Design Ideas in Pictures: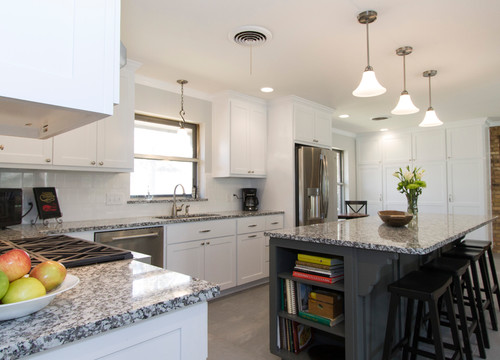 Picture Credit: Kitchen to Bath Concepts
Amazing grey color combination concept used in this kitchen. As homeowners every time when we look at color matching, we should go similar color with a different tone. Beautiful white cabinets with countertops Luna Pearl granite combined with backsplash as a white subway tile and grey porcelain tiles for floors added smooth design. Of course stainless steel appliances pendant lights above the kitchen island with a 12″ overhang to put the bar stools.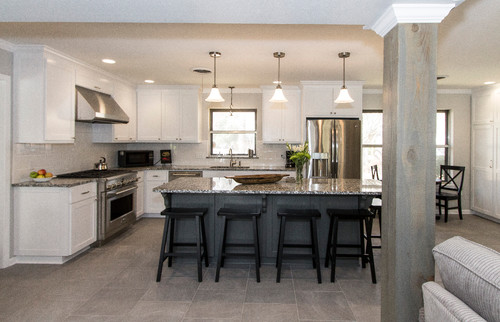 Picture Credit: Kitchen to Bath Concepts
Luna Pearl granite countertop reviews are still strong. Open, airy and a touch of rustic brought in with raw woods and porcelain floor tiles. As you see from the picture they post and beam in the middle of the room. It is the center of attention. The leaving area to the right makes the room airier. Kitchen, the heart of the home shining to you when you walk in open lay outhouses.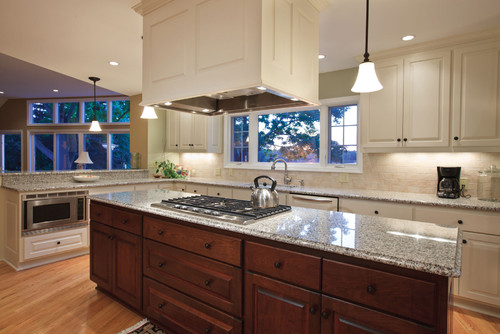 Picture Credit: Wade Design & Construction
Stunning two-tone cabinets with Luna Pearl granite with espresso cabinets  worked well on this kitchen. Moreover, the backsplash tile is porcelain with a texture that matched perfectly.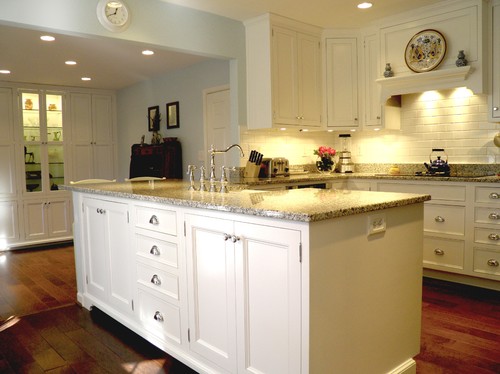 Picture Credit: Cameo Kitchens Inc.
White subway tile used as a backsplash. The kitchen also featured with dark cherry hardwood floor and stainless steel appliances. Luna Pearl granite and white cabinets plus white subway backsplash tiles achieved the perfect balance.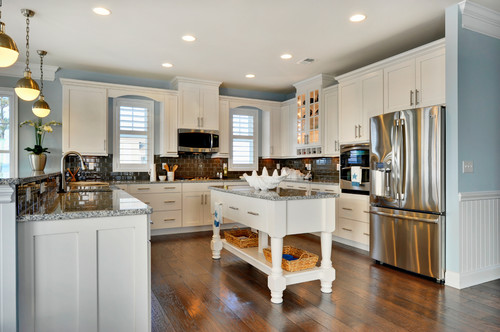 Picture Credit: Schell Brothers
This is an example of a modern single-wall enclosed kitchen with an under-mount sink, flat-panel cabinets, white cabinets, Luna Pearl countertops, glass subway backsplash, and stainless steel appliances. Moreover, this became a beautiful combination of the colors which brown subway tile backsplash matching with dark hardwood floors.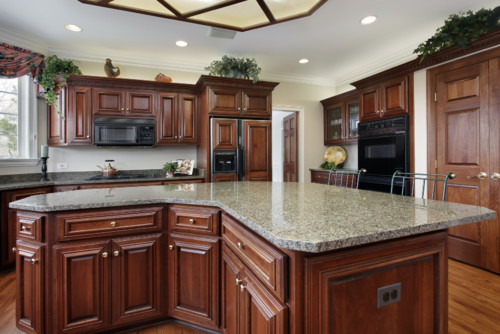 Picture Credit: Virtual Warehouse
There are so many design elements in this kitchen, I almost don't know where to start. Elegant looking kitchen has recess lights and black appliances. This kitchen featured with lovely Luna Pearl granite with gray cabinets along with black appliances.