Welcome to our gallery featuring laundry room countertop ideas.
Lately, laundry room designing becomes very popular while remodeling or designing the house. Laundry rooms, it is a growing trend among the people who want to put more detail on them. Granite countertops options used lately in most of the newly constructed houses as well as newly remodeled homes.
What is the benefit of having granite countertops in the laundry room ideas? First of all, it adds value to your house. Second, people definitely need a countertop space for either laundry areas or mudrooms. If it is newly constructed usually comes with a separate room with the place of a countertop. Since the area is smaller you might find remnant granite slabs from the granite yard. On the other hand, you may want to find which exotic color or builder-grade granites would be nicer. So, I think it should look nice and consistent with the rest of the house if it used granite countertops.
Laundry rooms have usually wall cabinets as well as free countertops areas to fold and are almost the same size as the kitchen sink. It could be a room without a window but there are applications with windows lately. Painted usually light colors and used light color tiles would help also light up space. Depend on the color choice for cabinets and countertops could be dark or white but the trend is now white cabinets and light color granite countertops.
What are the inexpensive laundry room countertop options? Design ideas must make the room desirable. Colors selection would be wary. The laundry room is known and will be known that people really do not want to spend more time.
Laundry Room Countertops Design Ideas In Pictures: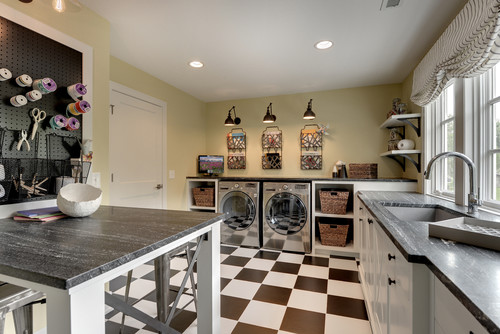 Picture Credit: REFINED LLC
The paint color is off-yellow for this laundry room. The flooring is also porcelain tile white and black. White cabinets and black stone tops are the perfect choices for the laundry rooms.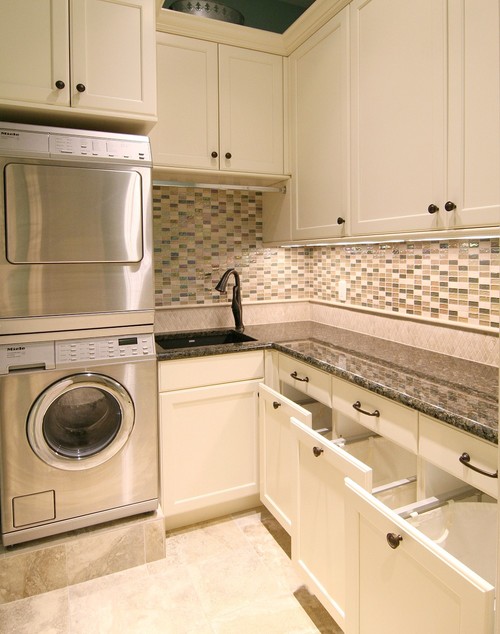 Picture Credit: The Kitchen Source
Stainless steel washer&dryer with limestone natural stone tiles made the laundry room desirable. The home countertop material is laminate, quartz, wood, solid surface, durable stone, engineered stone.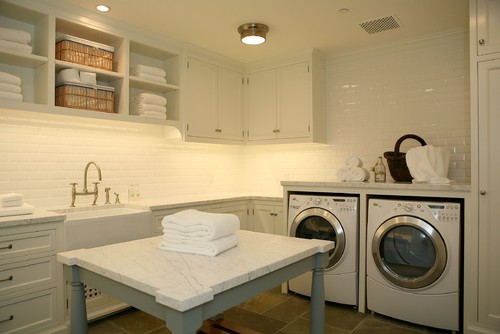 Picture Credit: Morrow and Morrow Corporation
White Carrara marble countertops used this amazing laundry room designing. Backsplash beveled brick ceramic which goes well with white cabinet and white porcelain farm sink.
Laminate Countertops Options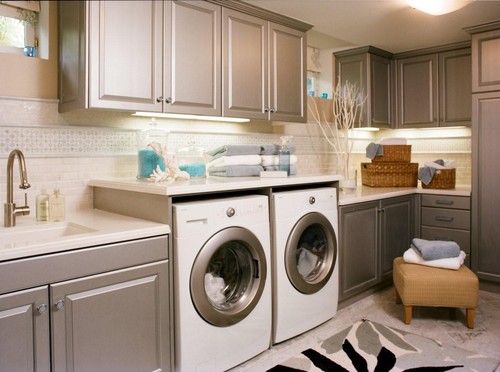 Picture Credit: Reaume Construction Design
Floors are light colors to create contrast. Formica countertops for the laundry room are also possible. Laundry countertop materials could be really important such as quartz, wood, solid surface materials.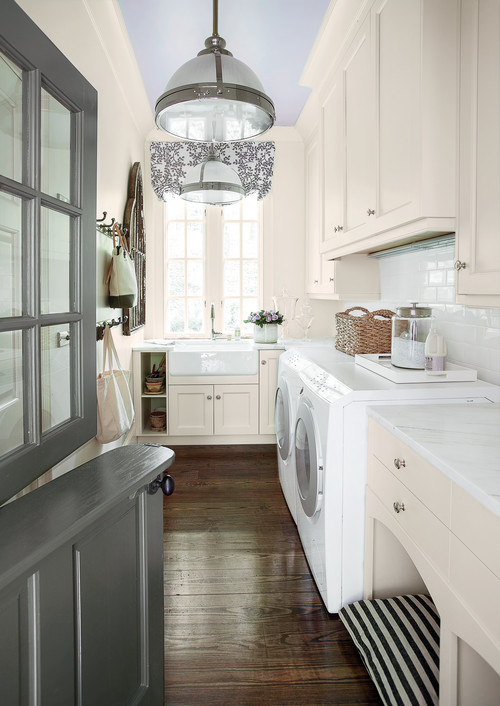 Picture Credit: Southern Living
Amazing laundry room countertop ideas with white cabinets and white marble countertops. The dark-stained hardwood floor completes by giving dramatic contrast to the room. The laundry room countertop can be done with natural stone, quartz, laminate, wood, and durable surface materials. Countertop materials could be varied such as laminate, quartz, wood, and solid surface with the budget.