Welcome to our gallery featuring Giallo Ornamental granite countertops design ideas:
Golden Ivory: The combination of Giallo Ornamental granite is a yellow-beige color with a bit of speck of black and gray.
What backsplash goes with Giallo Ornamental granite? Color like gray or light brown goes very well with the texture of the materials without disturbing the granite's beauty. As long as you find something that has some red and natural earth colors to highlight the different colors in the stone. Backsplash can add tons of character to any kitchen. That's why it is important to choose what is good with your countertop.
For flooring ideas, you can use the contrast here according to your taste. Because dark cabinets need lighter floor tiles and light cabinets need dark hardwood flooring. This stone comes in three different shades of color. The first one is regular tones which are peachy and dark spots. Second, Giallo Ornamental light is a lighter version with the original pattern. This one saturated with mostly cream tones. The third one is pink ornamental color. Moreover, they are all from the same quarry. If you use this granite in small kitchens will be a joyful environment. Moreover, for more complicated jobs you would want wall colors to be beige tones and almost similar colors for the floors.
For cabinet ideas, Giallo Ornamental granite white cabinets colors rather than dark ones. As part of this year's trend, there are lots of ways to mix it up. Colors such as Giallo Ornamental granite might also go with cream and dark cabinets. But interesting concept comes in many other designs.
Giallo Ornamental Granite Countertops Design Ideas in Pictures: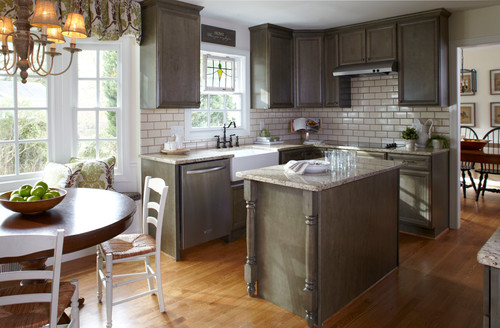 Picture Credit: Modify Design/Build
Inspiration for a traditional kitchen with Giallo Ornamental granite and subway tiles combination. In order to create a beautiful cozy small kitchen brighten up java green maple cabinets combined with Giallo Ornamental granite countertops. It furnished with white subway tiles with almost the same color grout as cabinet colors. The light oak color hardwood floor brought the kitchen to another dimension. The porcelain apron front farm sink also combined with the rest of the painting and window frames.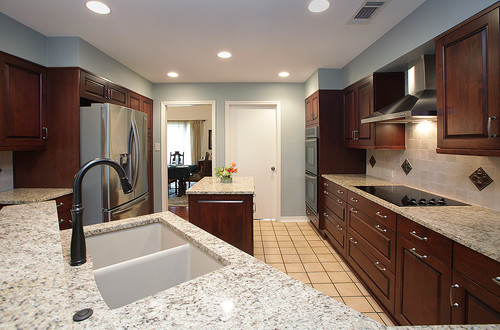 Picture Credit: The Kitchen Source
The stunning kitchen layout with Giallo Ornamental granite counters and a beautiful dark cherry cabinet. The beautiful tumbled travertine backsplash along with stainless steel appliances made a good match. Original floor tiles remained to complete the design for kitchen remodeling. Not only this but also love the contrast with darker cabinets. Furthermore, all of the darker cabinetry the backsplash wall covered with beige tumbled travertine tiles. The main concept here to make the kitchen are brightened since there are no natural lights coming. On the other hand, they selected to accommodate the rest of the kitchen which is light blue.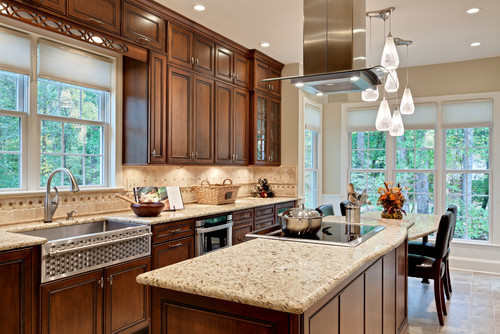 Picture Credit: Turan Designs
Beautiful bright kitchen with lots of windows and open floor plan. In fact, perfect dark cabinets and light countertop combinations featured with Giallo Ornamental granite. Center island has a cooktop and hood from the ceiling along with a travertine backsplash. Stainless steel apron farm sink with natural travertine floor tiles go well with yellow-beige paint. Therefore, Giallo Ornamental shows itself with darker cabinets versus light ones. The reason behind this is that those brown/burgundy dots catch the darker cabinets and the main light bedrock is defined for the contrast. This combination is particularly warm and inviting when used with under cabinet lighting that reflects off the polished granite surfaces.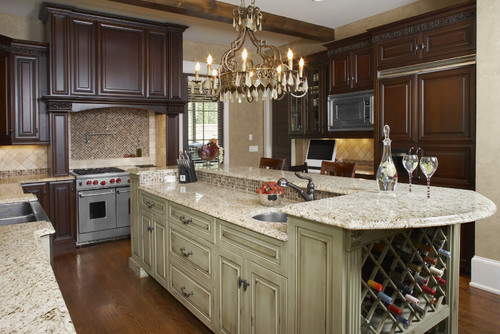 Picture Credit: The Furniture Guild
Traditional kitchen with dark and light cabinets combinations. Giallo Ornamental granite light countertops fitted perfectly. Center island with a raised bar top has a bar sink. The kitchen perimeter and cabinets are dark-featured stainless steel apron farm sink and stainless steel appliances. The floor is dark hardwood floor made a good combination along with paint. If you use two different cabinet colors still with only one color top. Like this example, the darker main kitchen and rustic green island are perfectly matched with the Giallo Ornamental countertop.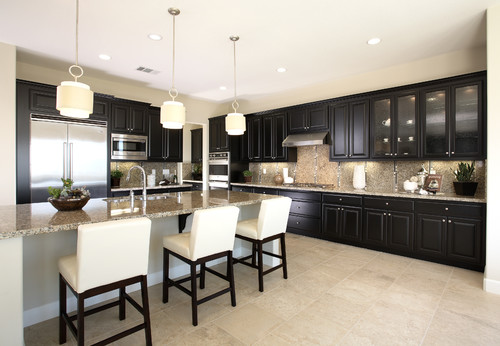 Picture Credit: Precision Cabinets
Unless using dark cabinets and light floors combined to make the soft more sophisticated look. Giallo Ornamental granite slab has to catch this combination. Using the main color as you in this kitchen example dominated by two colors. One of them is dark brown almost black cabinets, and the other is cream-beige mix everything else in the room. As a result, this is a perfect color combination for the Giallo Ornamental granite countertop with all the other elements in the kitchen.