Welcome to our gallery featuring Delicatus White granite countertops design ideas.
What level is Delicatus White granite? One of the famous white granite options in the market. White bedrock garnished with black and grey spots. When you look from the distance, the dominating color is white and then black with the others. In fact, you must see the slab before purchasing before you do the purchasing. This is the color that changes from slab to slab every time manufacturer receives a new shipment. That's why homeowners have to go to slab yards to see the actual slab before it goes to fabrication.
On the other hand, my personal recommendation is to use this granite with white cabinets. While white blend seamlessly with white cabinets. There are also applications with the dark cabinets which are usually center island tops can be used for Delicatus White granite. If you combine this stone with white cabinets you may not see the actual beauty of it but if you use it with dark cabinetry you will see the gorgeous face of it.
For the backsplash ideas, if you really want to pop up darker tones are better with white cabinets, versus lighter tones are good with dark cabinet selection. It is also nice to use the stone itself as a backsplash would be stunning.
Delicatus White granite price is $50 per square foot most of the US residential markets. There are also Delicatus Gold granite, Delicatus Ice granite, and White Galaxy granite in the market.
Delicatus White Granite Countertops Design Ideas in Pictures: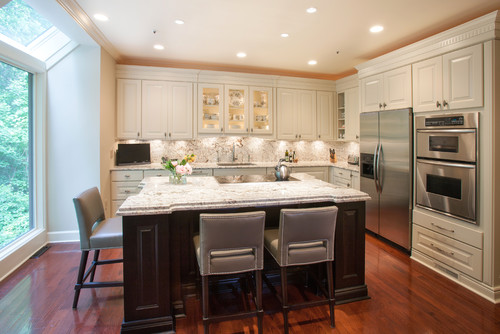 Picture Credit: Signature Kitchen & Bath
Beautiful kitchen design with full high backsplash used from the same material which is Delicatus White granite with white cabinets. However, a huge center island with a dark color cabinet and the perimeter side of the kitchen is a white color cabinet which made a very good contrast with cherry color hardwood floor.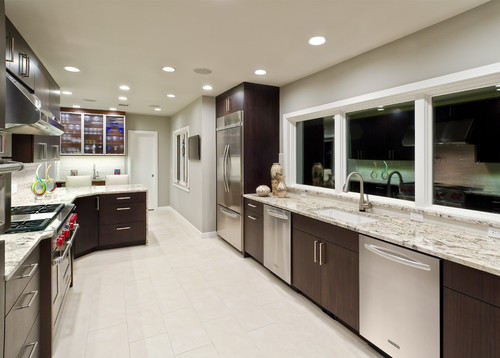 Picture Credit: Jay Rambo Co
An amazing color contrast combination has been used in this lovely kitchen with a dark cabinet and Delicatus White granite. Creamy looking light tile flooring also nice.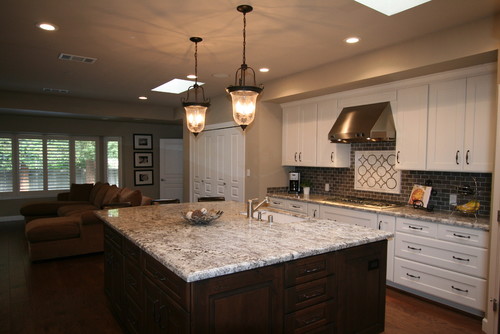 Picture Credit: Kitchens of Diablo
Stunning kitchen again with two-tone cabinets combination look fabulous with dark hardwood flooring. Moreover, dark subway tile backsplash between the white cabinets and Delicatus White granite look stunning.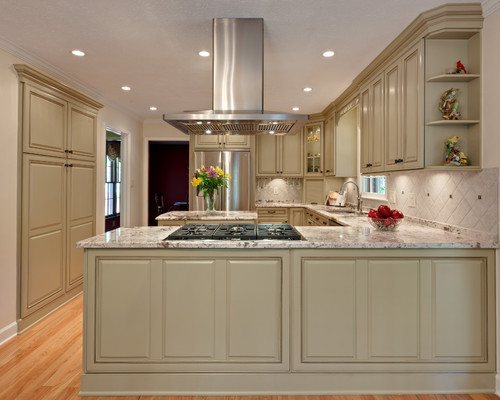 Picture Credit: Turan Designs
Delicatus White granite applied with kitchen remodeling. Besides, light floors, dark cabinets, white countertop, and transitional color backsplash made beautiful combinations.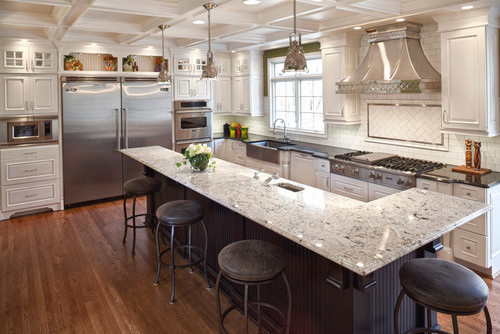 Picture Credit: Earlene Scheid
Amazing two-tone cabinet usage with Delicatus White granite on the island and bar top side. On the other hand, it made a very good contrast floor, cabinet, and countertop combinations.