Welcome to our gallery featuring Crema Delicatus granite countertops design ideas.
The bedrock of this granite is a stunning icy white and cream. This is the combination of cream, white, and black colors mixture. The popular usage of Crema Delicatus is with white or creamy color cabinets. The creamy chunk pieces along with dark spots make a very smooth contrast with white and creamy cabinets. This color combination gives freedom of playing with different tiles which may bring some extra movement to kitchen designing ideas. If the cabinet color white, you may use white tones backsplash. If the cabinet color creamy, you may use cream color backsplash such as Crema Marfil or travertine tiles.
Flooring usage with Crema Delicatus granite kitchen is dark tones either hardwood or natural stone tiles. Cherry is the most popular color among them and makes a good contrast which we want. On the other hand, if you don't like the dark floors your next choice is cream color tiles would be perfect for this stone color. Delicatus granite price is almost same with Delicatus Supreme granite price.
Crema Delicatus Granite Countertops Design Ideas in Pictures: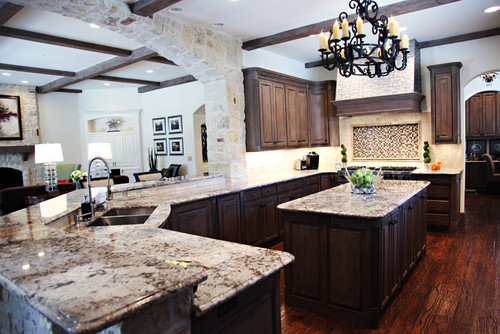 Picture Credit: Emily Johnston Larkin
Inspiration for a traditional kitchen with darker cabinets, stainless steel appliances, an under-mount sink, dark wood cabinets, cream backsplash, mosaic tile backsplash, and Crema Delicatus granite slabs. This is a good example of Crema Delicatus with dark cabinetry. Moreover, it looks great with the combination of dark hardwood floors, creamy light wall paint, and dark cabinets. It is featured custom made hood and stainless steel appliances.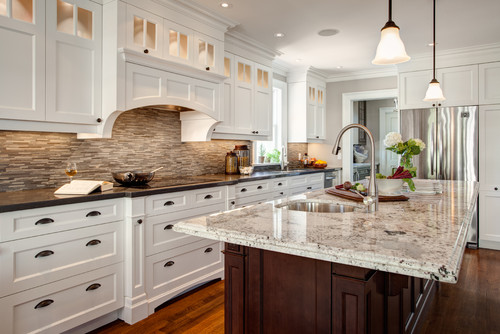 Picture Credit: Frahm Interiors
Crema Delicatus granite can change a lot such as in this kitchen as you see. Beautiful two-tone cabinets nicely finished with glass-stone mixed mosaic tile backsplash. Captivating cherry hardwood floor decorated with white cabinetry. Besides, the kitchen island under-mount sink with pendant lights above creates a warm and cozy environment for today's kitchen remodeling ideas. Keep in mind that always while trying to create contrast put in-between transitional side factors such as backsplash or paints.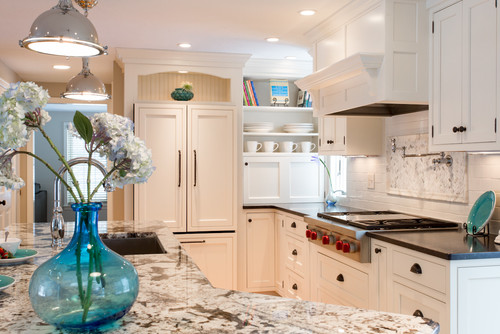 Picture Credit: New England Design Elements
Another white color cabinet with Crema Delicatus made a gorgeous design to the kitchen area. Two-tone countertops made spectacular with dark cherry hardwood floor. The kitchen island has also an under-mount stainless steel sink and pendant lamps above it. A nicely designed warm kitchen became such an inviting place.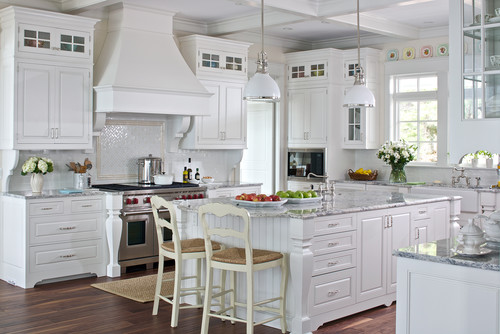 Picture Credit: Jethany Lee
A stunning close up of a contemporary kitchen with Crema Delicatus granite countertops. Furthermore, one of the Crema Delicatus countertops design ideas in the kitchen with white cabinet and dark hardwood floor. Stainless steel appliances and white subway tile backsplash made it a very neat place. I think we need some contrast in this kitchen because everything is so white except the floor. This is one way of doing but we really recommend having a little more color differentiation.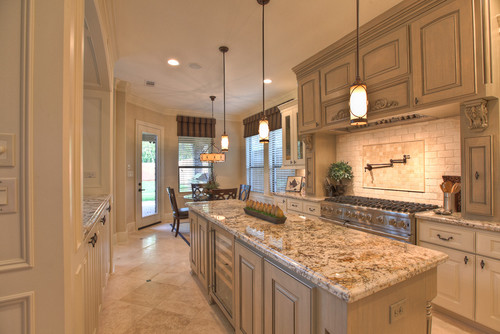 Picture Credit: Silvan Homes
Beautiful kitchen designed with natural stained wood color cabinet and Crema Delicatus granite countertops. Honed Crema Marfil floor tiles and natural look subway tiles made it a perfect combination. The stunning tones of these off-white cabinets make the Crema Delicatus granite surface of this kitchen look even more awesome!
Arctic Cream granite, White Delicatus granite, Delicatus Light granite, and Bianco Romano granite what they have in common are part of the their white backgrounds.