Welcome to our gallery featuring Buckingham Cambria quartz countertops kitchen ideas.
Wavy world: The color combination is smooth yellow, cream, black, and gray to design a wavy unique look. Cambria Buckingham has browns, golds, and grey mixed colors together with harmony. This is one of the best-engineered stone colors in the market.
The benefit of this stone is that whoever has builder-grade existing cabinets and not want to change it either due to budgeting or could be some other reason. This stone is perfect for those conditions, plus even if you decide to change to new dark cabinetry for remodeling purpose still this stone will dazzling in your kitchen. The reason is that having all those earth colors mixed with enjoy. You may also benefit from exploring the look that medium-light color options for countertops. This stone is good for small spaces with darker cabinet colors because Cambria quartz gallery can be very helpful for keeping the look of a space open and inviting.
This color goes either light or dark cabinets very well. When you use it with white cabinets you need to consider putting dark hardwood color for flooring. When you use with dark cabinet color you might want to use light flooring colors. The backsplash is usually creamy mixed color either natural stones or subway tiles would be a good idea.
Cambria Buckingham quartz price is reasonable if you compare with the others quartz colors. Plus using plain backsplash and keep it simple for designing purposes are priceless. Painting again will be a mix of creamy or white tones preferable.
Cleaning daily purpose is just warm water and mild soap to clean – no sealing or polishing required. But once a year we recommend sealing to protect better your countertops. It is an expensive investment and it is worth protecting as much as you can.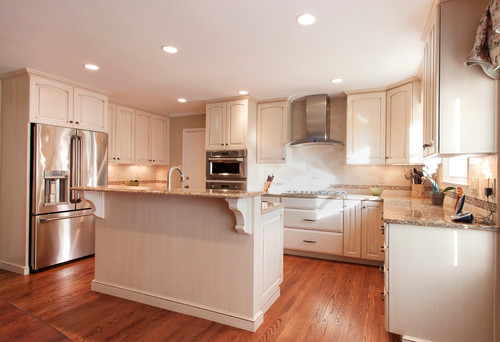 Picture Credit: Cameo Kitchens
Amazing Buckingham Cambria quartz countertop gallery with honey brook and dark wood hardwood floors. Moreover, creamy Crema Marfil marble tile backsplash and stainless steel appliances made a perfect combination. Custom stained medium dark hardwood floor compromise the rest of the kitchen.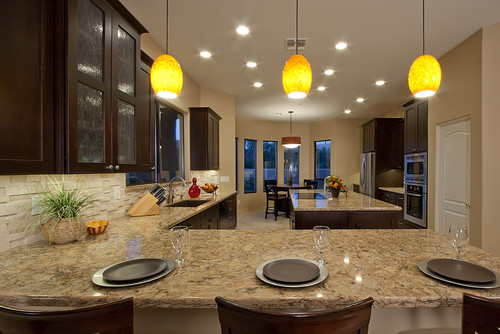 Picture Credit: Davis Design Group
If you make color comparisons enough, the better this remodeling project is likely going to end up good for you. Like this gorgeous Cambria Buckingham kitchen countertops with dark espresso cabinets and light flooring as an example. Light creamy three-dimensional backsplash with stainless steel appliances matched perfectly. Pendant lights and recess lights added also a cozy feeling to the kitchen.
Picture Credit: Kowalske Kitchen & Bath
The kitchen is a very smooth coloring experience with transitions. This is a very good example of the mid-range color cabinet with Cambria Bradshaw  kitchen countertops combinations. Furthermore, nice natural travertine backsplash tiles, along with multi-colored floor slate tiles went very well with stainless steel appliances.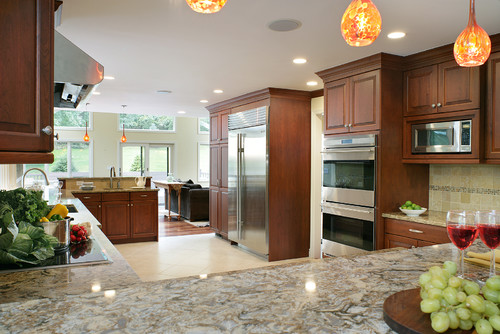 Picture Credit: Today's Kitchens
This amazing combination of dark cabinets with Buckingham Cambria kitchen countertops featured also light floors and creamy beige travertine backsplash. Daylights, pendant lights, and recess lights along with stainless steel appliances create a fabulous look for kitchen designing.
Picture Credit: The Cabinet Store
Lovely cabinet doors are from birch wood with a brown stain applied. On the other hand, the Buckingham countertop quartz complaints are very little. Mosaic style glass & stone mixed backsplash has an accent from the countertops to give enough contrast. Multicolor natural stone floor tiles also serving the same way what backsplash does it.