Welcome to our gallery featuring Blue Pearl granite countertops kitchen design ideas.
The combination of blue, gray, and back colors speckled with shining reflection throughout the stone. This is an elegant looking very sophisticated rich granite color. It usually goes with dark or off-white cabinet colors. The stone has a lot of specks which gives you from a different angle many many color options.
What color cabinets go with Blue Pearl granite? What paint color goes with Blue Pearl granite? Especially, Blue Pearl shows itself more with white cabinets. When you apply with a white cabinet it gives very good contrast and fresh look to the kitchen. How much is the Blue Pearl granite price? Blue Pearl granite price per square foot is $50 most of residential installation market. That's why Blue Pearl granite cost is reasonable.
The specks in this stone have just like a gem and it is all shining when you look from different angles. When it is used with dark cabinet color it gives richness looking to the kitchen. Backsplash application may vary depending on the cabinet color and usually picked from the natural matt stone surfaces. Since the Blue Pearl has its own beauty which is still popular among the homeowners. Additionally, Blue Pearl comes in three different color tones which are respectively Royal, HQ, and GT color shades.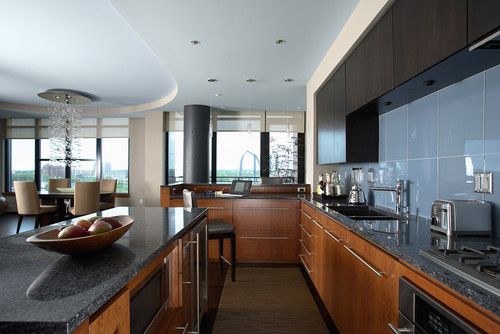 Picture Credit: David Heide Design Studio
Blue Pearl decorated with medium brown modern look cabinetry. The pendant light fixtures are unique and very very modern. Moreover, these floors stained color-matched with cabinets. Large size porcelain backsplash tiles accommodate the counters.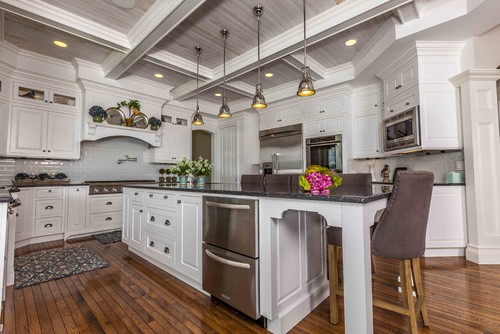 Picture Credit: Darryl Vaughn- Kitchen & Bath ReStylers
It is a distressed solid oak flooring with Blue Pearl countertops. Coffered ceiling, extended island to seat and eat, white cabinets, and glossy dark brown stained floor made a different approach to the kitchen designing.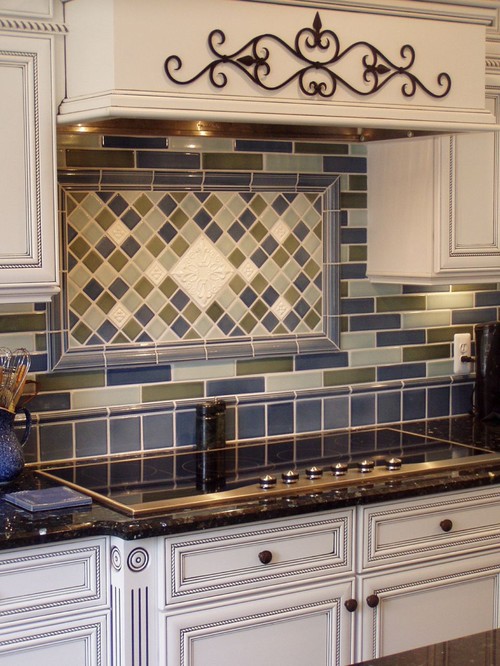 Picture Credit: Xstyles Bath + More
Blue Pearl countertops with white cabinets. A fantastic combination of the colorful backsplash indicates that the kitchen beautifully situated.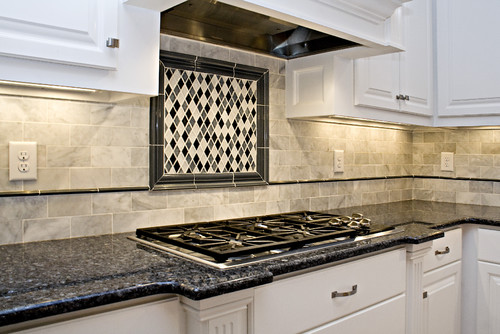 Picture Credit: Emma Delon Kitchen & Bath Designers
White cabinetry is always classic and goes very well with this beautiful kitchen completed with Blue Pearl granite countertop with white cabinets.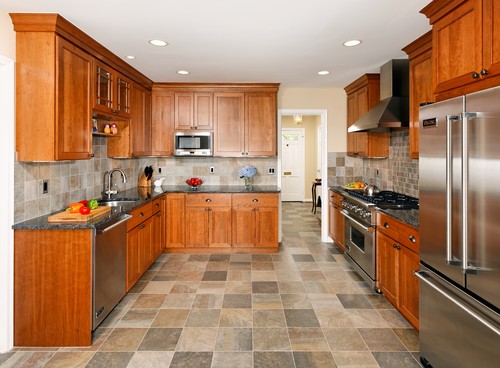 Picture Credit: Case Design/Remodeling
The amazing kitchen featured porcelain tiles which are a random mix. Cherry color cabinets along with Blue Pearl countertops decorated by porcelain tile as a backsplash. Stainless steel appliances and recess lights also added a great look to the kitchen.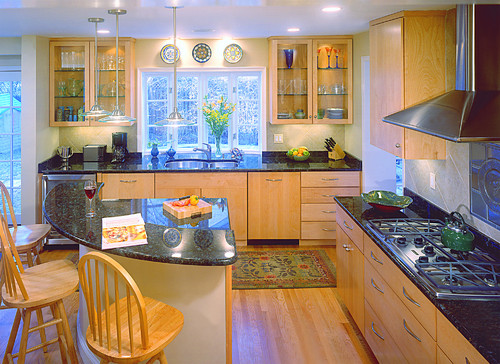 Picture Credit: Mangan Group Architects
In any event, this beautiful kitchen designed with light stained oak cabinets and Blue Pearl countertops. One of the main issues is to create smooth transactions around the kitchen. As a result, matching hardwood floor, two leveled center kitchen island, under-mount stainless steel sink, faucet and stainless steel appliances including the hood made a cozy look to the kitchen.