Sparkling star: Blizzard Caesarstone quartz countertops kitchen ideas.
The combination of white background mixed with small specks of beige and silver colors. Having these color combinations offer a modern kitchen look. In fact, this stone is chosen for modern spaces for several reasons. First, this is a modern color because it can open up the look of a smaller space. Second, combine not many colors into the kitchen area. Since Caesarstone Blizzard reviews are not bad that some associate only with more contemporary designs. This stone is dazzling with dark cabinet colors to make enough contrast. But some of the customers wants basic with no movement with a clean look, Blizzard would be the perfect fit for their projects.
What is the benefit of having this stone? Well, the answer is simple, if you are thinking to put Blizzard Caesarstone in your kitchen you must love the clean white look that you will be getting. Because this stone especially works for modern design kitchens. Besides, it does not go with classic and dark color cabinets. It also works very well with white cabinets and gives freshness to the room.
As a matter of fact, flooring could be picked usually from the lighter version of hardwood or tiles to continue the contrast. Backsplash could be from anywhere really light color to a combination of dark and light mosaic or subway tiles. In addition, the painting usually is white to match the countertop color.
If I give you an example from our daily life for the outfit that we are wearing as an example. If you spill something on it you try to remove it immediately, so you understand that the sooner you act, the easier it can be removed. We recommend that re-seal it once a year after your installation. It is a very easy process that everybody can do it. The sealant will prevent not getting new stains, but it won't do anything to get rid of it.
Finally, Caesarstone Blizzard vs pure white color stones are comperable stone to work with as a fabricator as well.
Blizzard Caesarstone Quartz Countertops Kitchen Ideas in Pictures: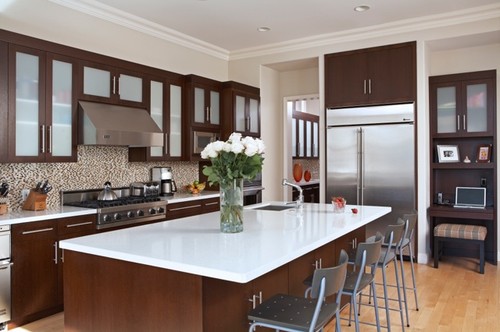 Picture Credit: Joani Stewart-Georgi Interiors
Blizzard Caesarstone price is not that expensive. Dark frosted glass wall cabinets with center kitchen island which has 12″ overhang to put bar stools matched perfectly. On the other hand, the kitchen decorated with light oak hardwood flooring with mosaic tile backsplash and stainless steel appliances.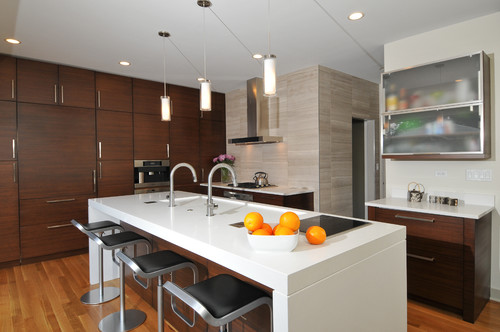 Picture Credit: The Kitchen Studio of Glen Ellyn
A very nice kitchen is designed by Caesarstone Blizzard quartz countertops. Sparkling white counter concepts with dark cabinets are perfect. Modern kitchen designed to create contrast. The rest of the colors compliment the tone of the cabinets so that a consistent look with a little contrast accomplished.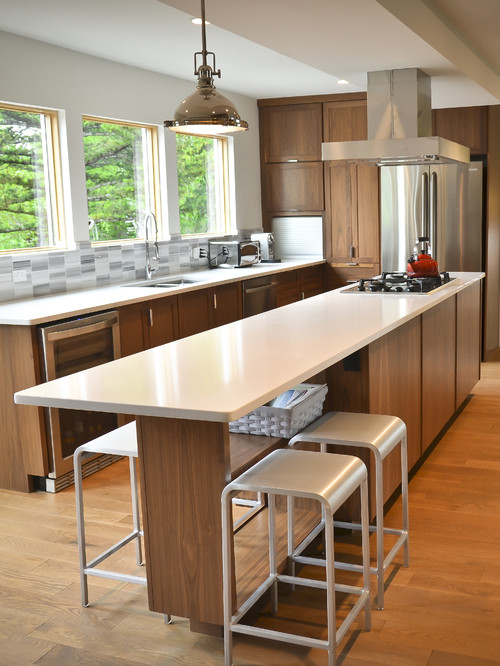 Picture Credit: Copper Brook
Contemporary kitchen designed with Blizzard Caesarstone and bamboo cabinets. Extended kitchen island overhang supported with custom made cabinetry. Besides, a modern style decorated kitchen with stainless steel appliances and subway tiles went well with brown cabinet color.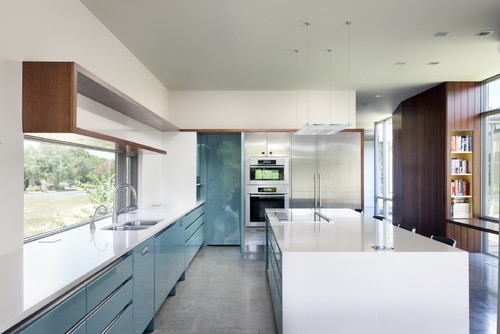 Picture Credit: Alterstudio
Beautiful modern kitchen designed with turquoise cabinet colors and Blizzard white quartz countertop. Center island finished with a waterfall edge for both sides which has a 12″ overhang towards the living room. Stainless steel appliances and natural stone tiles made a very contemporary look.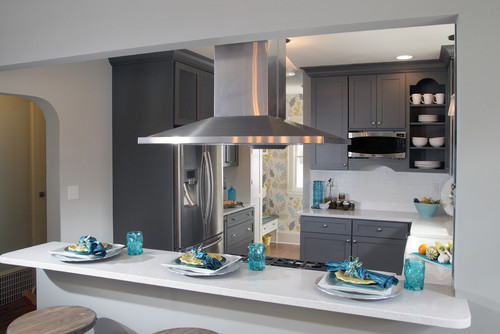 Picture Credit: Dura Supreme Cabinetry
Blizzard Caesarstone pure white quartz kitchen countertops ideas is to use wallpaper. Dark cabinet color used with light hardwood flooring. Moreover, custom hood and stainless steel appliances made a huge impact on kitchen remodeling. Caesarstone quartz countertop material space reviews bathroom design.