The basement wet bar ideas are various cause more especially men have many different opinions. It is usually dark cabinet colors combined with nice granite countertops and featured all the other amenities such as bar stools and a big screen TV. Wet bars have been a culture for our family life since civilization start and it is growing lately among the mid-size houses and custom homes. It has been a growing trend among custom home buyers to put a wet bar area furnished with a raised bar and completed with bar stools.
Basement ideas are usually dark with a raised bar option to create room for at least three bar stools. This part of the house designed especially for the guys to watch TV and maybe play some games together. Countertop options would be dark with flecks in it which can get a reflection from the recess lights. Wet bar's usually designed to put vine cooler and under-mount stainless steel bar sinks. For the backsplash ideas, a combination of natural slate stone or some mosaic decorative stones used.
Best Basement Wet Bar Granite Countertops Ideas in Pictures: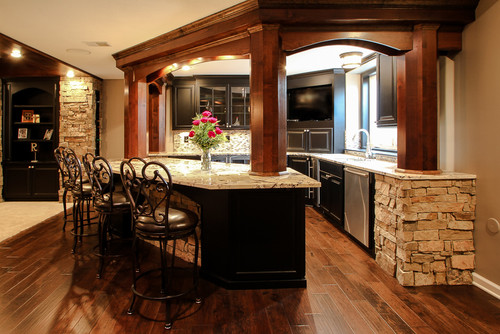 Picture Credit: Matthew Keller Design
The beautiful modern wet bar designed with dark espresso color cabinets and light color granite countertops. It gives an actual bar environment by adding a post and drop-in ceiling furnished also with wood. Natural slate blocks used around the bar area along with engineered floor tiles. Besides, stainless steel appliances and under-mount sink feel like an actual bar which has a flat-screen TV installed on the wall.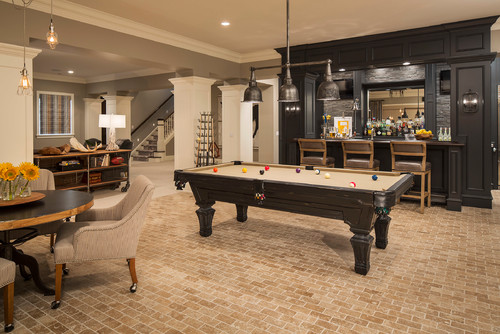 Picture Credit: Martha O'Hara Interiors
Furthermore, this is a very high ceiling and white paint used to give enlargement the room. The pool table and round table also furnished the room perfectly. Pendant lights and recess lights have around the room and bar area made it gorgeous.
Picture Credit: Great Neighborhood Homes
Amazing small place converted nicely to a basement wet bar ideas for small spaces with raised top supported with wood brackets. Water spheres pendants above the bar top have nice vintage looking bar stools also created a cozy place to hang out.
Best Basement Mini Bar Ideas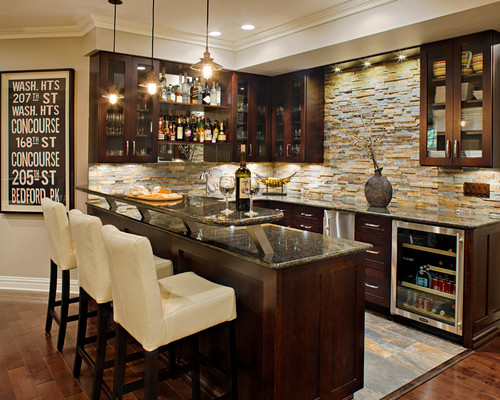 Picture Credit: Creative Design Construction
One of the best-raised countertops ideas is to put them with individual metal supports. Plus pre-finished engineered flooring used for this basement wet bar cabinets with sink. The stone used for the backsplash called stacked stone. It gives dimension to the backsplash and adds a bit of character. Moreover, it's the European cherry door style with an espresso stain cabinetry that combined natural floor tiles.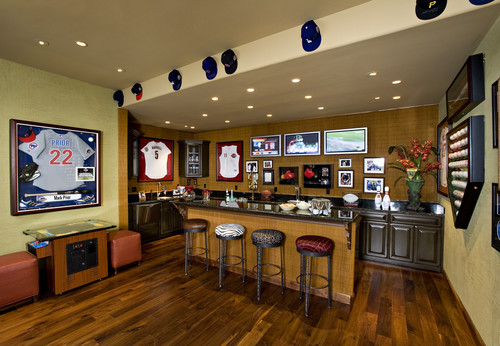 Picture Credit: VM Concept Interior Design Studio
Amazing sports looking wet bar for basement designed dark color countertops and light color cabinetry. Additionally, a separated island has raised the bar to put bar stools decorated with framed jerseys and hats around walls. This is a manhole kinda place you can spend maybe a whole day.