Basement Powder Room Countertops Design Ideas
Welcome to our gallery featuring basement powder room countertops design ideas.
Perfect job completing to basement bathroom: Since, this part of the house usually used by man or maybe for the kid toys. Designing the powder rooms with granite or engineered countertops are a good idea on these days. Dark cabinet colors with dark color countertops would be a perfect choices for the home owners to design it. Powder rooms are intend to be smaller space just toilet and sink but lately with new custom homes trend is changing.
Floor tiles are usually natural light color stone and wall paint color is a darker as well to keep the masculine look alive through out the basement. On the other hand, framed mirror with both sides scone lights furnished to complete the bathroom remodeling.
Backsplash is also very important for basement powder rooms. Such as covering all the way behind the mirror up to the ceiling or regular 4″ high backsplash from the same stone which is on the countertops and paint dark color all four walls. Powder room for the basement is a important area in designing.
Finally, the trend is dark colors. Basement powder rooms are designed also mostly for the the guests.
Basement Powder Room Countertops Design Ideas in Pictures: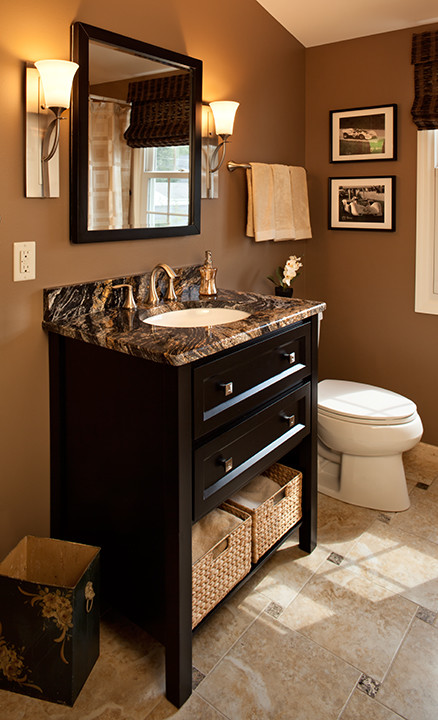 Picture Credit: Wallner Builders
The floor tile is beige travertine. Moreover, the wall paint is dark brown and the countertop is a black variation of Brisbane Gold granite which is very unique and hard to find. Cabinet is dark espresso which is a custom made.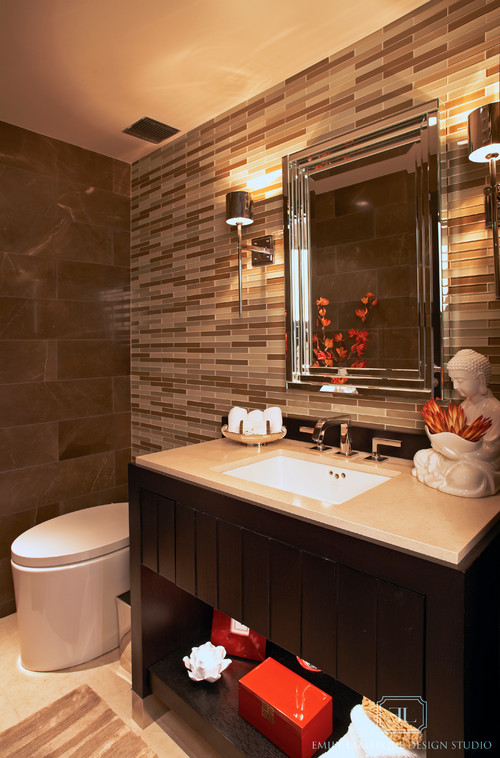 Picture Credit: Emily LaMarque Design Studio
As a matter of fact, beautiful powder room designed with marble countertops vanity, mosaic glass tile which custom blended behind the mirror. Nicely designed powder room with porcelain tiles on one wall and natural stone tiles at the floor. Dark brown custom cabinet featured with the framed mirror. These sconce polished nickel to give some accent contrast.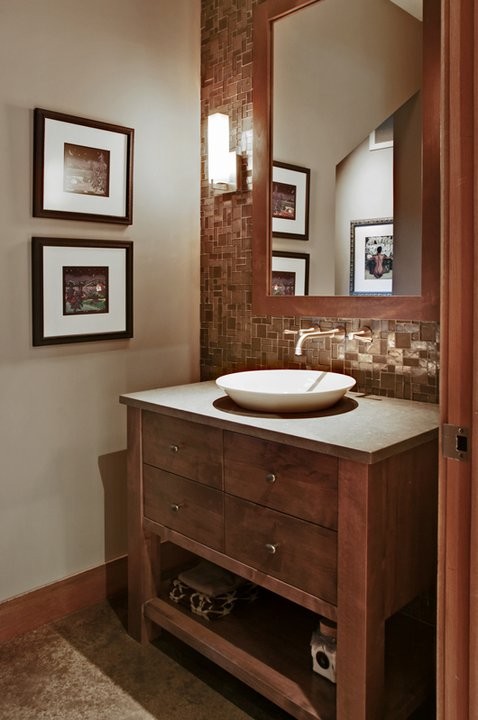 Picture Credit: ARTifact Interior Design
This is a custom made cabinet designed with modern look. Color combination is perfect except one mistake. Moreover, I think higher vessel sink instead of this one would be better.
Basement Powder Room Countertops Design Ideas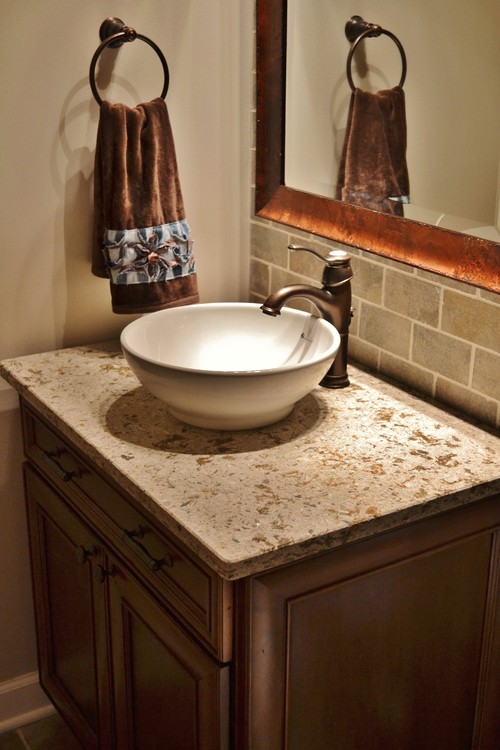 Picture Credit: Kelly Brasch Interiors
In fact, Cambria Windermere countertops with vessel sink make this basement powder room masculine. Framed mirror and subway tile backsplash combined with brown vanity cabinet which completed the powder room remodeling.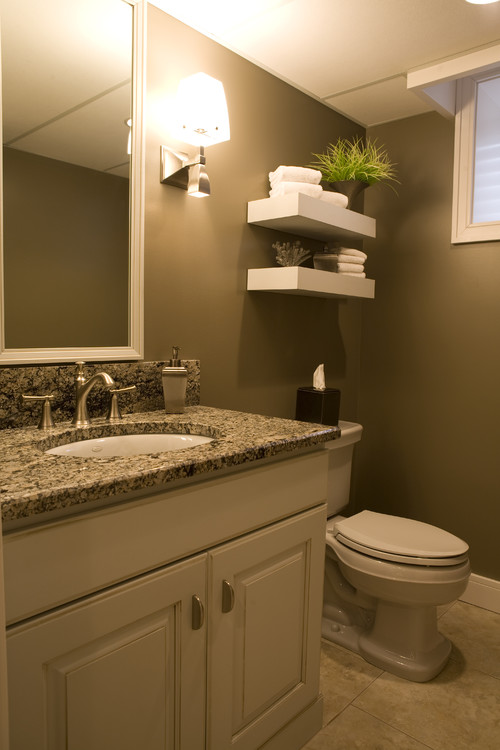 Picture Credit: Shane D. Inman
For instance, the shelves that you see in this powder room is custom made. They are approximately 12″wide x 9″deep x 3″ thick. The paint that you see here is warm stone color. The granite countertop is Azul Platino which makes a very good combination with white cabinets.
Finally, creamy color floor tile, white framed mirror, and scone lambs made it different to the powder room.
Please follow and like us