Welcome to our gallery featuring Arctic Cream granite countertops kitchen design ideas.
The combination of smooth cream, white, and black specks distributed as chicken footsteps all thought out the slab. Moreover, it is very similar to Delicatus and Delicatus White granite colors. A fan part of the stone is with lots of linear movement which describes the stone to the Arctic Cream granite. 
The main color is cream on this stone. The cream is decorated with light grey or black un-even lines. A combination of these shapes looks like chicken footsteps sketched on top of the cream color bedrock. This is one of the unique stone which has a cream background to serve as a kitchen countertop in the granite family.
Arctic Cream shows itself with a dark color cabinet and dark color floor if you are thinking towards that side. Although, you can see the applications of this slab with dark color cabinets as well as the white ones. Furthermore, backsplash ideas may vary depends on your taste and preferences, like something always giving enough contrast and at the same time matching colors. For flooring, if you choose dark color flooring material you better of getting blend it with the countertops. After all, that's why usually dark wood floor preferable.
Arctic Cream Granite Countertops Kitchen Design Ideas in Pictures: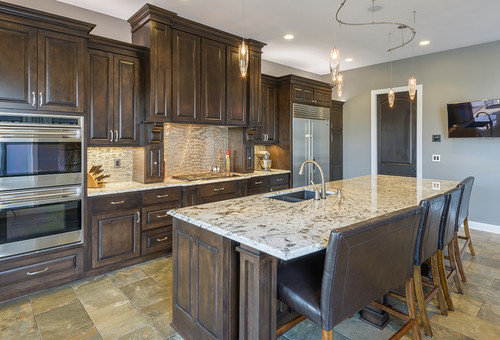 Picture Credit: Renaissance Granite
These lovely kitchen cabinets interact smoothly with the Arctic Cream granite creating an elegant and inviting space. The perfect color combination of natural stone tile, cabinets, countertops, and backsplash. Of course, stainless steel appliances, off-green wall paint, and pendant lights made an additional impact on the kitchen remodeling.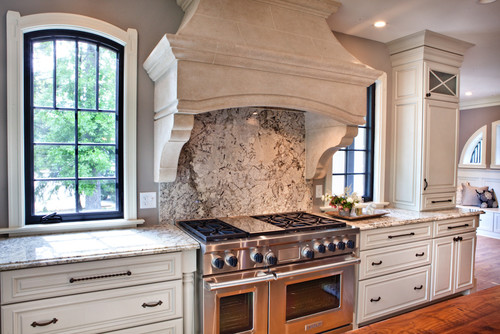 Picture Credit: Karr Bick Kitchen and Bath
Although, a beautiful combination of white cabinets with Arctic Cream granite counters and backsplash combo designed perfectly. Stainless steel appliances, dark hardwood floor, and natural daylights look gorgeous.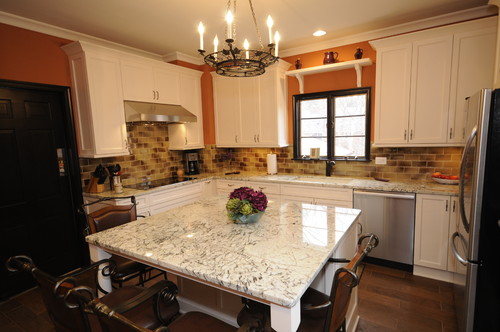 Picture Credit: Cherry Hill Cabinetry
Another good combination of the white cabinets with Arctic Cream granite tops. In addition, subway-style tiles backsplash has been used to make it a transitional color exchange along with a dark hardwood floor.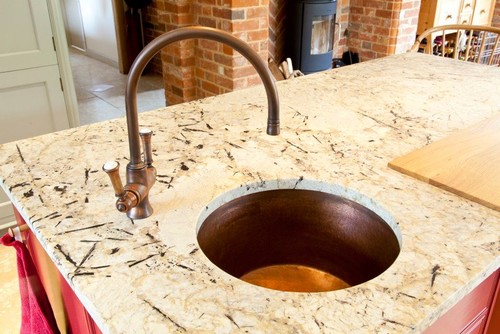 Picture Credit: Ivett & Reed Ltd
At the same time, a beautiful picture of the Arctic Cream granite with a round copper island sink featured a red kitchen island cabinet. This is a different look which is maybe not very common but there is nothing wrong like way.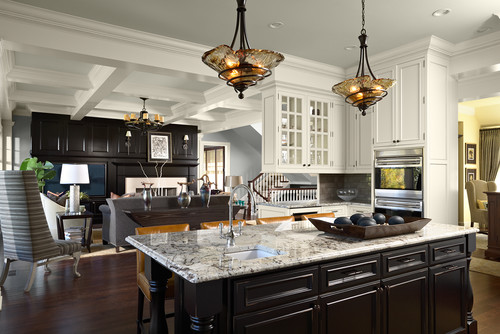 Picture Credit: Steven Cabinets
After all, beautiful dark espresso kitchen island granite and white cabinets rest of the kitchen decorated with Arctic Cream granite countertop. This stone shows more itself with really dark cabinets. The kitchen is offering a clear message by saying I am good like this.