Alaska White Granite Kitchen Countertops Designs
Welcome to our gallery featuring Alaska White granite kitchen countertops designs.
Alaska White is one of the most popular colors of granite on the market today. This beautiful color mixture is said to resemble the northern glaciers, with its icy blues, sediment black and snowy white. One of the key elements of Alaska White granite has a medium level of color variety, this variation in color comes with benefits and drawbacks. Sometimes homeowners want completely uniform granite countertop and this granite serves for that need as well. 
I would recommend you use sealer once year. Natural stones like granite will require sealing upon installation, so it is important to get sealer which is good for granite. After the installation happened, you can re-seal it once year by your self. It is very easy process just pour the sealer top of the countertop and wiped out till stone absorbs the liquid. You can use paper towel or old clothes to this. Leave it over night and before start using clean it with soap&water.
Alaska White Granite Kitchen Countertops Designs
Alaska White granite is perfect as a complementary color to white cabinets and any kitchen area that attempts a classical or modern style. Overall, this beautiful blend of colors is one of the more versatile and unique blends of granite. This stone goes very well with white cabinets and dark hardwood floors. So talking about the backsplash options are usually combination of white and creamy tiles are the best. Flooring, also should be dark hardwood options with different stains.
The price for 3cm tick Alaska White granite countertop is about $55-$60/square foot for residential installations.
Alaska White Granite Kitchen Countertops Designs in Pictures: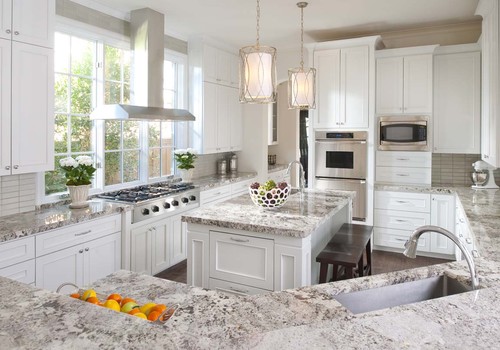 Picture Credit: Ellen Grasso & Sons
Absolutely lovely kitchen has been designed with custom made white cabinet, stainless steel appliances and finishing up with dark hardwood floors. Stainless steel hood by the window is really rare and kitchen island has fancy pendant lights. Alaska White granite countertops look stunning.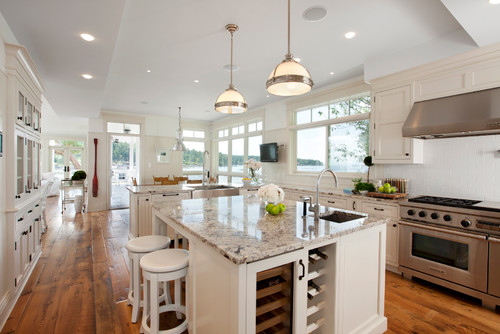 Picture Credit: jodi foster design + planning
Lovely open lay out kitchen with white cabinet and Alaska White granite countertops look beautiful. Center kitchen island which has a veggie sink on it along with pendant lights above it. Dark hardwood floors with stainless steel appliances completed the remodeling in the kitchen.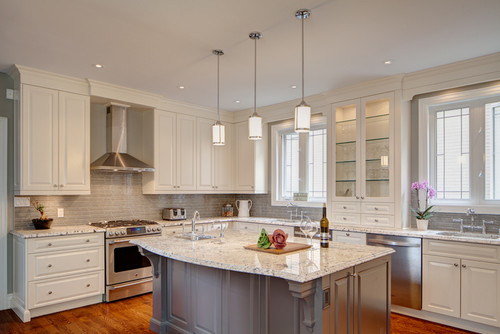 Picture Credit: Rivky Ungar Designs
Amazing kosher kitchen designed with two tone cabinet colors completed light gray glass tile – long and thin rectangle shape. White cabinet color on the perimeter side and the island is Benjamin Moore Stone brown painted which is completed with dark hardwood floor. Alaska White granite countertops perfectly fitted this color combinations in the kitchen. So like always we say warm colors remarkable results.
Alaska White Granite Kitchen Countertops Designs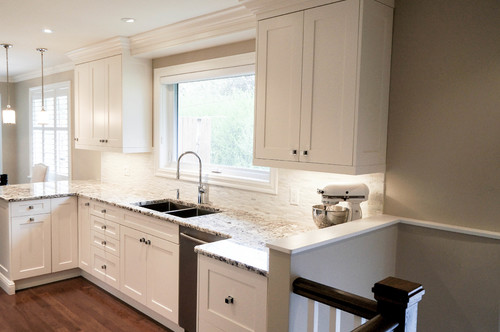 Picture Credit: Oakville Kitchen and Bath Centre
Stone tile backsplash and medium tone hardwood floors are excellent to share same room. One of the good thing about this granite is to make contrast from bottom to the ceiling. White cabinet, medium dark hardwood floor matched perfect.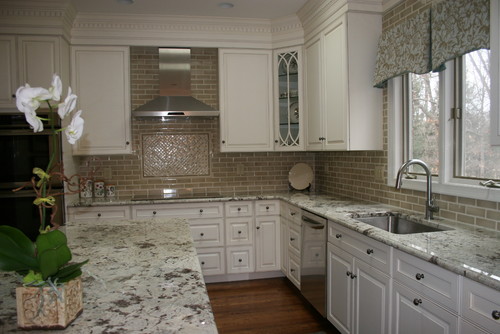 Picture Credit: Amy Southard
Alaska White is an example of an expansive traditional open concept for kitchen. Using white cabinets, stainless steel appliances, and dark hardwood floors create a cozy room. Another application of white cabinet with Alaska White granite which combined dark hard wood floor. Backsplash is taupe with a crackle finish.
Alaska White Granite Kitchen Countertops Designs
Picture Credit: Michael Burr Design
My goal on this blog is to provide you with a little more information. Regardless, without knowing your decision you are about to make. In addition to do that, try to give design, inspiration, experience with a beautiful photos. So, maybe taste of what might goes with what in the kitchen designing world.
Please follow and like us