Welcome to our gallery featuring Santa Cecilia granite countertops kitchen design ideas.
No mistake decision has been made: The combination of yellow, burgundy, black, grey, and mixture of earth colors gathered with a constant flowing from left to right is Santa Cecilia. This is most people's choice color especially for white cabinets as well as the dark cabinets too. Santa Cecilia granite color scheme is varied such as by using dark floor color and white or creamy cabinet colors with glazed on it of course. Santa Cecilia granite vs. New Venetian Gold is granite with very similar sibling colors which are always compared to each other. This stone reacted more with white cabinets rather than darker.
Coloring should be something between both colors that picked Santa Cecilia granite countertops with backsplash. It used to be an application of usage with dark cabinet colors but, lately using with white cabinet colors which is more popular now. Usually, creamy-looking travertine limestone or assorted color of natural stone tiles could be used for the backsplash choices.
St. Cecilia goes always with stainless steel appliances and stainless steel kitchen fixtures such as faucets and sinks. If you use Santa Cecilia gold granite with white cabinets the floor should be a darker tone and also the color which depends on what kind of material will be used.
Finally, this stone is no mistake stone for the re-sale purpose of the house. If you ever want to decide using please enjoy looking at selected pictures for this granite countertops idea. In fact, it is actually one of the best-selling builder-grade stones. On the other hand, granite Santa Cecilia colors are one of the very famous stones. Santa Cecilia Light granite countertop is an alternative option for the new future owners.
Santa Cecilia Granite Kitchen Design Ideas in Pictures:
Picture Credit: Gonyea Homes & Remodeling
The white kitchen has Santa Cecilia granite countertops with white cabinets. Furthermore, walnut dark stained wood flooring with an open layout towards the living room created a fresh airy environment. Natural color stones cut to subway tile size to fit perfectly for backsplash application.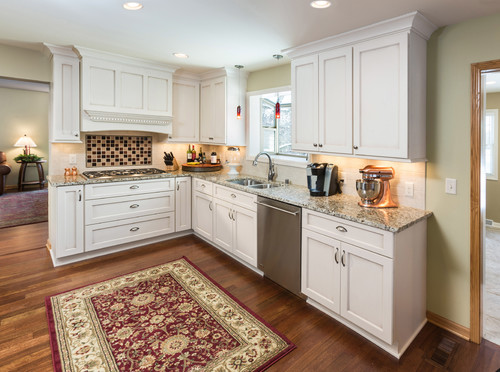 Picture Credit: S.J. Janis Company
L shaped design with Santa Cecilia granite. Dark hardwood flooring is the only contrasting color in this cozy kitchen. Besides, stainless steel appliances and fixtures along with limestone subway tiles create good transactions between the countertops and white cabinets with molding.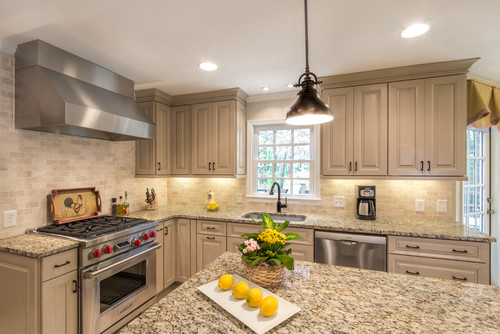 Picture Credit: Randi Destefano
They are high-end cabinets that use the special door in Irish cream color with Santa Cecilia. The kitchen has subway-style travertine tiles to create an accent between the countertops and cabinets. Center island has an overhang and pendant light above it. Moreover, the kitchen has a decorating with stainless steel appliances, hardwood floor, and recess lights.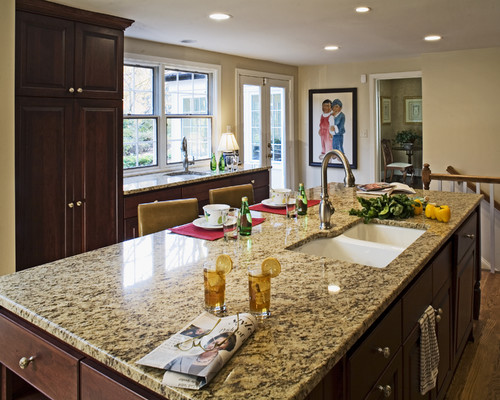 Picture Credit: Case Design/Remodeling
Santa Cecilia with dark maple cabinet application also sometimes used with white porcelain under mount sink on the island. Cabinets with crown molding, recess lights, dark wood flooring, and yellow wall paint also are the other kitchen-related items that combined nicely.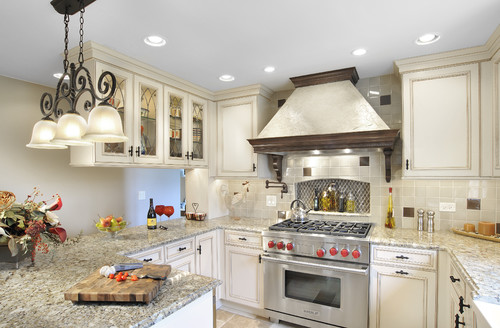 Picture Credit: Angie Keyes CKD
Santa Cecilia combines with glazed creamy cabinets and a custom-made wood hood which completes with a travertine backsplash.
Finally, my goal on this blog is to provide you with a little more information about the decision you are about to make. In the end, try to give design, inspiration, experience with beautiful photos, and maybe a taste of what might go with what is in the kitchen designing world. Santa Cecilia's granite price is not that expensive.