Welcome to our gallery featuring Lyra Silestone quartz countertops kitchen with white cabinets.
Marble Alternatives: It is a very small chance not to see a kitchen picture without white marble tops in any design magazine. Because today's kitchen design world white countertop is on demand. Since the demand for countertop towards white countertop direction most people scare to put a marble in their kitchen, that's why quartz tops became the number one choice. Countertop options for kitchen design Lyra Silestone for kitchen dining and bathroom countertop interior ideas. To help home inspiration kitchens countertop color options for home design like polished surface.
As an alternative solution, Silestone Lyra is one of them which you can have a marble look without having any heavy maintenance. In addition, it is a strong and stains-resistant countertop. Silestone Lyra has a movement through veining like a white Carrara marble which can add beauty to any kitchen.
Lyra Silestone quartz countertops are like marble with white cabinets to give the same feelings. When you are remodeling your kitchen please make sure that cabinets, countertops, flooring, and of course backsplash will coordinate somehow. This countertop material which looks like white Carrara marble will definitely bring freshness and a modern look to your kitchen.
While remodeling the kitchen we have to consider contrasting with all main players such as cabinets, backsplash, and of course countertops and maybe floors and paint colors.
For cabinet ideas, white cabinets, light green cabinets, and light wood cabinets are usually preferable for this stone. Here are some backsplash ideas, green glass subway tile backsplash, white brick backsplash, stone tile backsplash, and white backsplash would go well with this stone. Additionally, for flooring ideas, usually dark hardwood floors can be used with these stone countertops.
Finally, engineered quartz countertops are easy to clean and maintain. Warm water and soap are also recommended for day-to-day cleaning.
Lyra Silestone Quartz Countertops With White Cabinets In Pictures: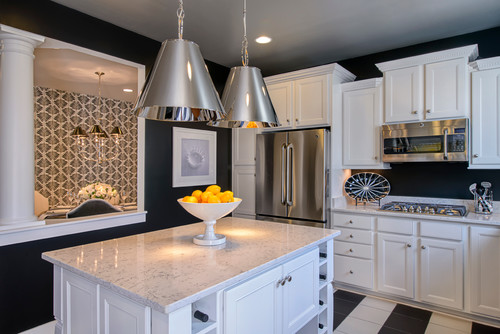 Picture Credit: M/I Homes
This beautiful kitchen inspired by lovely Silestone Lyra quartz countertop and white cabinets. Beautiful white cabinets with white quartz stone surrounded with black/dark wall paint. This is a very good example of creating contrast by starting from floor, cabinet, countertops, and finally to the wall color. Of course, stainless steel appliances, stainless steel pendant lamps over the kitchen island give a gorgeous look to the kitchen. Crown molding, recess lights, and laminated flooring also added as a final touch.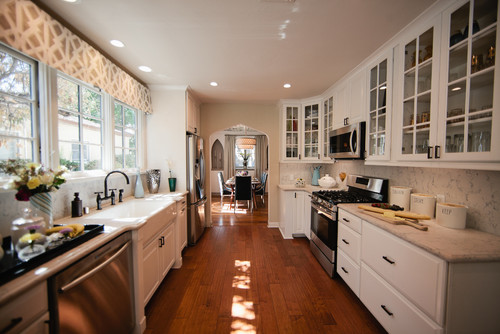 Picture Credit: Silestone USA
Stunning kitchen with Lyra Silestone countertop and white cabinets inspired with dark cherry wood flooring. The beautiful kitchen has stainless steel appliances, a porcelain farm sink, white cabinets which show us how to make decisions while we are picking the colors. On the other hand, recess lights, a nice oil-rubbed kitchen faucet, and a full-height backsplash from the same material made this kitchen gorgeous.
Silestone Lyra Kitchen Design Ideas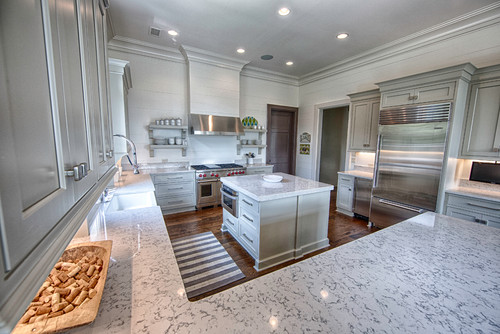 Picture Credit: Toulmin Homes
Lyra Silestone quartz kitchen tops with cabinets featured also a porcelain farm sink, kitchen island, and stainless steel appliances. Stunning dark color stained oak floors has the only contrasting color in this kitchen. Laminated island countertops,  gray painted cabinets,  cloud white wall paint, and recess lights made the kitchen bright.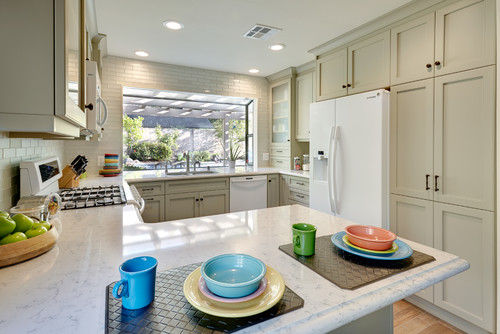 Picture Credit: Nar Fine Carpentry
The beautiful kitchen featured Lyra Silestone quartz kitchen counters and cabinets. Sandy hook gray painted cabinets which is a shaker style. Moreover, white color appliances with light floors are finished in a modern way. Peninsula-type kitchen island gave the small room brightness along with the windows. Grey polished finish trends are perfect looking country style best review today blog world.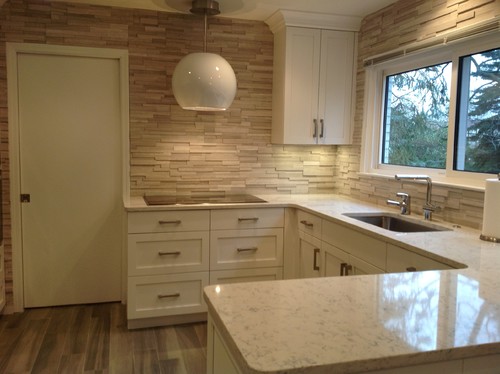 Picture Credit: Millennium Cabinetry
The contemporary kitchen is with Lyra Silestone. Furthermore, the floor is a gray porcelain plank tile and the walls are beige honed backsplash. These cabinets are also frosty white which combined with Silestone Lyra quartz tops. To find home love to check best bath options help the customer to get help and sign right away. Top looks like Carrara marble kitchen remodeling backsplash kitchen quartz countertop.