Emperador Dark Marble Bathroom Countertops Ideas
Welcome to our gallery featuring Emperador Dark marble bathroom countertops ideas:
This marble has a rich and warm feel that compliments many design styles. More importantly, making an ideal countertop choice for bathroom vanity and fireplace surrounding.
For bathroom remodeling one of the main concept is to create soft peaceful place by using the colors. During the day, the time we spend is not much and we usually think subconsciously it is a relaxing time for most of us. While thinking Emperador Dark marble bathroom countertops ideas we must consider to pick soft colors including wall and floor as well. Cabinet and countertops are secondary important for bathroom remodeling if you compare the other two elements. So, the important point is that while you are picking related colors consider the matching with soft ones. Emperador Dark marble is a beautiful and colorful natural stone that will add an impressive value to any bathroom.
Emperador Dark Marble Bathroom Countertops Ideas
The best paint color could be cream-beige variations since the similar like veining on the stone itself. The reason behind this suggestion is which gives the stone and depth into its appearance. When you use same or similar color of the paint selections they will compromise each other.
How to care Emperador Dark marble countertops? This is a very rare dark marble which has white veining color that's why it is kind of easy to maintain then the other white or lighter color marbles. Most common usage area is either bathroom vanities or fireplace surrounds. We recommend the seal once year with a strong sealer which is good for marble and try to wiped it off if you drop something on it.
Emperador Dark Marble Bathroom Countertops Ideas in Pictures: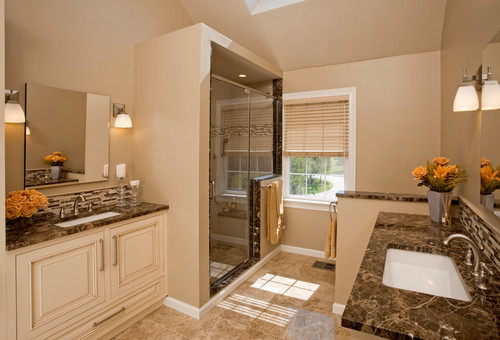 Picture Credit: HomeTech Renovations
This concept bathroom decorated with off-white cabinets and Emperador Dark countertop. It has also glass and stone mosaic tile backsplash along with Emperador Light porcelain tiles on the floor. Besides, bathroom featured frameless shower door, and white porcelain rectangular under mount sink with faucet look very modern.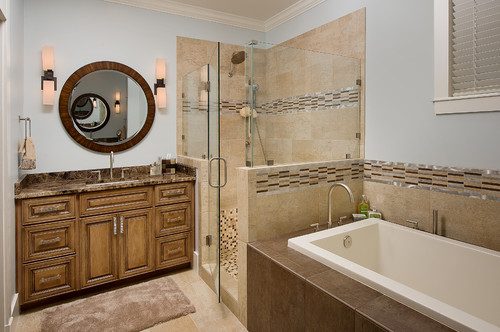 Picture Credit: ANASTASIA DESIGN GROUP
Beautifully designed bathroom with Emperador Dark countertops. Creamy color tile surrounded the shower area which is fitted with frameless shower door and stripped glass mosaic tiles. Dark cabinet color along with dark circle framed mirror with scone lights on the both sides made a huge impact for remodeling the bathroom. White tub also surrounded with brown porcelain tiles and off blue wall paint color which completed the designing.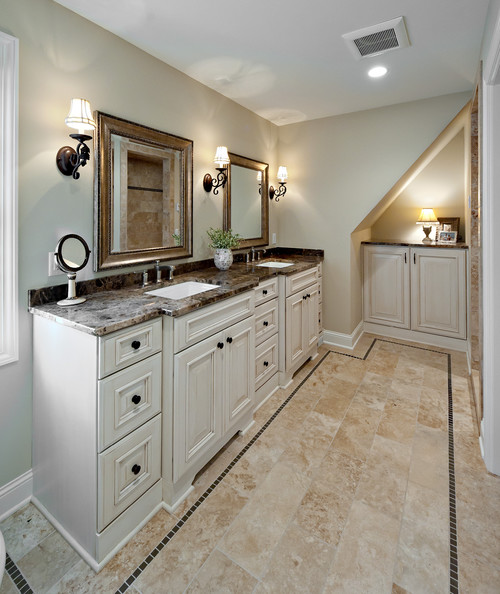 Picture Credit: Knight Construction Design
This bathroom has a natural travertine stone flooring which has also travertine tile with frosted glass accent border. One of the Emperador Dark marble bathroom ideas which is using light cabinet color and beige wall paint. Besides, scones lights between the framed mirror along with white rectangular under mount porcelain sinks and black color knobs made the room elegant.
Emperador Dark Marble Bathroom Countertops Ideas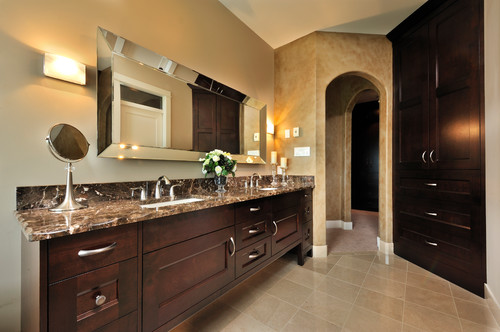 Picture Credit: Greystokes Millwork
Emperador Dark marble vanity with dark walnut cabinets and light tan tile floor. Dark wood cabinet type is Maple and the stain is a custom color. One of the main idea which is used this time for Emperador Dark Marble Bathroom Countertops Ideas along with Crema Marfill floor tiles. This mirror is a custom made with sherwin Williams – nomadic desert wall paint which used it with marble & similar wood color. On the other hand, light color floors, dark cabinet and similar wall paint like a floor color combined with Emparador Dark marble which create amazing design for bathroom remodeling.
Emperador Dark Marble Bathroom Countertops Ideas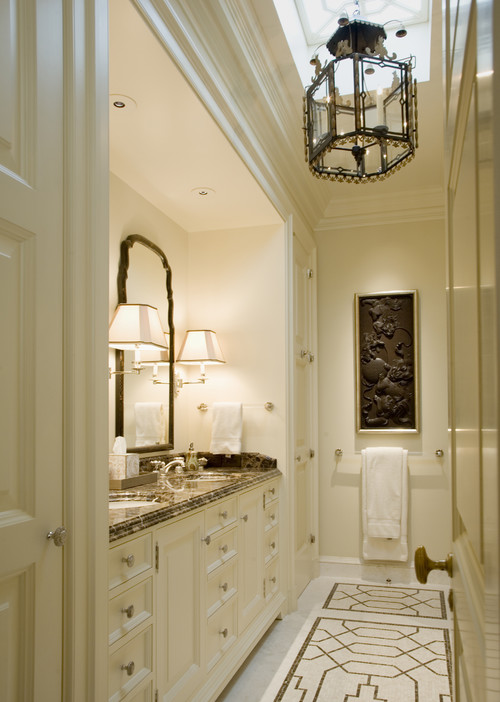 Picture Credit: Tucker & Marks
The beautiful cabinetry is painted in off-white and designed with Emperador Dark marble countertops. Furthermore, the wall paint color is golden honey decorated with this mosaic floor in a custom design shapes.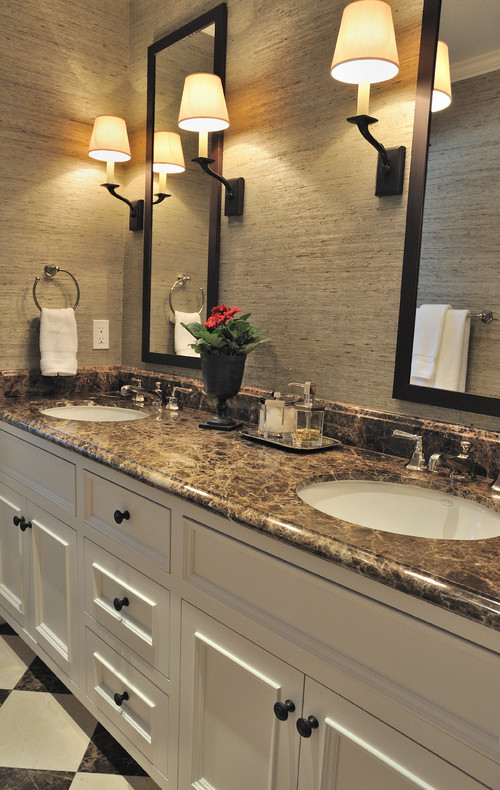 Picture Credit: Alexandra Luhrs Interior Design
This specific bathroom designed with textured wall paper decorated with scones lightings. Emperador Dark marble used here as a countertop. Checkers style installed floor tiles along with white cabinets made a perfect match. Moreover, framed mirror, under mount porcelain sinks, and edged back splash together fitted perfectly for bathroom remodeling.
Finally, my goal on this blog is to provide you with a little more information about the decision you are about to make. At the end, try to give design, inspiration, experience with a beautiful photos and maybe taste of what might goes with what in the kitchen designing world.
Please follow and like us