Welcome to our gallery featuring Crema Marfil marble countertop bathroom vanity ideas.
The only solid creamy soft color counter material in the market as a natural stone is Crema Marfil. Creamy color all the way over the board called for this marble. If you are looking for a smooth transaction for your bathroom remodeling this nice peaceful stone is for you. Creamy beige tone mixed with some small veins gave the marble some different looks than the others. It is unique and extraordinary. One of the design ideas is to use Crema Marfil quartz with light color flooring.
This stone would be a good match for either the dark color of the cabinet or the cream ones.  The only cabinet color that will be no good with stone is white. But it is much better with darker cabinets or shows itself better. Backsplash applications may vary but usually, we put 4″ high from the same thickness and same slab.
How to polish Crema Marfil marble countertops? Since marble is a very porous material we have to be very careful while we are using this stone. Make sure the people who installed it put sealer after the installation is done. After that, you can put a sealer once a year to protect not to get a stain. Bathroom vanity countertops are not heavily used areas like kitchen countertops but women's make-ups, deodorants, the bottom of the rusty man shaving foam container could be dangerous or any other colorful materials as well.
Crema Marfil Marble Countertop Bathroom Vanity Ideas in Pictures: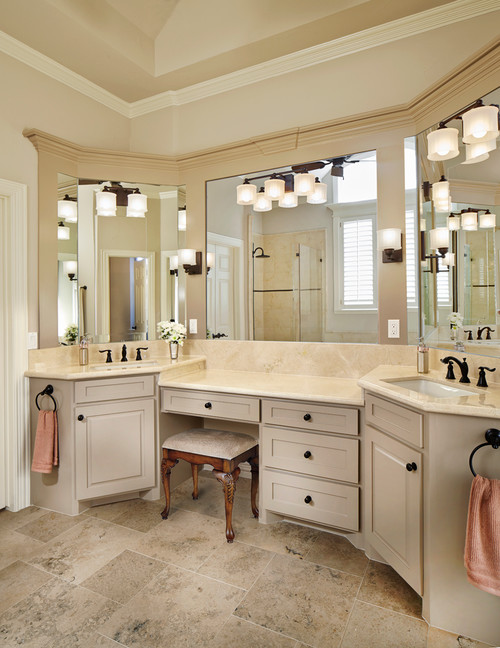 Picture Credit: USI Design & Remodeling
The general rule is Crema Marfil marble with creamy cabinet applications is preferable. As you see two leveled creamy off-white cabinets featured with frame-less mirror and finished natural floor tile limestone. Oil rubbed faucets with white rectangular under mount porcelain sinks also added a different look to this bathroom. The backsplash is from the same stone and with the same thickness(1 1/4″) and dark color hardware picked to create contrast. Everything is pretty much similar color in this small bathroom vanity.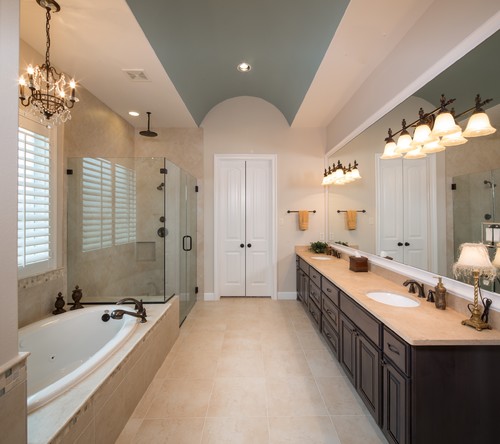 Picture Credit: Jamestown Estate Homes
Dark espresso color cabinets with the Crema Marfil tumbled marble tiles all around the long shape bathroom make the room even longer. Curved ceiling with off-blue wall paint color with full covered frameless mirror furnished also frameless shower door and bathtub. Chandelier over the bathtub and recess lights on the high ceiling completed by sconce lambs on top of the mirror.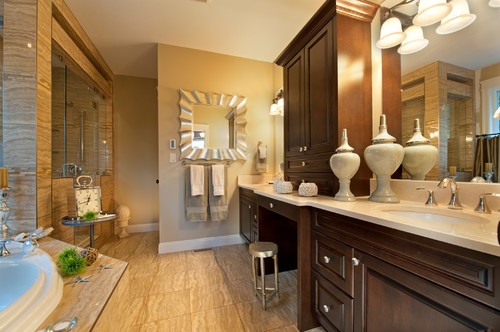 Picture Credit: Greystokes Millwork
Crema Marfil marble countertop made a very good match with dark cabinet color again. The sink is pure white and is surrounded by marble tops. The bathroom also decorated natural color stone tiles on the floor. The marble top complements the shades of browns in the wavy floor tiles. Frameless mirror and shower door equipped soft creamy beige wall paint to complete the remodeling.
Picture Credit: Dennis Mayer
One of the Crema Marfil marble bathroom design ideas is to pick the right colors while remodeling the bathroom. It is usually a good idea to create contrast with a pattern such as on this stone. Light color wall paint and dark color framed mirrors are ideal. Picking up the backsplash is crucial between both colors and apply. The Cream marble as a solid surface top combined dark stained cabinet and concluded with Crema Marfil marble tile 24X24.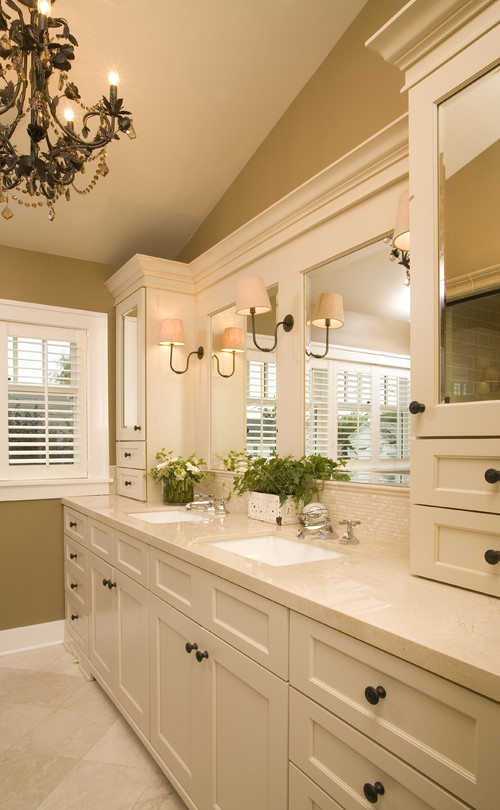 Picture Credit: CounterEdge
It is a great application for light and light which worked very well on this bathroom. Crema Marfil marble countertop with white shaker style maple cabinet and soft beige color painted walls look amazing. The backsplash to the vanity is a beige color. The countertop is Crema Marfil granite countertops with a rectangular white sink. The rectangular sink is a perfect match for the simple white cabinets like this. Bathroom remodeling completed with a same color custom-framed mirror similar to a cabinet design and color.
Crema Marfil marble slab price is not very expensive.