White Carrara Marble Kitchen Countertops Dark Cabinets
Welcome to our gallery featuring white carrara marble kitchen countertops dark cabinets:
Black & White lovers come here!!! This beautiful stone make a remarkable result when it is combined with dark cabinets. Some people love many color combination in the kitchen and as well as in the life, but at the same time some loves the black and white period. This color application usually good for modern and contemporary kitchens. Because, basically you have limited color selections to pick from. For countertop, cabinet colors could be dark and white, paint color could be grey, white, or very light cream. For  backsplash, the best is to use stone itself but could be pricey, other then that white or grey tiles can be used.
In this condition, it comes to designing for White Carrara marble with dark cabinets, every little touch is equally important in the kitchen remodeling. White Carrara marble is lately home owners choice which is a very trendy for upgrading kitchen remodeling projests.
When people are investing in a home remodeling project, they want to make sure that the results not only please them but add value to their home and save some money if they can. At the end of the day after the renovation project is done if you catch this combination you are good to go.
So, how to take care marble countertops in your home?
The care of Carrara marble is little bit tricky because of porously surface can absorb the any liquid easily and quickly. My best advise would be if that happen clean up before the liquid evaporates from the surface. Secondly, using sealer would be a good idea more often like a every six(6) mounts or so to prevent not to get stain in your countertops.
White Carrara Marble Kitchen Countertops Dark Cabinets Pictures:
The pictures of white Carrara Marble kitchen countertops dark cabinets are for your review.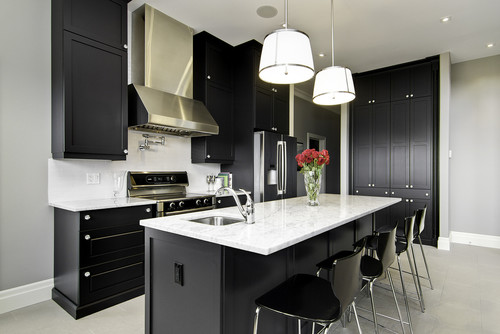 Picture Credit: Barry MacKenzie
Nice white pendant lights with modern bar stools are very good combination. This kitchen has also white subway tiles, light color wall paint, grey color porcelain floor tiles. Stainless steel appliances and sink are also added very modern taste to kitchen remodeling. Very good example of White Carrara marble countertop with dark cabinets.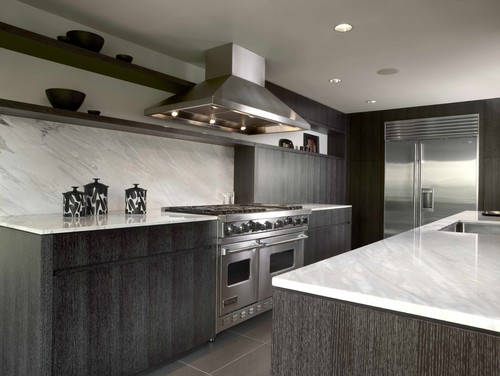 Picture Credit: Warmington & North
Textured laminate cabinets with dark grey color porcelain floor tile and range. It designed for contemporary look by using White Carrara marble countertops and dark cabinets. Large modern open shaped enclosed kitchen in with an under mount sink and dark gray cabinets. White Carrara marble countertops combined the same marble backsplash, stainless steel appliances and dark porcelain floors.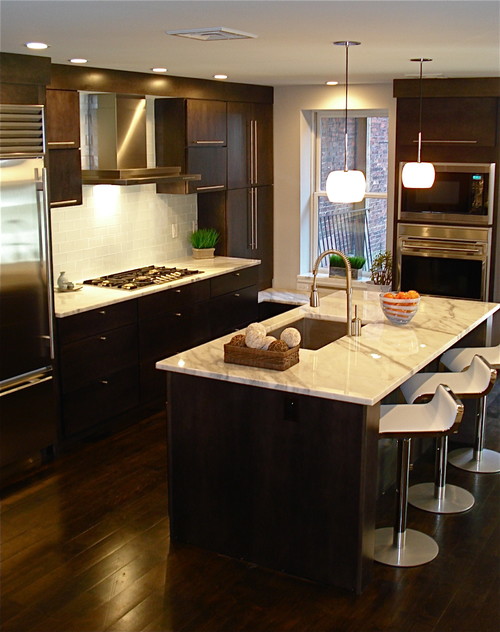 Picture Credit: Melissa Miranda Interior Design
A very practical kitchen island with modern bar stools along with pendant lights are the fanciest elements of the kitchen. Also white subway tiles and dark color wood floors made it exclusive. White Carrara kitchen countertop mixed with white subway kitchen backsplash tile. Cook top, stainless steel appliances and sink add it an extra beauty to the kitchen.
White Carrara Marble Kitchen Countertops Dark Cabinets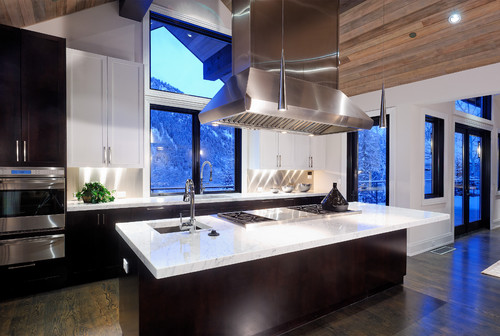 Picture Credit: Forum Phi – Architecture | Interiors | Planning
Tall wall cabinet made the kitchen very attractive with high ceiling. Stunning high ceiling design gives the kitchen very different look. Open floor plan with wide windows looks breathtaking. Remarkable White Carrara counters take center stage here.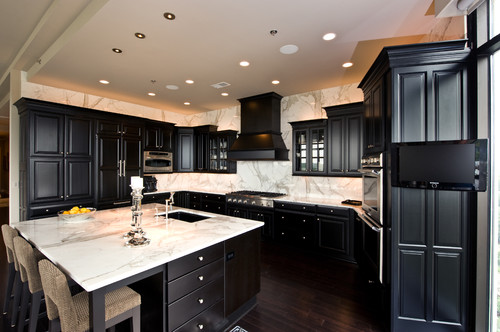 Picture Credit: Tammy Johnson
White Carrara marble creates very nice contrast with dark black cabinets. Crown molding gives fabulous effect whole cabinet designing along with extra backsplash to the ceiling. Recess lights and dark color hood are also very big step on kitchen remodeling. Here is the white stone like this with movement in it looks gorgeous when applied as a full high backsplash. It seems like whole slab has been mounted without cutting. This is perfect combination for dark cabinet with white marble decorating.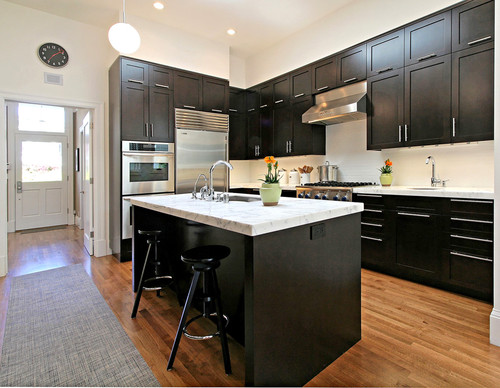 Picture Credit: Dijeau Poage Construction
White painted brick style tiles make also very good accents. Bar stools and recess lights are adding a great taste to the kitchen.
My goal on this blog is to provide you with a little more information about the decision you are about to make. In conclusion, try to give design, inspiration, and experience with a beautiful photos plus maybe taste of what might goes with what in the kitchen designing world.
You may want to check my the other article about White Carrara marble countertops white cabinets.
Please follow and like us