Welcome to our gallery featuring River White granite countertops with white cabinets ideas:
White granite from India has a very unique combination of colors. It's stunning white, grey, and burgundy tones make it a great choice for countertops in any type of kitchen. The has a movement that adds a sense of artwork to the stone. This stunning color combinations for your kitchen renovation is a big plus to make the other color selections easily. It is the most popular white granite option in the market right now. I always suggest this stone to my customers because having this granite it is easy to play with the other related color in the kitchen due to white background.
One other important thing is that backsplash selection and flooring of course. Even though cabinet color and granite color are similar to each other flooring must be different such as the darker side of the wood. Personally, I like natural stones and try to recommend them to everyone as much as I can.
That's why granite River White with white cabinets is the best combination for this stone. On the other hand, combining white and green mosaic glass backsplash with dark flooring adds a modern look to kitchen designing. By doing this, it can bring an elegant feeling to the room which is created by stone.
How to care for beautiful River White granite countertops about installed in our kitchen? Well, this is the question we are facing every day from our customers. First, it should be sealed by the fabricator who installed the granite in your house after their installation is done. Second, you can re-apply once in a year, or sometimes for light color granite like this one, it is better every 6 mounts. Third, I believe it goes with personalty which is cleaning right away after you did something on the countertop. If you can do all these three things I think you should be fine with your big investment for a long time.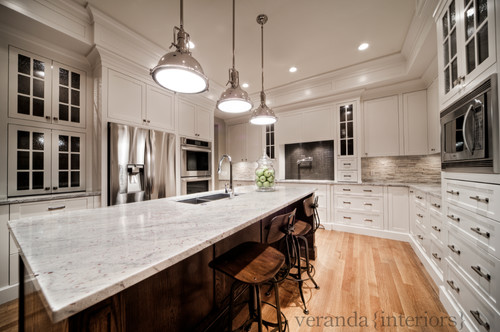 Picture Credit: Veranda Estate Homes & Interiors
White and gray painted cabinets, coffee-stained oak kitchen island, and River White granite slabs.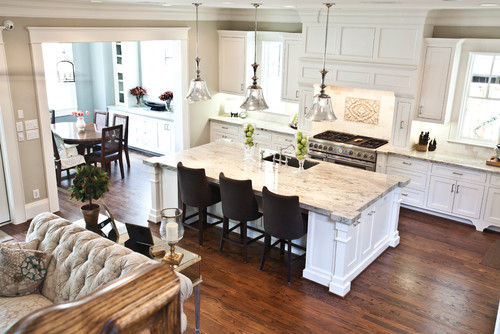 Picture Credit: Ridgewater Homes
Center island has a sink in it and has pendant lighting. White granite River with white cabinets and red oak plank floor to create an amazing combination for the kitchen. Most of the time kitchens are designed according to the granite selection or the cabinets. So the key combination is White River granite which works very well with oak hardwood floor and white cabinets that can fit perfectly. On the other hand, the island has extra space and has a counter height stool.
Picture Credit: Becky Seidenberg
River White granite countertops with white cabinets made a huge effect on kitchen remodeling. The backsplash is a Carrara marble subway tile. Along with that nice modern pendant lamp is looking at the dark hardwood floor.
Picture Credit: Barker Kappelle Construction
The beautiful kitchen is looking over the sea designed with a new River White granite countertop which has also a stained mosaic glass tile backsplash. Moreover, a white porcelain farm sink with bridged nice and shiny kitchen faucet combined with hardwood flooring finishes the final touch for this kitchen.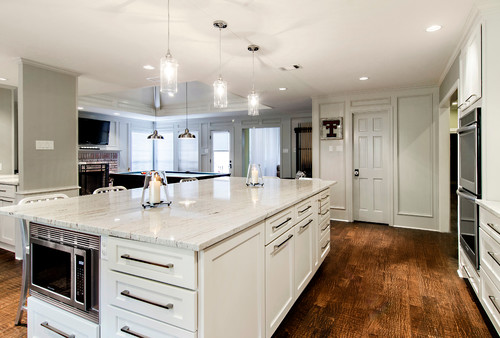 Picture Credit: Hatfield Builders
The kitchen designed around the River White granites. First of all, they select a stone color and all of the colors in the house revolved around this decision. Because the kitchen has limited cabinetry on the walls, that also designed an oversized island for extra storage. It also provides extra seating with the counter height stools.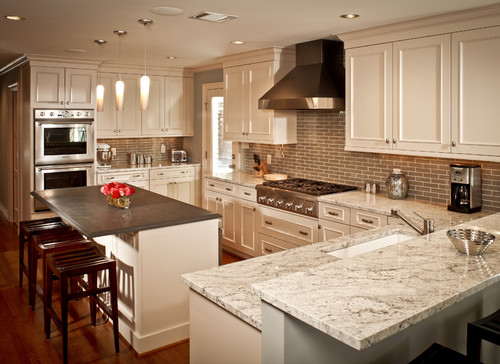 Picture Credit: Cabinets & Designs 
The overall goal of the kitchen project is to create a space that was an open, welcoming, and truly livable cozy place like this. Cherry color hardwood floor added modern elements such as brown glass tiles as a backsplash. In other words, the aim is to bring a modern look to this traditional kitchen. When you combine River White granite with white cabinets a beautiful and elegant feeling will be surrounded to the room.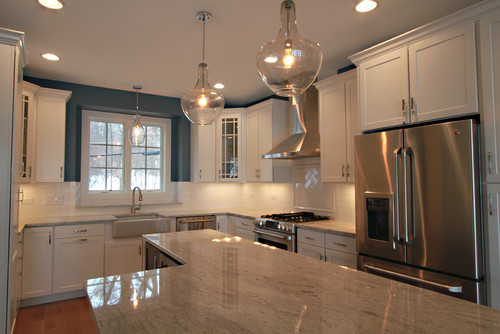 Picture Credit: EXCEED FLOOR & HOME
Pure white cabinets paired with River White granite. A gorgeous 3×6 hand-molded crackle glaze tile backsplash that has a slight texture like an old-world tile look. The appealing kitchen featured beautiful light navy wall paint along with a light cherry hardwood floor. White porcelain apron sink in front of the window and stainless steel appliances bring a nice feeling which is cozy and lovely.
My goal on this blog is to provide you with a little more information about the decision you are about to make. In the end, try to give design, inspiration, ideas with my experience. Besides that, with beautiful photos and maybe a taste of what might go with what in the kitchen designing world.